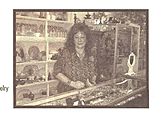 Glendale, AZ
If you love rare, unique and unusual jewelry, from funky to fabulous.Please.COME ON IN .SALE NOW
Favorite Links
Serving the Online Community Since 1998

Shop . Sell . Relax
Antiques & Art . Vintage Collectibles . Jewelry

Description: "Gem Products" is a company specializing in JEWELRY REPAIR using a state of the art LASER WELDER, for metal art products of beauty and function. This state of the art laser welder enables us to repair:Gold and Gold Plated:Silver and Silver Plated:Platinum and Titanium:Antique and Vintage:Rhinestone and Victorian:Fine Estate Jewelry. Vic has fixed everything from A to Z for me.Specializing in the vintage,costume jewelry.His fabricating of intricate pieces surpasses the designers themselves! He is the BEST!! Tell him I sent you!


Hello, my name is Elizabeth Cooke. I live in Middle TN and I have been intrigued by Vintage Jewelry since I was 10 years old when my mom and I would go to yard sales on the weekends. Then when I was 16, my great Aunt gave me a tray of costume jewelry to sell. I have never looked back! For the last 10 years I have been setting up at shows and also selling on Ebay. Like most in the Vintage Jewelry business, I too am obsessed with the allure and Quality of these pieces!


This is the link to order Nancys book "Juliana Jewelry.... a pictorial feast for your eyes" Available now!

Add a link to me!