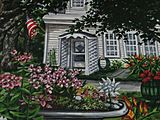 Canaan, NH
Fine China, Glass, Silver
Favorite Links
Serving the Online Community Since 1998

Shop . Sell . Relax
Antiques & Art . Vintage Collectibles . Jewelry

Contains a listing of members who adhere to the high standards of The New Hampshire Antiques Dealers Association (NHADA) which is "dedicated to integrity and courtesy in their business dealings and to an awareness and appreciation of articles of antique value." Includes out of state members as well.


Open to people interested in the history and the collecting of the wonderful pottery made in the Devon and Torquay areas of England. Motto Ware is probably the most familiar type but this friendly group will introduce you to the wider reach of the numerous regional potteries.

Add a link to me!