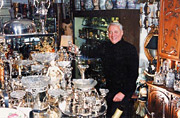 Philadelphia, PA
One of a kind items at great prices!
Favorite Links
Serving the Online Community Since 1998

Shop . Sell . Relax
Antiques & Art . Vintage Collectibles . Jewelry

Come see the inside of our shop without having to leave the comfort of your home!

Add a link to me!