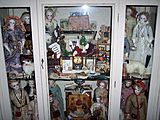 Northern, MI
Antique Dolls, Toys and Accessories
We are currently unavailable until Wednesday, April 30.
Favorite Links
Serving the Online Community Since 1998

Shop . Sell . Relax
Antiques & Art . Vintage Collectibles . Jewelry

Antique Doll Treasures Facebook Page. Please "LIKE" my page!


Vintage Clothing, Dolls, Glass, Collectibles, Antiques, Porcelain, Kitsch


Early & Rare antique dolls, clothing, accessories. Offering variety, knowledge & fine service.


Beautiful reasonably priced dolls and accessories for every budget!


Antique dolls, jewelry and other oddities.


Dolls, Antiques & Vintage Native American Jewelry, Fine & Folk Art


From my collection to yours-antique dolls, clothing, porcelain novelties & children's toys of olde!


Specializing in fine antique dolls.

Add a link to me!