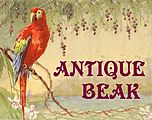 Spring, TX
Vintage Parrot & Wild Bird Collectibles ~~ for the feather-brained!
Favorite Links
Serving the Online Community Since 1998

Shop . Sell . Relax
Antiques & Art . Vintage Collectibles . Jewelry

Avian themed jewelry....from Vintage to Fabulous! Our new sister shop, be sure to visit.


Fan us on Facebook......


Unique Handsculpted Clay Art Jewelry & Gifts


Emilysbirds.com is an informative bird blog. The blog covers everything from pet bird husbandry, avian education, conservation, and more.


Vote for Antique Beak at Best Bird Sites by clicking the link above (we'd appreciate it!)


An internet radio interview with yours truly on shop ownership and how we got in this biz.


Unique and affordable toys for parrots of all sizes....


We offer a variety of bird houses, feeders, baths and more and are adding new products and information regularly.


Anything & everything for your birdie at EverythingBirdie.com!


Puzzled by a bird in your backyard (or elsewhere) and need some help identifying it? Then this site can help!


This site has a great selection of genuine bird prints that are more than 100 years old. Wonderful for framing. Canaries, parrots and other cage birds.


Home of the Houston Parrot Festival. Visit their site to learn more about the organization that hosts the Festival and to get more information (such as who's speaking and events) on the Festival itself.


Provides links to avian websites.


Quality Bird Feeders that make a Striking addition to any Home, Yard or Garden. Hummingbird feeders and many others.


Links to just about every web resource there is on parrots, budgies, lovebirds and other tropical birds. Also includes a gallery that features photos of our feathered friends, and classified ads where you can buy and sell almost anything parrot and tropical bird-related.


The Parrot Pages - A Home for Avian Information. They have searched the web so you don't have to with over 1900 Links.


A site all about pet birds, pet parrots and exotic birds! Contains useful info in all areas of avian interest, including but not limited to: behavior, clubs, products, breeders, chat rooms and ANYTHING you'd want to know about our special feathered friends. A MUST for any person owned by a bird!


Avian products from around the world including supplements, medications, breeding supplies and aviary supplies.


Offering information for Amazons, Conures, African Greys, Senegals, Macaws, Cockatiels, Cockatoos, and more. Also includes free newsletter, parrot e-cards, parrot pictures -n- stories!


Parrot-Parrot is a site dedicated to the smaller parrots such as lovebirds (Agapornis species) and budgies (parakeets), but it is also an excellent resource for information on ALL birds and parrots. Their pages on avian health, nutrition, toxin and dangerous toy alerts will help make you a better parrot parent, and their Articles Section covers many of the basics of behavior, nutrition, training, talking, and biting issues.

Add a link to me!