Vintage Parrot & Wild Bird Items
~~ for the feather-brained!
About

Antique Beak

Specializing in vintage & collectible Parrot and Wild Bird items. Always buying & selling!
---
11/27/13
Welcome to Antique Beak a shop for Parrot & bird lovers.......everywhere!
Here it is, just before Turkey day and I'm already thinking about BIRDS! (But then again, I guess I always am...). And speaking of Turkey Day it's once again time for our annual Thanksgiving tradition

HOW TO STUFF YOUR PARROT ON THANKSGIVING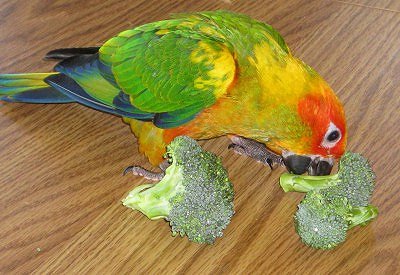 Ingredients:


* Turkey
* Stuffing
* Sweet Potatoes
* Mashed Potatoes with Gravy
* Green Beans
* Cranberry Sauce
* Hot rolls and Butter
* Relish tray
* Pumpkin Pie with Whipped Cream
* Hot Coffee

Get up early in the morning & have a cup of coffee. It's going to be
a long day, so place your Parrot on a perch nearby to keep you
company while you prepare the meal.

Remove Parrot from kitchen counter and return him to perch.

Prepare stuffing, remove Parrot from edge of stuffing bowl and return him to perch.

Stuff turkey & place it in the roasting pan, remove Parrot from edge of pan and return him to perch. Have another cup of coffee to steady your nerves.

Remove Parrot's head from turkey cavity and return him to perch,
restuff turkey.

Prepare relish tray and remember to make twice as much, so that
you'll have a regular size serving after your Parrot has eaten his fill. Remove Parrot from kitchen counter and return him to perch.

Prepare cranberry sauce, discard berries flung to the floor by Parrot.

Peel potatoes, remove Parrot from edge of potato bowl and return him to perch.

Arrange sweet potatoes in a pan & cover with brown sugar & mini
marshmallows. Remove Parrot from edge of pan and return him to perch. Replace missing marshmallows.

Brew another pot of coffee. While it is brewing, clean up the torn
filter. Pry coffee bean from Parrot's beak. Have another cup of coffee, remove Parrot from kitchen counter and return him to perch.

When it's time to serve the meal:

Place roasted turkey on a large platter and cover beak marks with
strategically placed sprigs of parsley.

Put mashed potatoes into serving bowl, rewhip at last minute to
conceal beak marks and foot prints.

Place pan of sweet potatoes on sideboard ... forget presentation as there's no way to hide the areas of missing marshmallows.

Put rolls in decorative basket, remove Parrot from side of basket
and return him to perch.

Remove beaked rolls, serve what's left.

Set a stick of butter out on the counter to soften - think twice and return it to the refrigerator.

Wipe down counter to remove mashed potato claw tracks. Remove Parrot
from kitchen counter and return him to perch.

Cut the pie into serving slices. Wipe whipped cream off Parrot's
beak and place large dollops of remaining whipped cream on pie
slices.

Whole slices are then served to guests, beaked-out portions should
be reserved for host & hostess.

Place Parrot inside cage & lock the door.

Sit down to a nice relaxing dinner with your family - accompanied by
plaintive cries of "WANT DINNER!" from the other room.



We never got tired of that one! We also never get tired of finding you birds to adorn and adore and we think this week's flock is especially tweet. By clicking on the "This Week's Arrivals" link in the banner above you can ohhh and awwww over a Victorian Cockatoo Pincushion from England, a B&G Blue Tit from Denmark, Byrdes Crystal from Germany, and a sweet Spring Song print from New York!
Wish you could keep up with the new listings on the Beak but don't have the time (or memory) to keep checking back week after week? By popular demand we've created a newsletter that's not only fun but will advise you when new items have been added, typically twice a month. If you'd like to get in on the action just send us an email and we'll take it from there. Of course, you can unsubscribe at any time.

.
Hey! We're now on Twitter! Follow us @wingwoman2.


If you haven't yet come on by our Facebook page, we are now 2685 fans strong and growing every day.


We wish you the happiest and safest of Thanksgivings and the enjoyment of your family and friends. We'll be back the week of December 9th with some goodies just in time for Christmas giving - or keeping.
Until then~

Jennifer @ Antique Beak
---
We also buy bird items and consider trades in some cases. If you have anything you think we'd like, let us know!
---
We know how difficult it is to buy items seen only on a flat screen, so we have taken a few views of most items so you can get a good idea of what it looks like from all angles. If you need additional photos of anything please don't hesitate to ask!
---
THANKS FOR STOPPING BY!