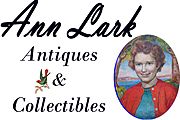 Beautiful Northwest, PA
Customer Comments: "Received the gorgeous vase and am very happy with it".
We are currently away until Friday, March 14. We will try to respond to emails during our absence. Purchase orders are welcome and will automatically reserve the item for you. Thanks so much for stopping by, see you when we get back!
Favorite Links
Serving the Online Community Since 1998

Shop . Sell . Relax
Antiques & Art . Vintage Collectibles . Jewelry

A well organized site with photos and descriptions to help your research. I highly reccommend Mr. Doty's book which can be purchased from him on the website. It is a handy traveling guide to take with you on the hunt!


This site has an engine that will help you research the seal marks of artists and publishers of Japanese woodblock prints.


This is the offical USA government website for research into patents.


Extraordinary listing of costume jewelry makers and their marks. Many photos are provided of marks and probable dates are listed. There are also educational features exploring the many facets of costume jewelry. Hats off to Dotty and Pat!


This site has it all - historic catalogs, information on lines and designers, lots of clear photographs for identification, cleaning tips and reproduction alerts.


This is a fantastic wiki site with a huge listing and description of vintage handbag manufacturers. The listings include tag descriptions, vintage ads, pictures, dates and locations of operation.

Add a link to me!