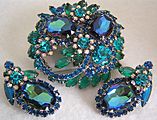 Cicero, NY
Beautiful Vintage Jewelry for the Diva in All of Us!
Favorite Links
Serving the Online Community Since 1998

Shop . Sell . Relax
Antiques & Art . Vintage Collectibles . Jewelry

Wonderful collection of photos of Elzac treasures by Cathy Gordon, co-author of the invaluable book Miriam Haskell Jewelry.


Provides gorgeous photos of works by famous Austrian makers, including lovely pieces by Schoeffel


An invaluable resource for identifying the marks on your collectible costume jewelry!


This page provides photos of Boucher's "Flowers of the Month" series, including the Lilium with its original "Genurine Cultured Pearl" tag.

Add a link to me!