Jewelry Shops Directory Alphabetical Listing

Vintage Treasures from Texas
Member since 2014
Great finds from the Lone Star State
Beth Brown/Robin Lindberg
Address provided as required
Houston, TX

---

Passion for Elegance
Member since 2014
Exiting new items every week. Expect the unexpected!
Loretta Talbert
320 Sycamore Hill Court
Danville, CA

---

ASK 50% Off~ Everything~ From $45 through $399 Remember Vintage jewelry WILL escalate in value.
Member since 2009
~ CLEARANCE 3,848 items ~ EVERYTHING Half Off for Limited Time Only~Price Reduction~~~
Amanda Heston
Please email
Please email, OR

---

Vintage and Antique Jewelry and Collectibles
Exclusive Ruby Lane Member since 2006
Welcome to the Kit 'n Caboodle Den!
Ms. Ritter
P.O. Box 1272
Highland, NY

---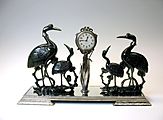 A to Z of the rare, unusual and always quirky Antique!
Member since 2008
Although my shop will show a default setting of "No Layaways" I WILL consider them on an individual basis-please ask!
Susan Mesick
PO Box 370
West Brookfield, MA

---