Vintage Leiber Suede Purse
Offering a Judith Leiber vintage suede handbag with drawstrings. This purse is different from most Leiber items since it is unadorned and casual. However, it is similar to other Leiber products in its quality workmanship and design. The suede is chocolate brown and it is soft and supple, almost fabric like. The purse is shaped like a rounded canister whose top is drawn together into a ruffled effect by two drawstrings (each 15" long) on the sides. The gussets at the sides are ruched together with abundant soft suede. The handbag is 17"w at the bottom and 8"w at the top when closed, 10"w when fully opened. It is roomy enough to hold today's essentials. There is slight wear evidenced on the top ruffle, probably from age. It is lined with brown grosgrain and there are 2 zippered pockets and a small coin purse inside. The Judith Leiber cartouche is inside. In its simplicity this purse proclaims sophistication and style. Whether adorned with crystals or not, Judith Leiber sets a high standard for all purses. This purses reflects that. CA: 1980 Condition: Very Good Vintage Condition
Item ID: RL-133
---
Gender: Female, Age Group: Adult, Color: brown, Size: M
Vintage Leiber Suede Purse
Offering a Judith Leiber vintage suede handbag with drawstrings. This purse is different from most Leiber items since it is unadorned and casual. However, it is similar to other Leiber products in its quality workmanship and design. The suede is chocolate brown and it is soft and supple, almost fabric like. The purse is shaped like a rounded canister whose top is drawn together into a ruffled effect by two drawstrings (each 15" long) on the sides. The gussets at the sides are ruched together with abundant soft suede. The handbag is 17"w at the bottom and 8"w at the top when closed, 10"w when fully opened. It is roomy enough to hold today's essentials. There is slight wear evidenced on the top ruffle, probably from age. It is lined with brown grosgrain and there are 2 zippered pockets and a small coin purse inside. The Judith Leiber cartouche is inside. In its simplicity this purse proclaims sophistication and style. Whether adorned with crystals or not, Judith Leiber sets a high standard for all purses. This purses reflects that. CA: 1980 Condition: Very Good Vintage Condition
Item ID: RL-133
---
Gender: Female, Age Group: Adult, Color: brown, Size: M
If you are the pending buyer of this item, go to My Account to view, track and pay for this item.
$150
USD
SALE PENDING
This item is Pending a Sale so cannot be purchased at this time.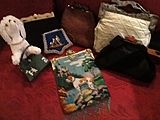 Albertson, NY
Purses plus other timeless treasures!
Exclusive Ruby Lane Member since 2012
VINTAGE for the holidays! Nostalgic and everlasting!!!
More from M/M Goomis Antiques