Vintage Miriam Haskell Porcelain Painted Plaque Pendant Necklace Double Chain
For you consideration I am listing this wonderful '70s vintage Miriam Haskell double chained necklace in goldtone with painted porcelain pendant. The necklace features two different style chains gathered with filigree caps, one at approximately 28 inches and the other 17 inches. The necklace employs the slide clasp introduced in Haskell jewelry circa 1975. The shorter chain is suspended on an engraved bail with Haskell's signature Russian goldtone finished pendant. The top and sides of the pendant are graced with detailed foliage. A filigree plate is fitted at top with a built up multipronged setting showcasing a painted porcelain glass cabochon. Framing the plaque are wired white glass beads. The porcelain plaque is intricately decorated with three floral blossoms along with their foliage. Colors are in shades of pastel pink, yellow and green. The plaque measures about 2 1/2 inches including bail x 1 5/8 inches at it's widest point. Profile is approximately 1/2 inch. Condition of the necklace is excellent vintage. All components intact. Goldtone finish intact. Some appropriate minor age wear to goldtone on shorter necklace chain. Porcelain plaque,beads and Russian goldtone pendant framework excellent with no damage. Beadwork secure. Porcelain plaque has no chips, nicks. cracks or breaks. Paint remains intact with no rubs or fading. Original necklace slide clasp strong and secure. No damage / no repairs. Clasp is signed on one side with "Miriam Haskell" , the other with the familiar patent number "3427691". Reverse of pendant is signed within an oval cartouche "Miriam Haskell". Much or what you know and love about Haskell's vintage work is here. Ready to wear and enjoy. Please add $3.50 for shipping. Payment is due within five days of sale. Thanks for taking a look
Item ID: 002
---
Gender: Female, Age Group: Adult, Color: Pink / Yellow / Green, Size: 17 inches / 28 inches
Vintage Miriam Haskell Porcelain Painted Plaque Pendant Necklace Double Chain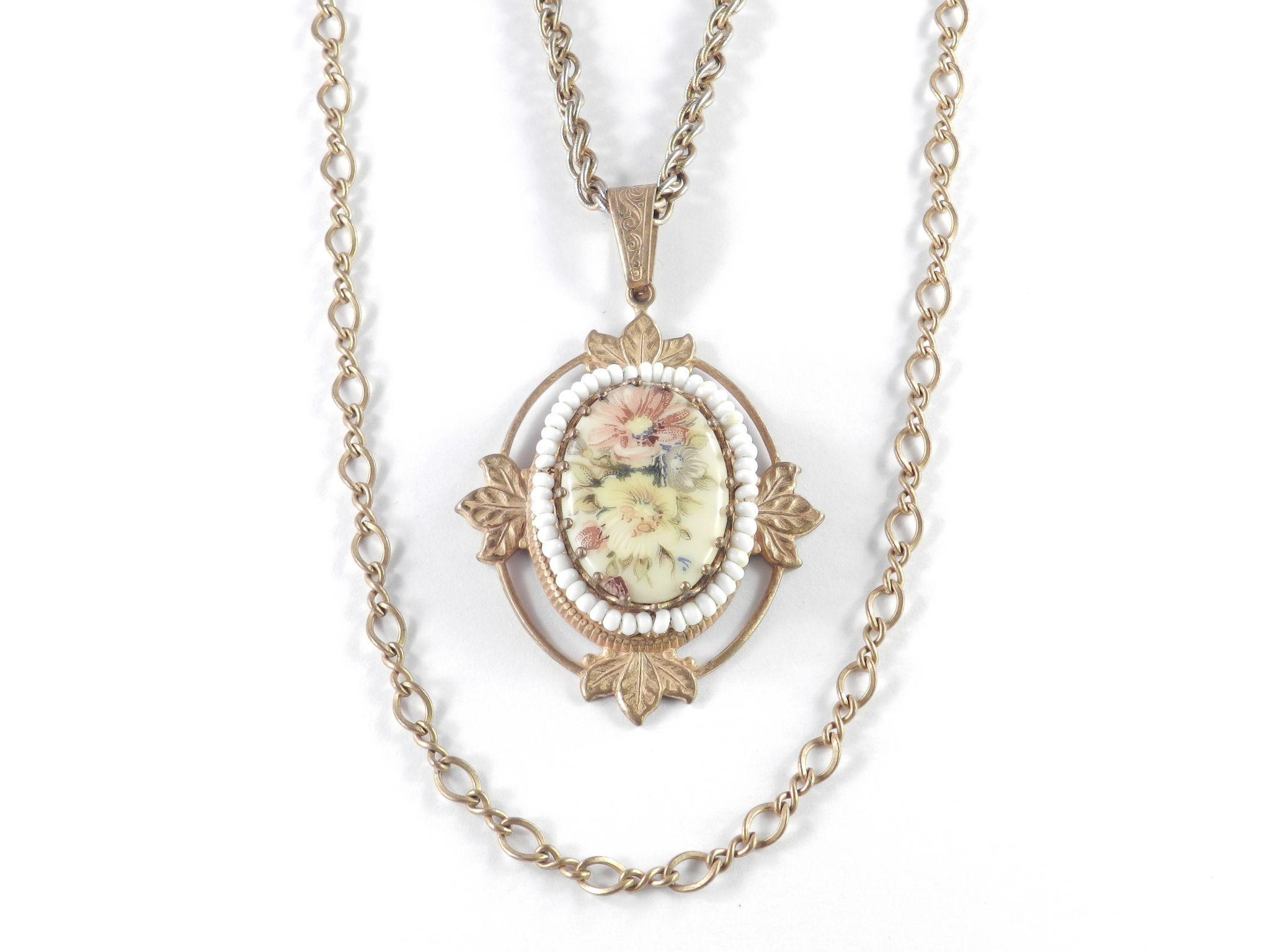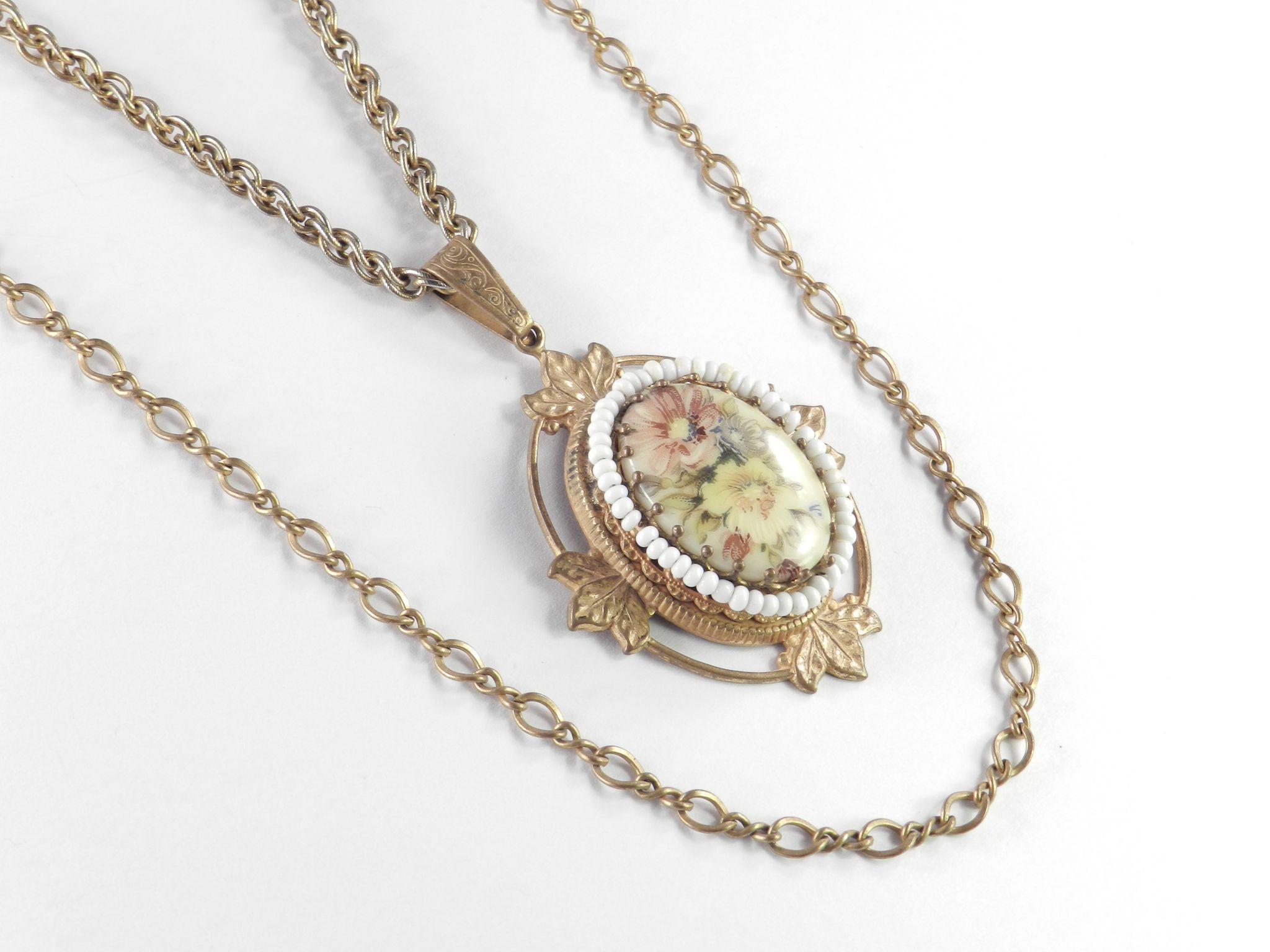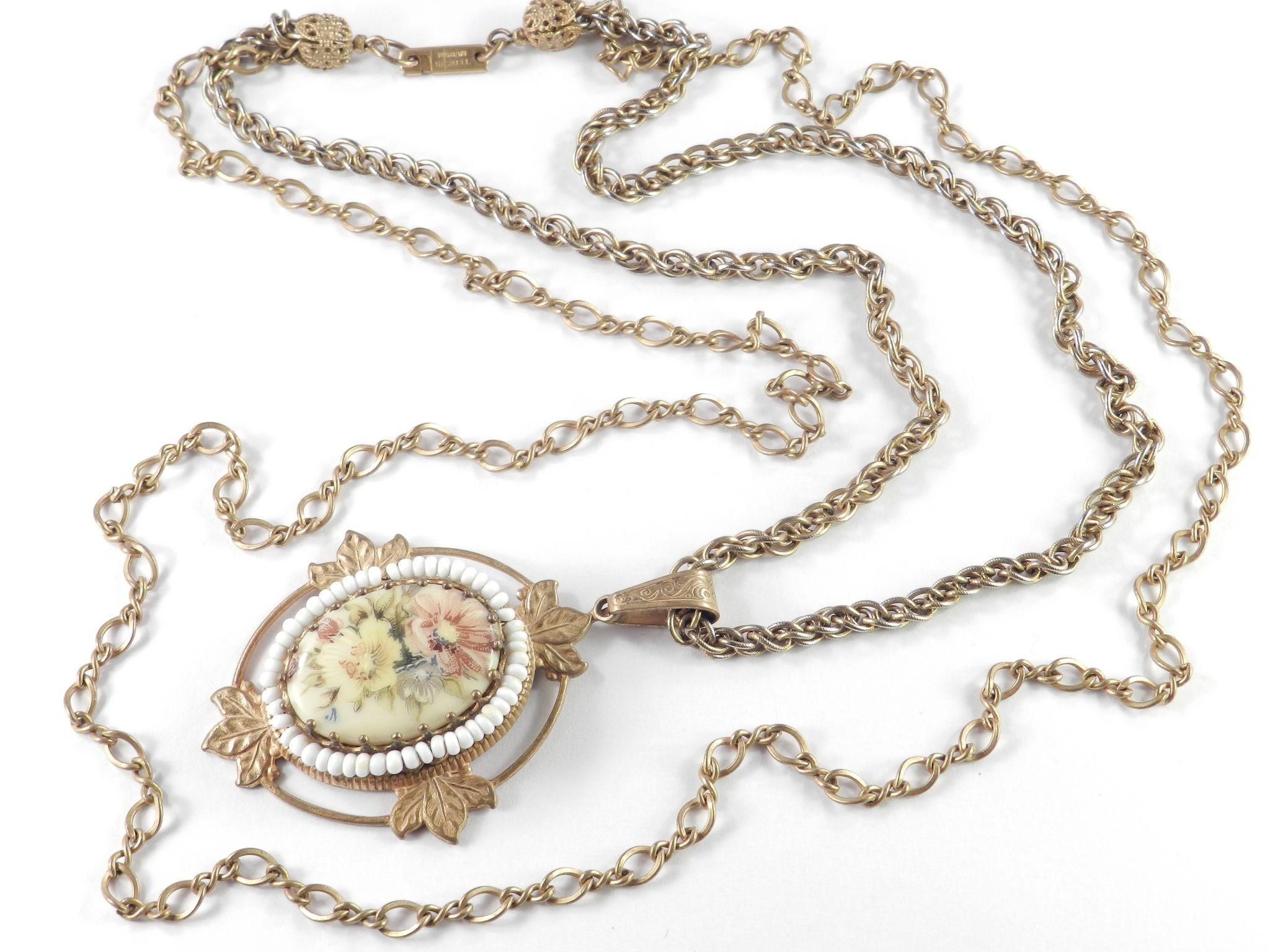 For you consideration I am listing this wonderful '70s vintage Miriam Haskell double chained necklace in goldtone with painted porcelain pendant. The necklace features two different style chains gathered with filigree caps, one at approximately 28 inches and the other 17 inches. The necklace employs the slide clasp introduced in Haskell jewelry circa 1975. The shorter chain is suspended on an engraved bail with Haskell's signature Russian goldtone finished pendant. The top and sides of the pendant are graced with detailed foliage. A filigree plate is fitted at top with a built up multipronged setting showcasing a painted porcelain glass cabochon. Framing the plaque are wired white glass beads. The porcelain plaque is intricately decorated with three floral blossoms along with their foliage. Colors are in shades of pastel pink, yellow and green. The plaque measures about 2 1/2 inches including bail x 1 5/8 inches at it's widest point. Profile is approximately 1/2 inch. Condition of the necklace is excellent vintage. All components intact. Goldtone finish intact. Some appropriate minor age wear to goldtone on shorter necklace chain. Porcelain plaque,beads and Russian goldtone pendant framework excellent with no damage. Beadwork secure. Porcelain plaque has no chips, nicks. cracks or breaks. Paint remains intact with no rubs or fading. Original necklace slide clasp strong and secure. No damage / no repairs. Clasp is signed on one side with "Miriam Haskell" , the other with the familiar patent number "3427691". Reverse of pendant is signed within an oval cartouche "Miriam Haskell". Much or what you know and love about Haskell's vintage work is here. Ready to wear and enjoy. Please add $3.50 for shipping. Payment is due within five days of sale. Thanks for taking a look
Item ID: 002
---
Gender: Female, Age Group: Adult, Color: Pink / Yellow / Green, Size: 17 inches / 28 inches
Make Offer
Add to Wish List
3 other shoppers have this item in their Cart or Wish List. Don't miss out!
Monte Rio, CA
Over 30 years experience offering the finest in vintage jewelry.
Member since 2012
Quality vintage jewelry at competitive prices.
We are currently unavailable until Tuesday, December 17. We may not have Internet access during our absence. Purchase orders are welcome and will automatically reserve the item for you. We will be happy to confirm your purchases and answer any questions upon our return.
Shipping/Handling

*

:
$3.50 USD
Insurance:
Included
Price for shipping to USA change location | more services
*USPS First-Class Mail Parcel
Available shipping to USA:
USPS First-Class Mail Parcel: $3.50
USD
, insurance: Included
USPS First-Class Mail Parcel: $3.50
USD
, insurance: Included
USPS First-Class Mail Parcel: $3.50
USD
, insurance: Included
---
---
Combinable for shipping discounts
More from Cody's Vintage Jewelry