Oneida Community 96 pc SP Flatware Morning Star Service for 12 c 1948
Beautiful Art Deco style Morning Star Silver plate flatware Pattern by Oneida Community c 1948 96 piece service for 12 includes serving pieces excellent condition on this gently used set light surface scratches no loss of plating i am including the serving pieces with the set as it is nearly complete and in lovely vintage condition
set consists of 12 dinner knives 12 dinner forks 12 salad forks 24 teaspoons 12 soup spoons 9 desert spoons 9 individual butter knives 1 master butter knife 3 sugar spoons 4 Serving spoons 1 Meat Fork 1 gravy ladle 1 pie server 1 cranberry spoon 1 serving fork 1 ice tea spoon 2 piece child fork and spoon includes dark cherry color silver chest light scratches to exterior of chest
This would be a fabulous wedding gift or compliment to either a traditional or contemporary table setting. Please message me with any questions and thank you for visiting my shop
Item ID: 292
Oneida Community 96 pc SP Flatware Morning Star Service for 12 c 1948
Beautiful Art Deco style Morning Star Silver plate flatware Pattern by Oneida Community c 1948 96 piece service for 12 includes serving pieces excellent condition on this gently used set light surface scratches no loss of plating i am including the serving pieces with the set as it is nearly complete and in lovely vintage condition
set consists of 12 dinner knives 12 dinner forks 12 salad forks 24 teaspoons 12 soup spoons 9 desert spoons 9 individual butter knives 1 master butter knife 3 sugar spoons 4 Serving spoons 1 Meat Fork 1 gravy ladle 1 pie server 1 cranberry spoon 1 serving fork 1 ice tea spoon 2 piece child fork and spoon includes dark cherry color silver chest light scratches to exterior of chest
This would be a fabulous wedding gift or compliment to either a traditional or contemporary table setting. Please message me with any questions and thank you for visiting my shop
Item ID: 292
If you are the pending buyer of this item, go to My Account to view, track and pay for this item.
$325
USD
SALE PENDING
This item is Pending a Sale so cannot be purchased at this time.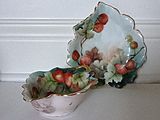 Long Grove, IL
... vintage china and silver from Limoges, Royal Austria,Reed & Barton ...
Member since 2012
Vintage collections from Limoges, Royal Austria, Reed & Barton and more with ecological awareness and conscious living.
Shipping/Handling

*

:
$35.50 USD
Insurance:
$6.00 USD
Price for shipping to USA change location | more services
*USPS Priority Mail
Available shipping to USA:
USPS Priority Mail: $35.50
USD
, insurance: $6.00
USD
UPS Ground: $35.50
USD
, insurance: $6.00
USD
---
---
More from The Cherished Home