BOURDON : Antique Belgian .900 Silver Tea Coffee Service
The house of Bourdon Freres in Belgium is one of renown and prestige. Notably, Armand A. M. J. Bourdon introduced Art Deco style to Belgium. And Bourdon Freres became the representatives for the wildly famous Wolfers Freres. Offered here, an impressive four piece tea and coffee set, bearing a count's crown and coat of arms. The set is unusually large, massing 3680 grams. It is decorated in Neo-Rococo Japanisme style. Abundant use of the Japanese "wave", infusing rocialles on baluster shaped partially fluted bodies, lids and attached legs; this stylistic wave said to have influenced European art heavily in the second half of the 19th century. Both pots have exquisitely carved ebony handles. Condition is excellent; no flaws to note. Please see photos for dimensions and marks. All pieces bear the guarantee for .900 silver, the Bourdon Maker's Punch and the Bourdon Gand stamp. Total weight is 118 troy ounces, or over 8 pounds. Please note: The equally if not more impressive Cardeilhac tray is sold separately.
Item ID: bj13
BOURDON : Antique Belgian .900 Silver Tea Coffee Service
$11,140
USD
SALE
Add to Wish List
2 other shoppers have this item in their Cart or Wish List. Don't miss out!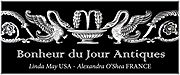 Radnor, PA
Finest Antique French & European Silverware - direct from France
Member since 2011
Fine and unique 18th - 19th century French Silverware and Objets d'Art
More from Bonheur du Jour Antiques