5 Piece Dining Room Set Strombecker Dollhouse Furniture 3/4 Scale
5 Piece Dining Room Set 3/4" Scale Strombecker Dollhouse Furniture
Great wooden doll house furniture set with dining room table with three deco scalloped top chairs and a buffet or sideboard with turned legs, painted panels and raised knobs in brown wood, would be great for any 3/4" scale dollhouse. Made by Strombecker in 1930's style. Table has surface playwear marks, chairs in gently played with condition. Buffet has crackle bubbles in finish on right side, Still very nice for your 3/4" dollhouse or for the Strombecker collector! Fruit bowl not included. I have just bought the rest of this dollhouse's furniture, and will be listing them in rooms or groups. Happy to combine to save shipping. A bit of background: Strombecker started making wooden dollhouse furniture and accessories in 1931 in the 1" to 1' scale. In 1934 they started making 3/4" to 1' scale furniture to fit the popular dollhouses of that time. They made dollhouse furniture for 30 years, changing the styles of the toys to match the decorating fashions of the day
Item ID: RL-051108
5 Piece Dining Room Set Strombecker Dollhouse Furniture 3/4 Scale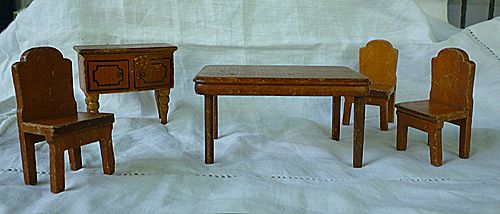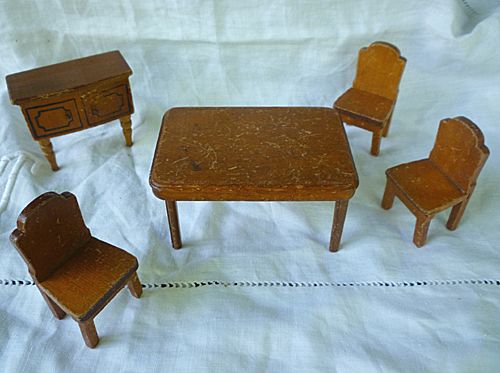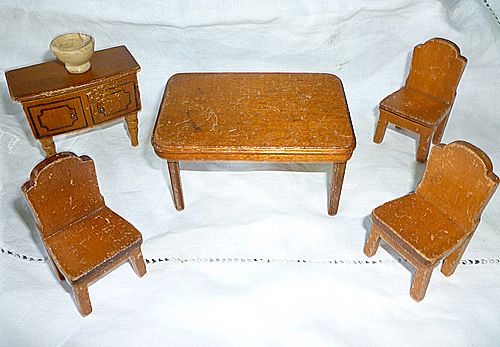 5 Piece Dining Room Set 3/4" Scale Strombecker Dollhouse Furniture
Great wooden doll house furniture set with dining room table with three deco scalloped top chairs and a buffet or sideboard with turned legs, painted panels and raised knobs in brown wood, would be great for any 3/4" scale dollhouse. Made by Strombecker in 1930's style. Table has surface playwear marks, chairs in gently played with condition. Buffet has crackle bubbles in finish on right side, Still very nice for your 3/4" dollhouse or for the Strombecker collector! Fruit bowl not included. I have just bought the rest of this dollhouse's furniture, and will be listing them in rooms or groups. Happy to combine to save shipping. A bit of background: Strombecker started making wooden dollhouse furniture and accessories in 1931 in the 1" to 1' scale. In 1934 they started making 3/4" to 1' scale furniture to fit the popular dollhouses of that time. They made dollhouse furniture for 30 years, changing the styles of the toys to match the decorating fashions of the day
Item ID: RL-051108
Add to Wish List
Another shopper has this item in their Cart or Wish List. Don't miss out!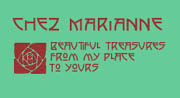 Hyattsville, MD
Beautiful vintage things from my place to yours to treasure and use in new ways
Member since 1999
Browse my shop for my annual March Madness Sale! Spring is coming soon! Thanks to all my repeat customers!