Vintage Avon faux Amethyst & Pearl Long Necklace/Pendant -- Victorian Revival with Tassels
Classically elegant -- simple and stunning -- this pendant in the Victorian revival style looks like the 'real' thing. It features a large beautifully faceted glass faux amethyst stone encircled by small faux pearls. Elaborate gold tone rope work frames the pearls. Fox tail tassels dangle seductively from the base of the pendant. The long chain is double linked or 'Rolo' style. The pendant and chain measure 19 inches long; the pendant itself with the bale and tassels measures three and three-quarter inches long and 1 1/4 inches wide. Signed Avon on the reverse with a copyright symbol. This magnificent necklace is in excellent condition -- the gold tone is shiny and bright. You will be admired while wearing this stunner -- and so well priced. Enjoy! $49.00
Item ID: 00607
---
Gender: Female, Age Group: Adult, Color: gold tone/amethyst, Size: 19"
Vintage Avon faux Amethyst & Pearl Long Necklace/Pendant -- Victorian Revival with Tassels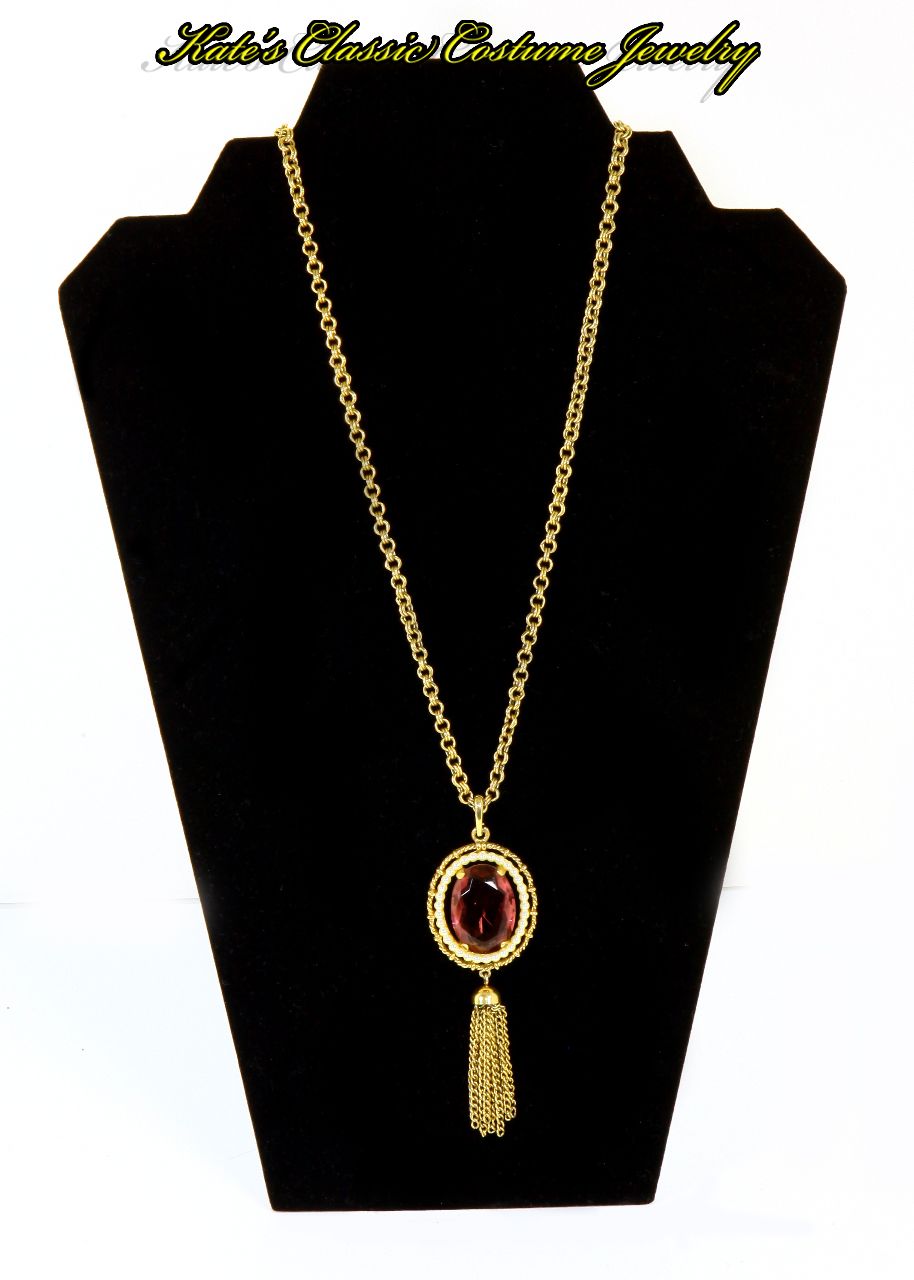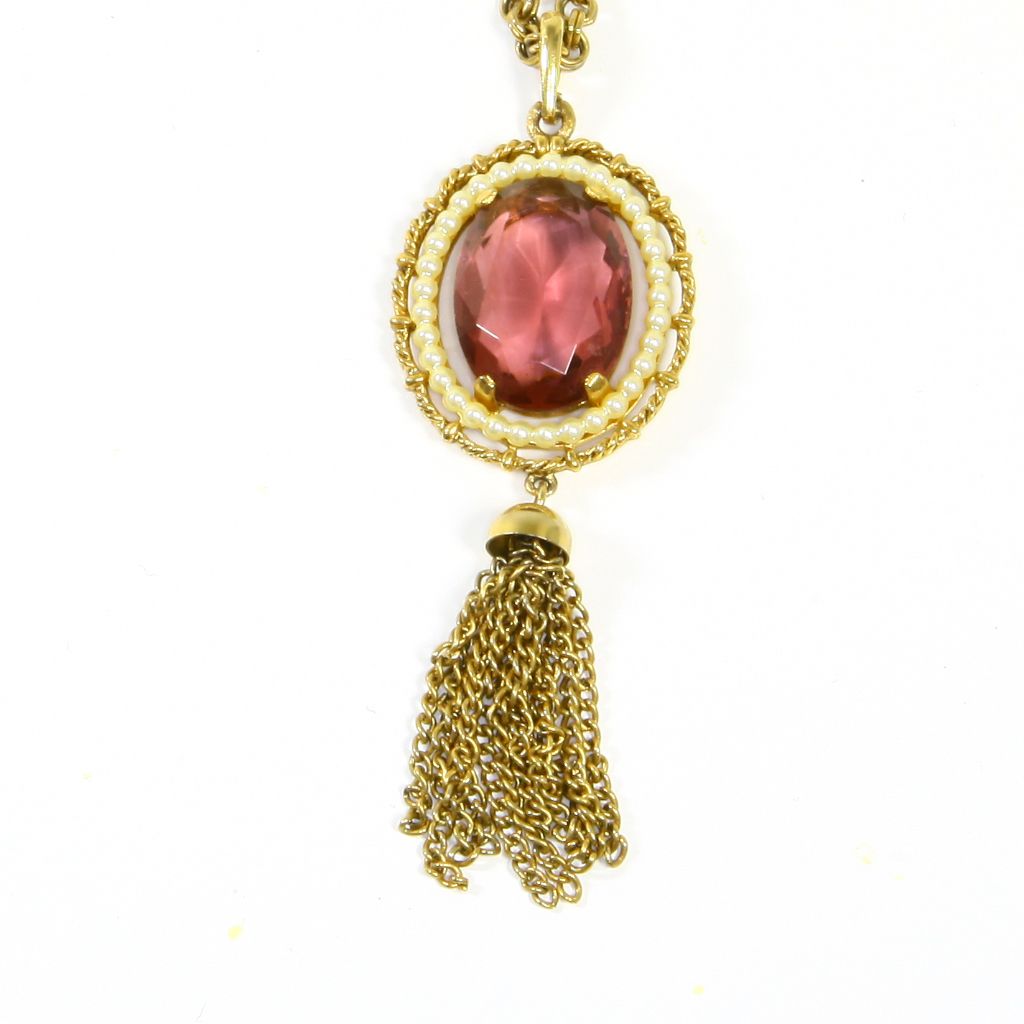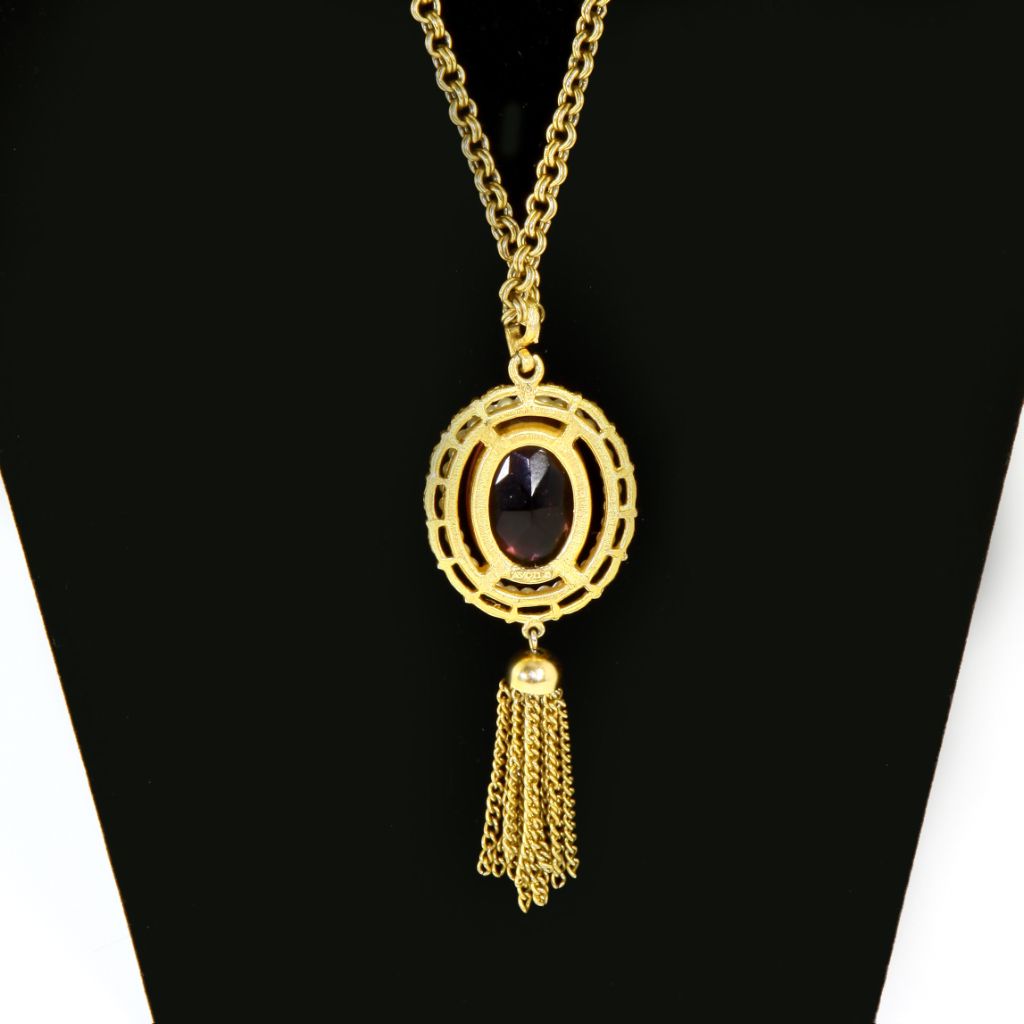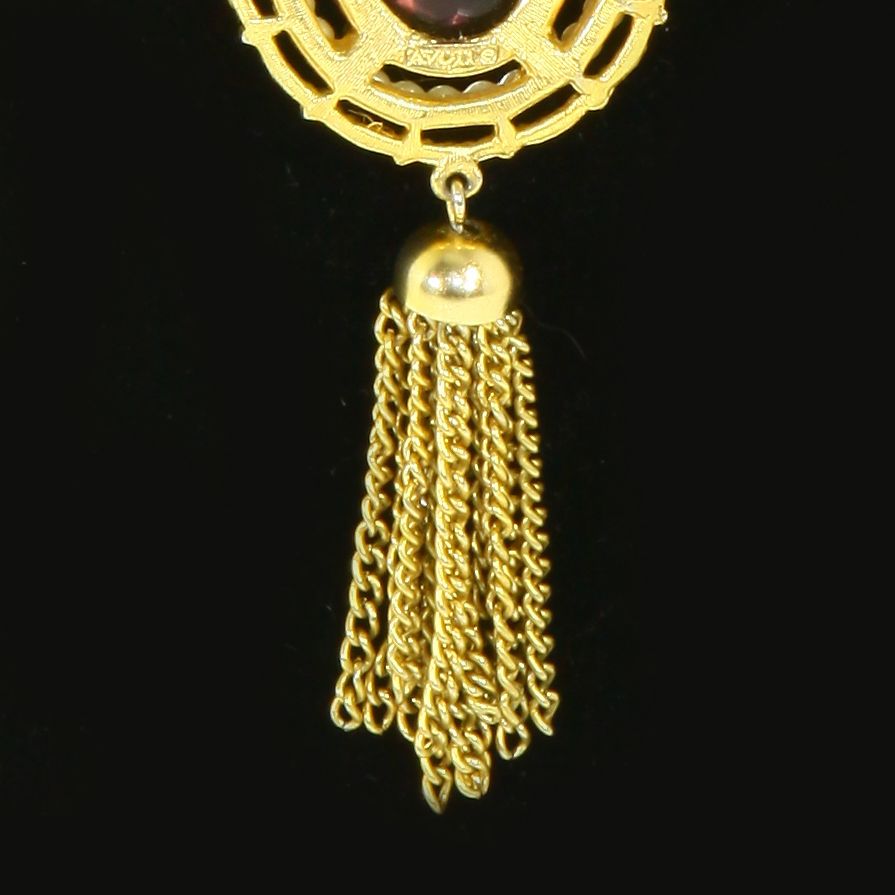 Classically elegant -- simple and stunning -- this pendant in the Victorian revival style looks like the 'real' thing. It features a large beautifully faceted glass faux amethyst stone encircled by small faux pearls. Elaborate gold tone rope work frames the pearls. Fox tail tassels dangle seductively from the base of the pendant. The long chain is double linked or 'Rolo' style. The pendant and chain measure 19 inches long; the pendant itself with the bale and tassels measures three and three-quarter inches long and 1 1/4 inches wide. Signed Avon on the reverse with a copyright symbol. This magnificent necklace is in excellent condition -- the gold tone is shiny and bright. You will be admired while wearing this stunner -- and so well priced. Enjoy! $49.00
Item ID: 00607
---
Gender: Female, Age Group: Adult, Color: gold tone/amethyst, Size: 19"
$42
USD
SALE
Make Offer
Add to Wish List
4 other shoppers have this item in their Cart or Wish List. Don't miss out!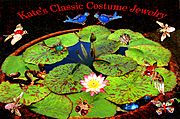 Albuquerque, NM
VINTAGE COSTUME JEWELRY- Haskell, Juliana, Panetta, Schreiner, Trifari, Czech
Exclusive Ruby Lane Member since 2010
I specialize in vintage costume jewelry. Art Deco, Bakelite, Rhinestones, Bracelets and Pins!
Shipping/Handling

*

:
$5.20 USD
Insurance:
Included
Price for shipping to USA change location
*USPS Priority Mail Small Flat Rate Box
---
---
More from Kate's Classic Costume Jewelry