Pre 1935 Fred Harvey Era Signed Navajo Thunderbird Turquoise Coil Silver Pin / Pendant
Here is a wonderful a wonderful Piece of Early Native American Navajo Silver Jewelry. Pre 1935's.....very early Fred Harvey Era. Completely handmade. The Thunderbird is a popular Native American Indian Design. The silver was handwork out and cut to the Bird design....then hand stampings and tools marks finish off the designs. The Thunderbird measures 2" high and 1-3/4" wide. Weighs 10.3 grams total weight. The inlaid turquoise is 1/2" high and 1/4" wide. It is Silver probably coin by the looks but maybe Sterling. The Clasp works well and closes tight when worn. In EXCELLENT condition and is signed XTS by the maker. Will make a great addition to any fine costume jewelry collection
Item ID: A2- 1264
---
Gender: Unisex, Age Group: Adult, Color: silver turquoise, Size: 2 inches high
Pre 1935 Fred Harvey Era Signed Navajo Thunderbird Turquoise Coil Silver Pin / Pendant
Here is a wonderful a wonderful Piece of Early Native American Navajo Silver Jewelry. Pre 1935's.....very early Fred Harvey Era. Completely handmade. The Thunderbird is a popular Native American Indian Design. The silver was handwork out and cut to the Bird design....then hand stampings and tools marks finish off the designs. The Thunderbird measures 2" high and 1-3/4" wide. Weighs 10.3 grams total weight. The inlaid turquoise is 1/2" high and 1/4" wide. It is Silver probably coin by the looks but maybe Sterling. The Clasp works well and closes tight when worn. In EXCELLENT condition and is signed XTS by the maker. Will make a great addition to any fine costume jewelry collection
Item ID: A2- 1264
---
Gender: Unisex, Age Group: Adult, Color: silver turquoise, Size: 2 inches high
If you were the pending buyer of this item, go to My Account to view, track and check payment for this item.
$125
USD
SOLD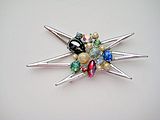 Minneapolis, MN
Vintage, Costume and Modern Jewelry -- Great pieces at Great prices!
Exclusive Ruby Lane Member since 2010
Offering quality unique jewelry. Buy two items or more, get free shipping in the U.S.! Repeat customers always get 15% off!