Huge Oil On Board Listed Artist Australian Colin Parker 1970 Queensland Absolutely Beautiful and Masterfully Done
Fresh to Ruby Lane from a Kentucky estate. I will begin by letting the potential buyer know that I am not an art dealer. I specialize in vintage jewelry and vintage clothing. I will be happy to provide all the information I can and have NO idea how one would ship this! This was purchased by myself at a local auction. The painting caught my eye because it looked like Eastern Colorado where I grew up and because it is absolutely beautiful and masterfully done. I believe it is painted on mahogany. Signed. Subject matter hand written on the back. HUGE...which is why I have to sell it I live in a tiny home...could I knock down a wall ? There is a web site with more information on Mr. Parker online. It is so hard to value art....I have chosen a price that seems to compare with previous works and I am open to offers.Painting is in good condition. Size framed is approx . 3 feet 8 inches tall and 6 feet 7 inches long!! Written on the back is the following information "Hunlerford, South Webster, QLD" Colin Parker 1970 W.H. Riley. I have a second original painting of Mr. Parker's artistic hand in my shop as well...again they reminded me of what used to be home :)
LOCAL PICK UP ONLY !!!!!! !!!!!!!!!!!!!!!!!!!!!!!!!!!!!!!!!
Item ID: parker2
Huge Oil On Board Listed Artist Australian Colin Parker 1970 Queensland Absolutely Beautiful and Masterfully Done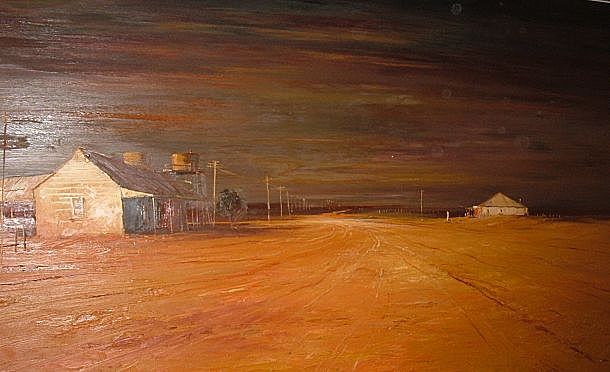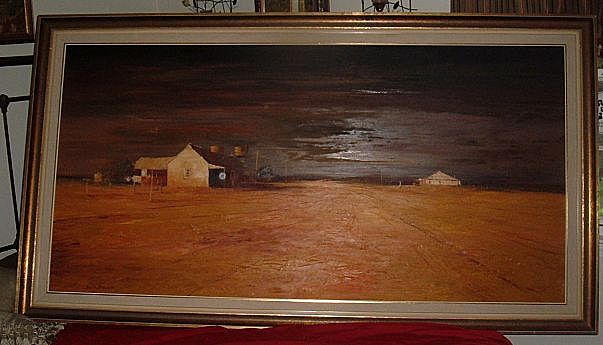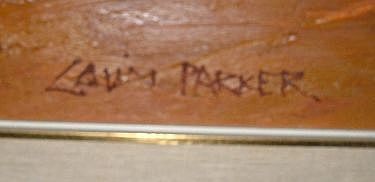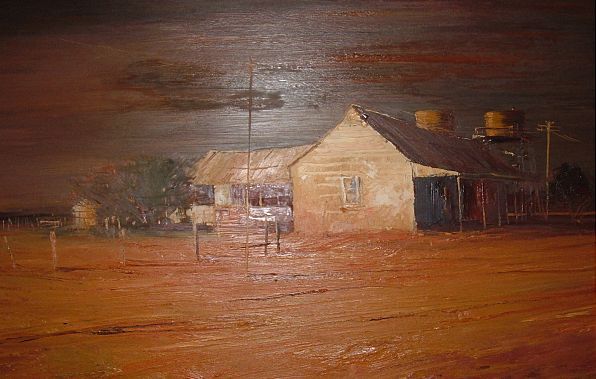 Fresh to Ruby Lane from a Kentucky estate. I will begin by letting the potential buyer know that I am not an art dealer. I specialize in vintage jewelry and vintage clothing. I will be happy to provide all the information I can and have NO idea how one would ship this! This was purchased by myself at a local auction. The painting caught my eye because it looked like Eastern Colorado where I grew up and because it is absolutely beautiful and masterfully done. I believe it is painted on mahogany. Signed. Subject matter hand written on the back. HUGE...which is why I have to sell it I live in a tiny home...could I knock down a wall ? There is a web site with more information on Mr. Parker online. It is so hard to value art....I have chosen a price that seems to compare with previous works and I am open to offers.Painting is in good condition. Size framed is approx . 3 feet 8 inches tall and 6 feet 7 inches long!! Written on the back is the following information "Hunlerford, South Webster, QLD" Colin Parker 1970 W.H. Riley. I have a second original painting of Mr. Parker's artistic hand in my shop as well...again they reminded me of what used to be home :)
LOCAL PICK UP ONLY !!!!!! !!!!!!!!!!!!!!!!!!!!!!!!!!!!!!!!!
Item ID: parker2
$3,900
USD
Add to Wish List

Louisville, KY
Bonjour..enter into my "web" shop...click on link above The French Wench and ENJOY !
Member since 2010
| | |
| --- | --- |
| Shipping/Handling: | Freight (cost to be determined) |
| Insurance: | Included |
Price for shipping to USA change location
---
---