Vintage 1950's Annie Laura Pottery Souvenir Dishes, California, Arizona and Texas
Offered are three Annie Laura Pottery souvenir pin dishes shaped like the states of California, Arizona and Texas. Ed and Annie Laura Schell were potters from Pico, California in the 1950's. All three dishes are a cream color with a green trim line on the top edge of the rim. California and Arizona have a green background on the inside bottom. Texas has a grayish green background on the inside bottom. California is hand painted with a poppy and the word 'California'. Arizona is hand painted with cactus, a desert mesa and the word 'Arizona'. Texas is also hand painted with its state flower along with the word 'Texas'. All three have the words 'Annie Laura' written in script and impressed on the bottom. The Arizona dish also has a green label on the bottom that reads, 'HAND PAINTED', 'ANNIE LAURA', 'USA'. The Arizona shaped dish is in excellent condition with no chips or cracks. The California and Texas shaped dishes each have one chip (see photos). All the dishes have age related crazing. Arizona measures 4 1/4" by 3 3/4", California measures 5 3/4" by 2 1/2" and Texas measures 4 1/2" by 4 5/8". All three dishes are hand painted, colorful and truly charming. Price: $30
Item ID: MJH199
Vintage 1950's Annie Laura Pottery Souvenir Dishes, California, Arizona and Texas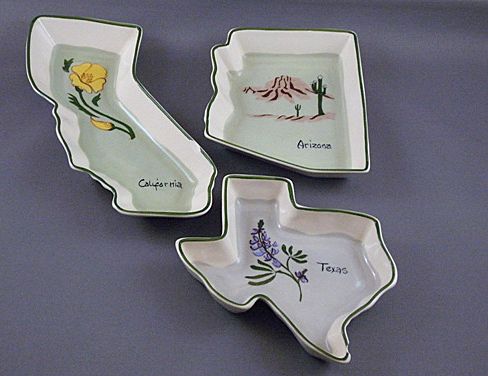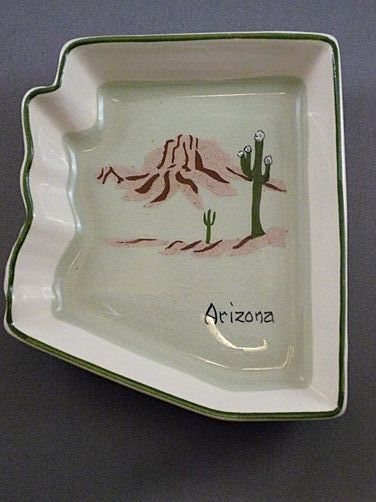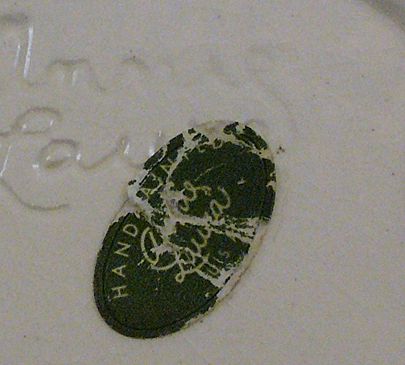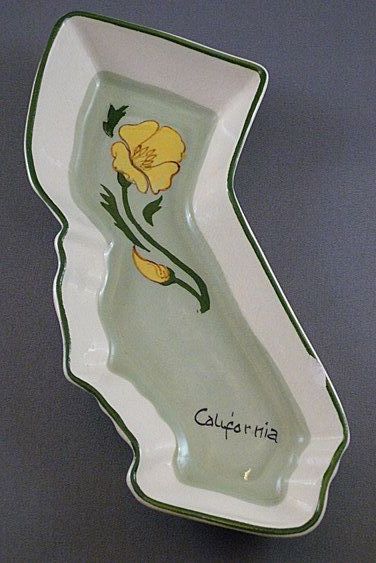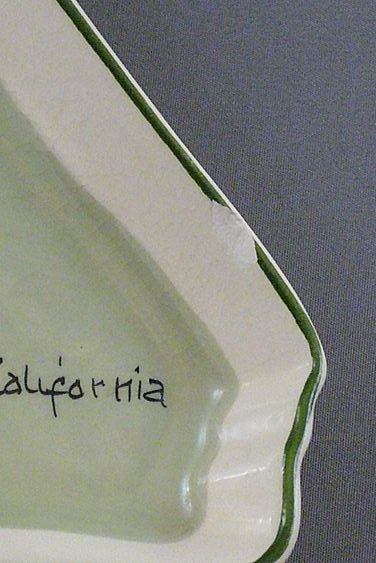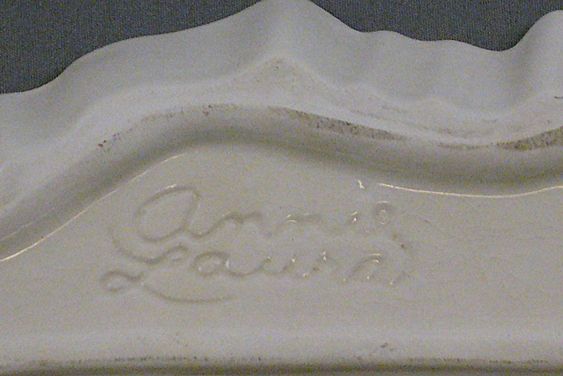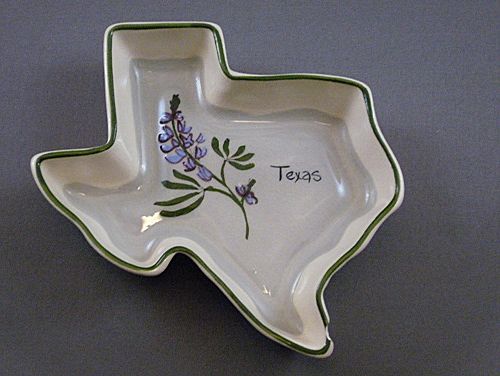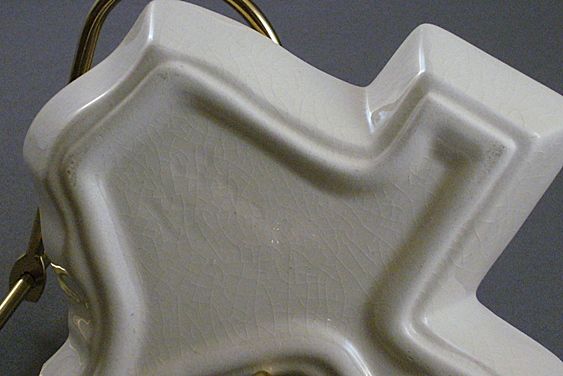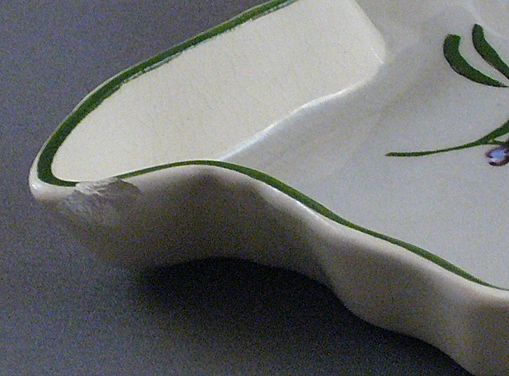 Offered are three Annie Laura Pottery souvenir pin dishes shaped like the states of California, Arizona and Texas. Ed and Annie Laura Schell were potters from Pico, California in the 1950's. All three dishes are a cream color with a green trim line on the top edge of the rim. California and Arizona have a green background on the inside bottom. Texas has a grayish green background on the inside bottom. California is hand painted with a poppy and the word 'California'. Arizona is hand painted with cactus, a desert mesa and the word 'Arizona'. Texas is also hand painted with its state flower along with the word 'Texas'. All three have the words 'Annie Laura' written in script and impressed on the bottom. The Arizona dish also has a green label on the bottom that reads, 'HAND PAINTED', 'ANNIE LAURA', 'USA'. The Arizona shaped dish is in excellent condition with no chips or cracks. The California and Texas shaped dishes each have one chip (see photos). All the dishes have age related crazing. Arizona measures 4 1/4" by 3 3/4", California measures 5 3/4" by 2 1/2" and Texas measures 4 1/2" by 4 5/8". All three dishes are hand painted, colorful and truly charming. Price: $30
Item ID: MJH199
$30
$25
USD
SALE
Add to Wish List
2 other shoppers have this item in their Cart or Wish List. Don't miss out!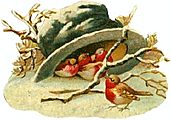 Santa Barbara, CA
A Variety Of Items From Our Home To Yours
Exclusive Ruby Lane Member since 2009
To view other shipping options click on "more services" in the shipping box. New items just reduced!
More from Better Yours Than Mine Collectibles