Mattel, Midge Doll and With Wig Wardrobe, 1965
We are very pleased to offer for sale this molded head Midge doll with her original wig wardrobe that was made by Mattel Toys and offered in 1965. The set originally contained a molded hair Midge head and three wigs made especially for Midge and a white plastic wig stand. The little girl would then put the head on a body and be able to interchange the wigs. Our Midge head is in mint condition with no paint missing from her molded red hair and the original orange head -band intact. Her facial make up is perfect with full orange lips, big blue eyes, those infamous freckles and curved brown brows. She has no earring holes or neck splits. She is on a Midge/Barbie body that is excellent with 100 % of her finger nail polish present and 75% of her toe nail polish present. Her joints are tight and body is clean. She comes with her golden blond "Swirl `N Curl" wig, her brunette "Topknot Pouf" wig and her titian "Double Ponytail" wig. All the wigs are in excellent condition, however, both the ponytail wig and the topknot pouf are missing their original ribbons. Midge also comes wearing her black and white flower playsuit with vinyl wide red belt and red high heel shoes. The set comes to you from a SMOKE FREE home and will be a great addition to any collection
Item ID: RL002040
Mattel, Midge Doll and With Wig Wardrobe, 1965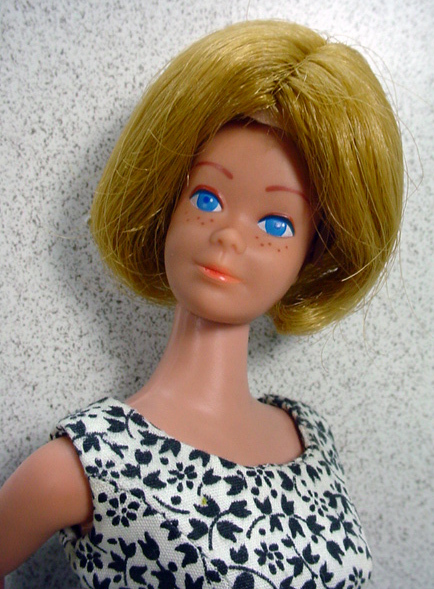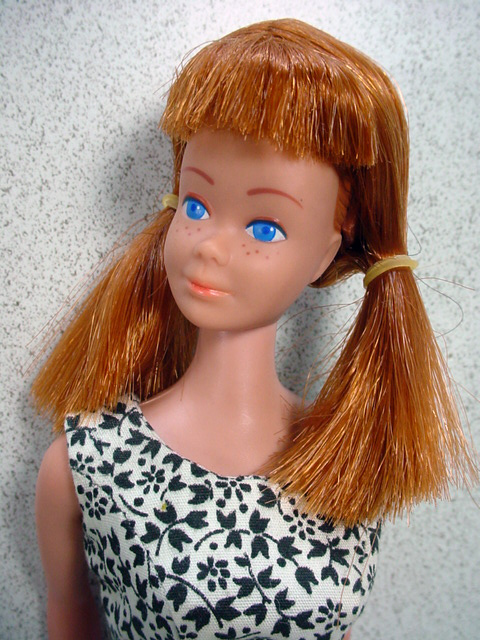 We are very pleased to offer for sale this molded head Midge doll with her original wig wardrobe that was made by Mattel Toys and offered in 1965. The set originally contained a molded hair Midge head and three wigs made especially for Midge and a white plastic wig stand. The little girl would then put the head on a body and be able to interchange the wigs. Our Midge head is in mint condition with no paint missing from her molded red hair and the original orange head -band intact. Her facial make up is perfect with full orange lips, big blue eyes, those infamous freckles and curved brown brows. She has no earring holes or neck splits. She is on a Midge/Barbie body that is excellent with 100 % of her finger nail polish present and 75% of her toe nail polish present. Her joints are tight and body is clean. She comes with her golden blond "Swirl `N Curl" wig, her brunette "Topknot Pouf" wig and her titian "Double Ponytail" wig. All the wigs are in excellent condition, however, both the ponytail wig and the topknot pouf are missing their original ribbons. Midge also comes wearing her black and white flower playsuit with vinyl wide red belt and red high heel shoes. The set comes to you from a SMOKE FREE home and will be a great addition to any collection
Item ID: RL002040
Add to Wish List
3 other shoppers have this item in their Cart or Wish List. Don't miss out!

Rutherford, NJ
VINTAGE Designer Costume Jewelry and Clothing, VINTAGE Dolls & VINTAGE BARBIE
Exclusive Ruby Lane Member since 2009
Now, through December 31 All Vintage Ladies Clothing and Accessories are Now 50% Off their Regular Price!
Shipping/Handling

*

:
Free
Insurance:
Included
Price for shipping to USA change location
*USPS Standard Post
---
---
More from Fourty Fifty Sixty