Vintage Sterling Silver Bold Fancy Multi Themed Dangle Charm Pin Brooch
I am offering you these exquisite vintage sterling silver (tested positive for sterling silver 925 content) amazing dimensional large 2 3/4 " long oblong shaped dangle pin brooch with several multi themed charms hanging from it. This is such a magnificent look ....... Creating a very dimensional oblong shaped design, very regal and elegant................ A real unique design,......... Simply breath taking !! There are 2 round cut genuine garnet stones set as eyes in the bird design at the top of the pin. This amazing pin brooch came fresh out of an estate here in upstate New York. It will go perfectly with your fashion forward styles of the season, you will certainly be noticed while wearing these. It measure 2 3/4 inches, 2 1/4 inches. It weighs 30 grams. Buyer pays all shipping and handling fees
Item ID: 0003425
---
Gender: Female, Age Group: Adult, Color: silver, Size: 23/4"diameter
Vintage Sterling Silver Bold Fancy Multi Themed Dangle Charm Pin Brooch
I am offering you these exquisite vintage sterling silver (tested positive for sterling silver 925 content) amazing dimensional large 2 3/4 " long oblong shaped dangle pin brooch with several multi themed charms hanging from it. This is such a magnificent look ....... Creating a very dimensional oblong shaped design, very regal and elegant................ A real unique design,......... Simply breath taking !! There are 2 round cut genuine garnet stones set as eyes in the bird design at the top of the pin. This amazing pin brooch came fresh out of an estate here in upstate New York. It will go perfectly with your fashion forward styles of the season, you will certainly be noticed while wearing these. It measure 2 3/4 inches, 2 1/4 inches. It weighs 30 grams. Buyer pays all shipping and handling fees
Item ID: 0003425
---
Gender: Female, Age Group: Adult, Color: silver, Size: 23/4"diameter
$63
$54
USD
SALE
Add to Wish List
2 other shoppers have this item in their Cart or Wish List. Don't miss out!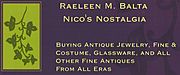 Pittsford, NY
Welcome to Nico's Nostalgia! We feature an outstanding selection of Vintage and Antique Jewelry.
Member since 2011
Have fun shopping at Nico's Nostalgia. You will find wonderful Vintage & Antique Jewelry to add to your collection!
More from Nico's Nostalgia