Vintage Sterling Silver Marquise Black Onyx Fancy Filigree Pin Brooch
I am offering you this exquisite vintage sterling silver (tested positive for sterling silver 925 content) marquise shaped genuine black onyx stone in a detailed filigree and heavily scrolled extra large detailed and very unique in design pin brooch !! This pin features a gorgeous large oval scalloped pendant charm with scrolled, curved filigree work all inter mixed around this fabulous intense genuine stone, with endless amounts of scrolling , as well as raised puffed bead like decorations , there !! This is such a statement piece ........... It will appeal to so many different tastes. You will be noticed when wearing this unusual vintage sterling silver ornate filigree pin ......... Having an amazing profile look, with such dimension, design, and weight to it............ Giving this bold pin amazing interest. t weighs app. 8 grams, and it measures app. 1 1/4 inch, by 1 inch. This large vintage pin came fresh out my good friends 91 year old aunts estate. She lived in New York City her whole life, and loved high fashion clothes and jewelry. I have been fortunate enough to have procured her entire jewelry collection, and have uncovered several very old and collectible pieces of jewelry , this pin is no exception. This vintage yet unusual trendy style... That is so in now !!!!! Buyer pays all shipping and handling fees
Item ID: 0002421
---
Gender: Female, Age Group: Adult, Color: silver/blackonyx, Size: 1.25"
Vintage Sterling Silver Marquise Black Onyx Fancy Filigree Pin Brooch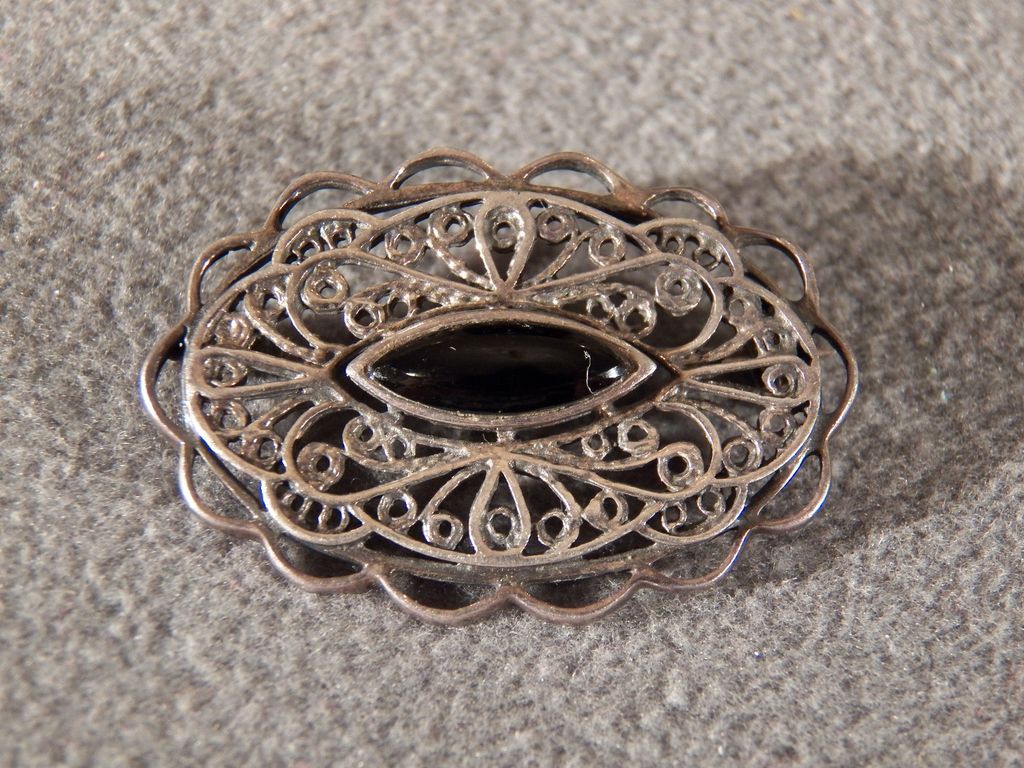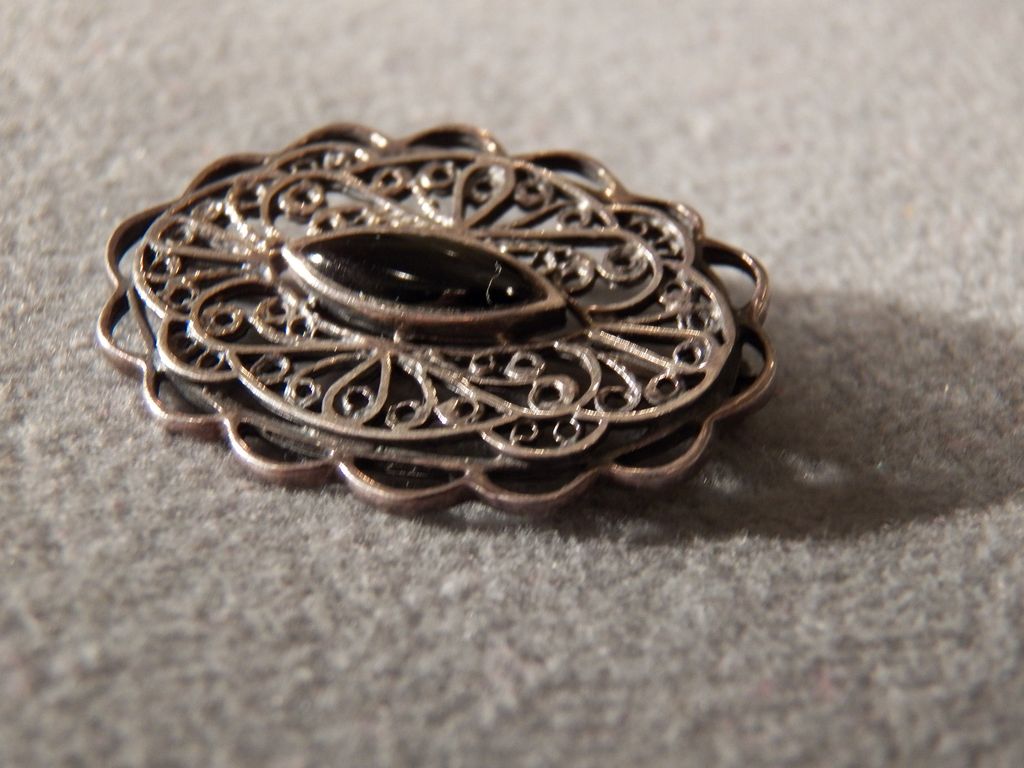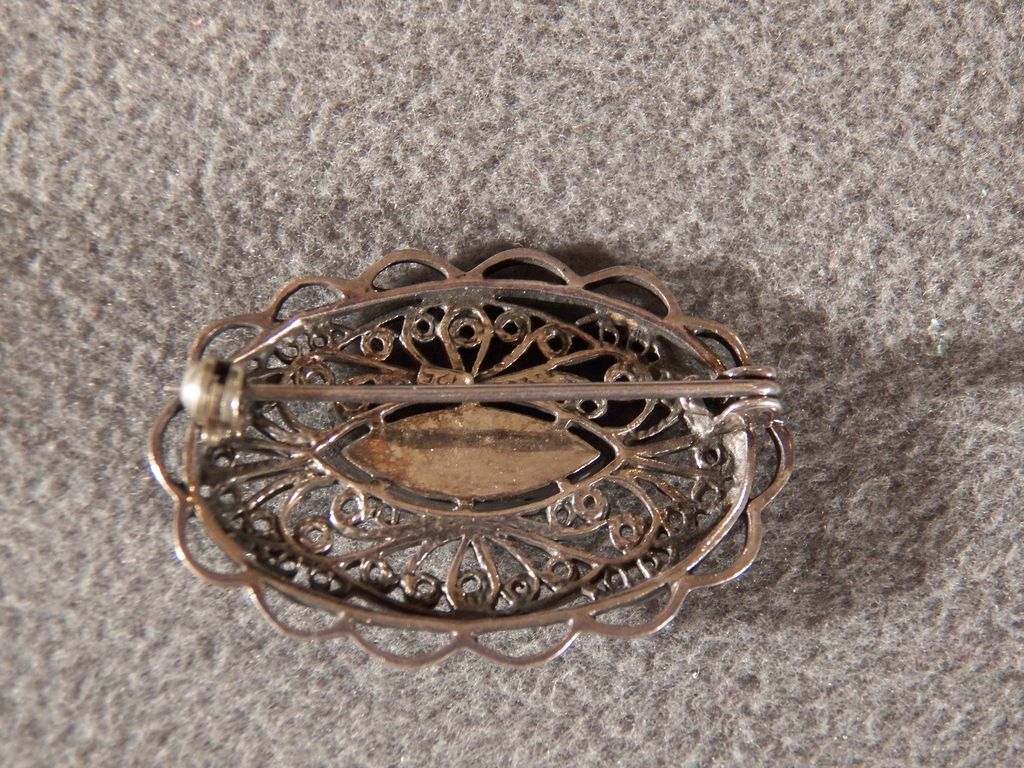 I am offering you this exquisite vintage sterling silver (tested positive for sterling silver 925 content) marquise shaped genuine black onyx stone in a detailed filigree and heavily scrolled extra large detailed and very unique in design pin brooch !! This pin features a gorgeous large oval scalloped pendant charm with scrolled, curved filigree work all inter mixed around this fabulous intense genuine stone, with endless amounts of scrolling , as well as raised puffed bead like decorations , there !! This is such a statement piece ........... It will appeal to so many different tastes. You will be noticed when wearing this unusual vintage sterling silver ornate filigree pin ......... Having an amazing profile look, with such dimension, design, and weight to it............ Giving this bold pin amazing interest. t weighs app. 8 grams, and it measures app. 1 1/4 inch, by 1 inch. This large vintage pin came fresh out my good friends 91 year old aunts estate. She lived in New York City her whole life, and loved high fashion clothes and jewelry. I have been fortunate enough to have procured her entire jewelry collection, and have uncovered several very old and collectible pieces of jewelry , this pin is no exception. This vintage yet unusual trendy style... That is so in now !!!!! Buyer pays all shipping and handling fees
Item ID: 0002421
---
Gender: Female, Age Group: Adult, Color: silver/blackonyx, Size: 1.25"
$49
$42
USD
SALE
Add to Wish List
Another shopper has this item in their Cart or Wish List. Don't miss out!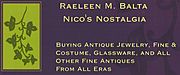 Pittsford, NY
Welcome to Nico's Nostalgia! We feature an outstanding selection of Vintage and Antique Jewelry.
Member since 2011
Have fun shopping at Nico's Nostalgia. You will find wonderful Vintage & Antique Jewelry to add to your collection!
More from Nico's Nostalgia