Birthday Rppc Postcard To My Dear Niece Girl Having Tea Party With Dogs And Dolls
This is such a lovely card. The little girl is having a tea party with her dolls and dogs. Everyone is sitting at the table and she is serving. The verse on the card says...May you be as happy, darling as the little girl you see. Who has all her toys invited to a jolly Birthday tea. On the bottom of card copyright Beagles Postcards. On the back card is stamped J. Beagles & Co LTD., E.C. Printers & Publishers Guaranteed Real Photograph. Postcard has lovely incised flowered border. Postcard has not been mailed but has writing and measures 3 1/2 x 5 1/2 inches. Card in good condition with some wear to edges and corners and a little browning on back but nothing that takes away from this nice card. (red spot is not on card but a reflect of light while taking photo)
Will combine items to save on shipping.
Item ID: RL-1329
Birthday Rppc Postcard To My Dear Niece Girl Having Tea Party With Dogs And Dolls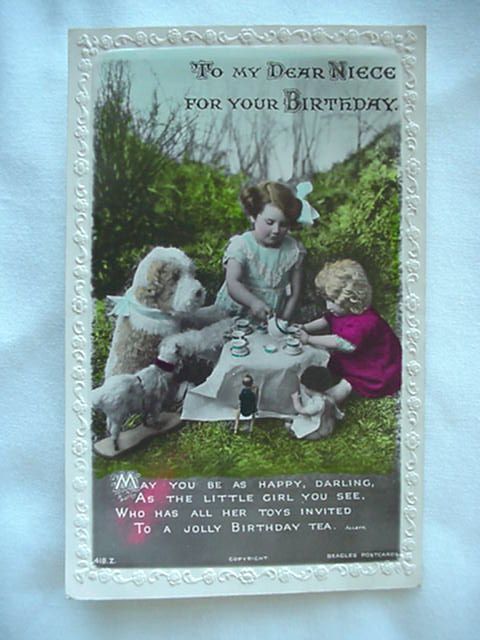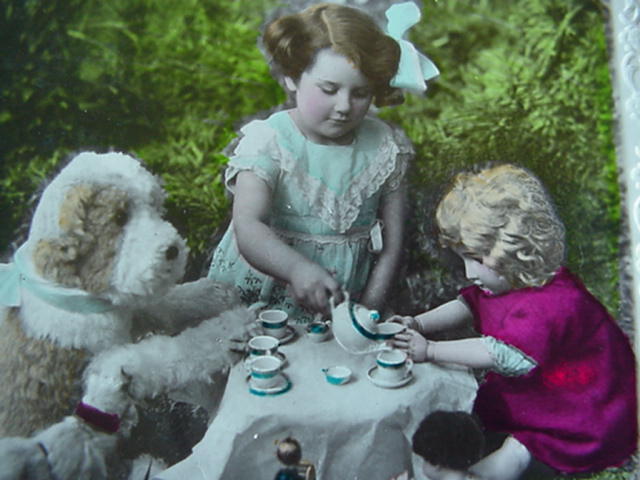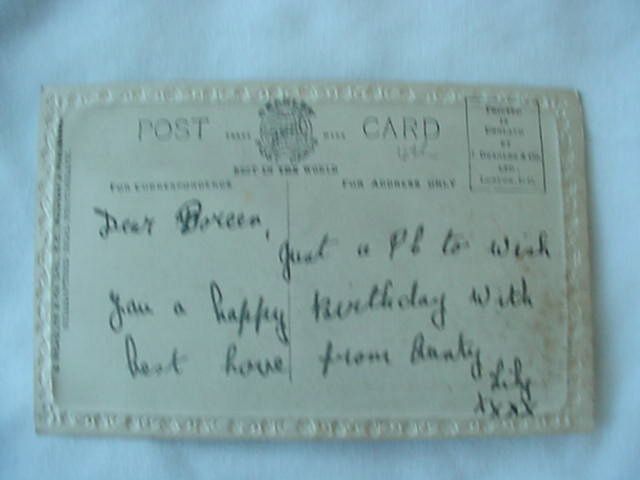 This is such a lovely card. The little girl is having a tea party with her dolls and dogs. Everyone is sitting at the table and she is serving. The verse on the card says...May you be as happy, darling as the little girl you see. Who has all her toys invited to a jolly Birthday tea. On the bottom of card copyright Beagles Postcards. On the back card is stamped J. Beagles & Co LTD., E.C. Printers & Publishers Guaranteed Real Photograph. Postcard has lovely incised flowered border. Postcard has not been mailed but has writing and measures 3 1/2 x 5 1/2 inches. Card in good condition with some wear to edges and corners and a little browning on back but nothing that takes away from this nice card. (red spot is not on card but a reflect of light while taking photo)
Will combine items to save on shipping.
Item ID: RL-1329
Add to Wish List
Another shopper has this item in their Cart or Wish List. Don't miss out!

Fairplay, MD
Offerings items from the past for all budgets under the sun
Exclusive Ruby Lane Member since 2009
many items in shop on SALE! Great finds...Will accept reasonable offers!
Shipping/Handling

*

:
$1.00 USD
Insurance:
$1.85 USD
Price for shipping to USA change location
*USPS First-Class Mail Letter
---
---
More from All N The Family Collectibles