Pair Of Oversized Sterling Julep Cups (4 Pr. Available)
Offered is a pair of oversized sterling julep cups by Fisher Silversmiths, Inc. of New York. These cups measure 4 1/2" tall. Marked on the bottom with Fisher, the Fisher hallmark, Sterling, 85-. A very substantial cup. Cups have been professionally polished so they are really gleaming. These date from the 1940's. Julep cups are getting harder and harder to find. A lovely addition to any bar. (4 Pairs Available)
Item ID: 1520
Pair Of Oversized Sterling Julep Cups (4 Pr. Available)
Offered is a pair of oversized sterling julep cups by Fisher Silversmiths, Inc. of New York. These cups measure 4 1/2" tall. Marked on the bottom with Fisher, the Fisher hallmark, Sterling, 85-. A very substantial cup. Cups have been professionally polished so they are really gleaming. These date from the 1940's. Julep cups are getting harder and harder to find. A lovely addition to any bar. (4 Pairs Available)
Item ID: 1520
$775
$700
USD
ea.
SALE
Quantity available: 4
Add to Wish List
2 other shoppers have this item in their Cart or Wish List. Don't miss out!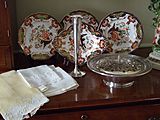 Athens, GA
Collectible and antique silver, linens and porcelain.
Exclusive Ruby Lane Member since 2009
HUGE SALE!!!! Enjoy browsing my shop. Happy to answer any questions.
Shipping/Handling

*

:
$12.90 USD
Insurance:
$10.85 USD
Price for shipping to USA change location
*USPS Priority Mail
---
---
More from Plum Nelly Antiques & Treasures