Hand Embroidered "R" European Towel
Offered is a European damask linen towel with the most incredible hand embroidered "R". The towel measures 24x 38". The letter is so embellished. It measures 4 34" x 5". The linen has a three leaf clover design. Both ends have a scalloped embroidered border. One of the prettiest towels I have had. C:1940
Item ID: 1504
Hand Embroidered "R" European Towel
Offered is a European damask linen towel with the most incredible hand embroidered "R". The towel measures 24x 38". The letter is so embellished. It measures 4 34" x 5". The linen has a three leaf clover design. Both ends have a scalloped embroidered border. One of the prettiest towels I have had. C:1940
Item ID: 1504
If you are the pending buyer of this item, go to My Account to view, track and pay for this item.
$52
USD
SALE PENDING
This item is Pending a Sale so cannot be purchased at this time.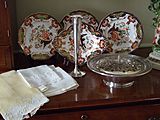 Athens, GA
Collectible and antique silver, linens and porcelain.
Exclusive Ruby Lane Member since 2009
HUGE SALE!!!! Enjoy browsing my shop. Happy to answer any questions.
Shipping/Handling

*

:
$5.95 USD
Insurance:
$2.35 USD
Price for shipping to USA change location
*USPS Priority Mail
---
---
More from Plum Nelly Antiques & Treasures