Antique French miniature sedan chair doll display vitrine cherubs porte montre
Darling late 19th century French, miniature sedan chair display vitrine / porte montre, with adorable cherub motifs, would make an ideal antique doll accessory. A wonderful faded grandeur confection , made from cardboard and wood covered in velvet,with bevelled glass panels and moulded lithographed metal panels. The chaise a porteurs has the most enchanting scenes of frolicking cherubs, swags and bows, adorned with the sweetest little porcelain handle with rose motifs. It is most unusual to find these little treasures in perfect condition and this one is of no exception. The metal panels have some chips and light damage, the velvet is faded and worn and the interior fabrics are lightly damaged and have glue residue. The glass panels are original but have come loose at some point and have been stuck back into place, so show signs of glue residue and left hand panel is off set ( please see last photo ). Despite it's imperfections, the miniature vitrine is very decorative and utterly charming . It would make a splendid doll accessory doll or display cabinet for a fob watch or jewelry. Please study the photos as these form part of the description, if you need more, please do not hesitate to get in touch. Dimensions : 6 1/4 inches high 3 1/2 inches wide 4 inches deep
Item ID: 1203
Antique French miniature sedan chair doll display vitrine cherubs porte montre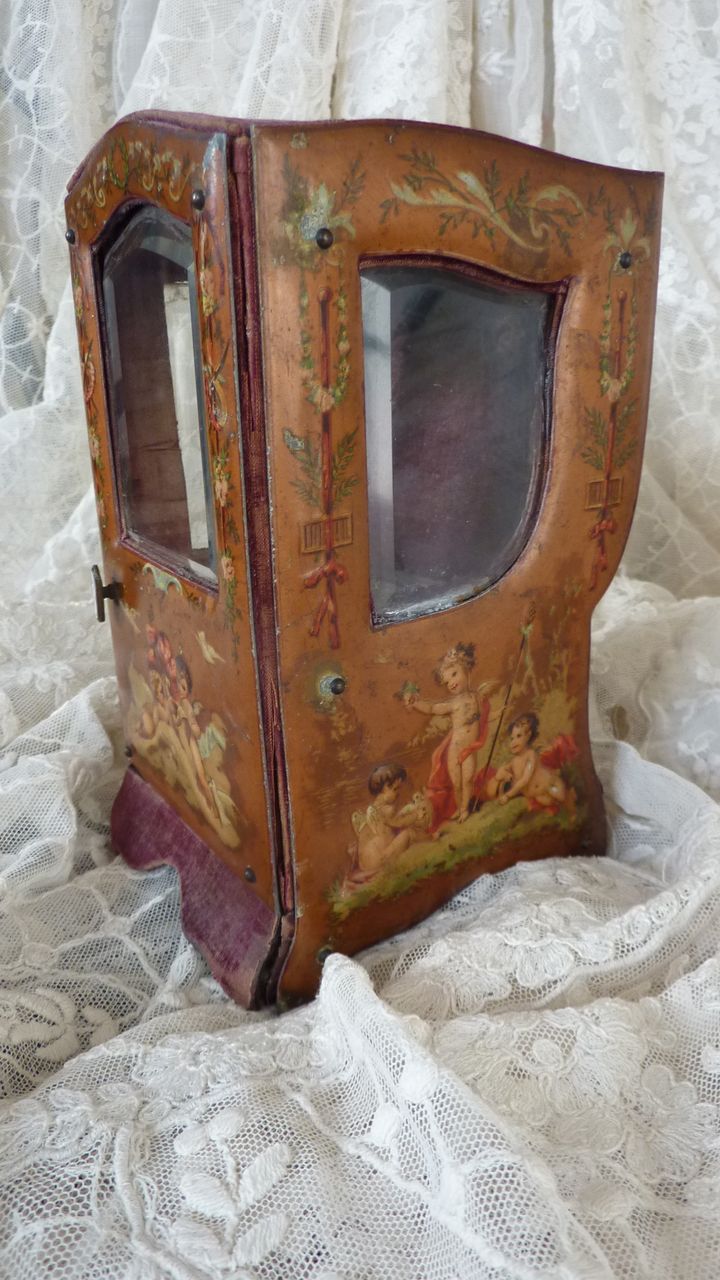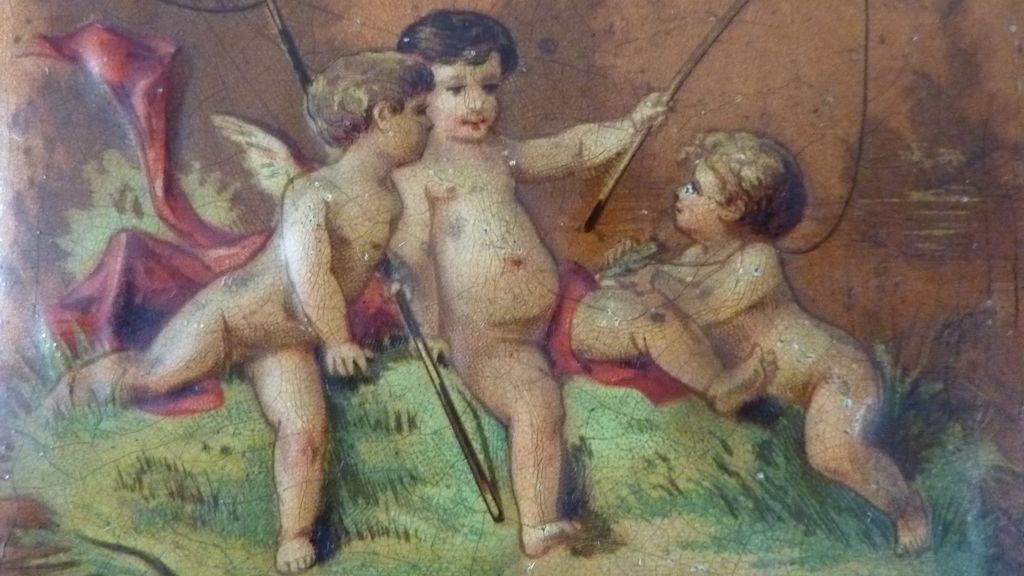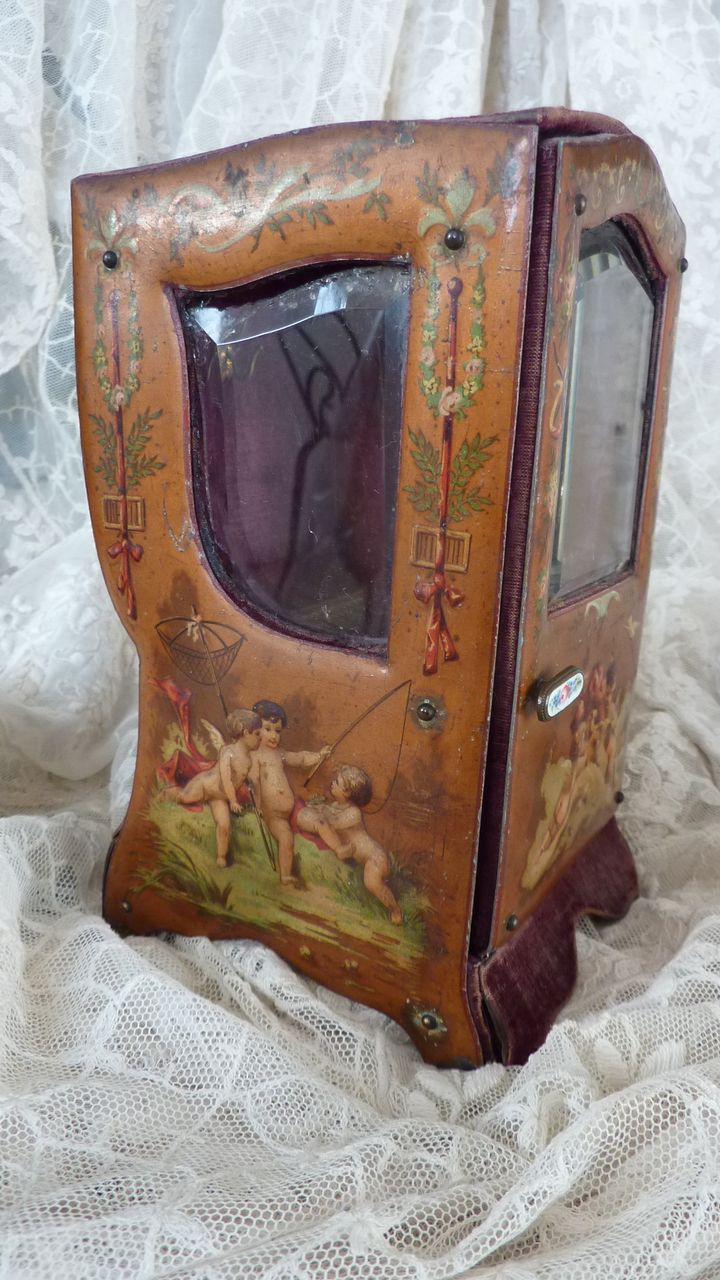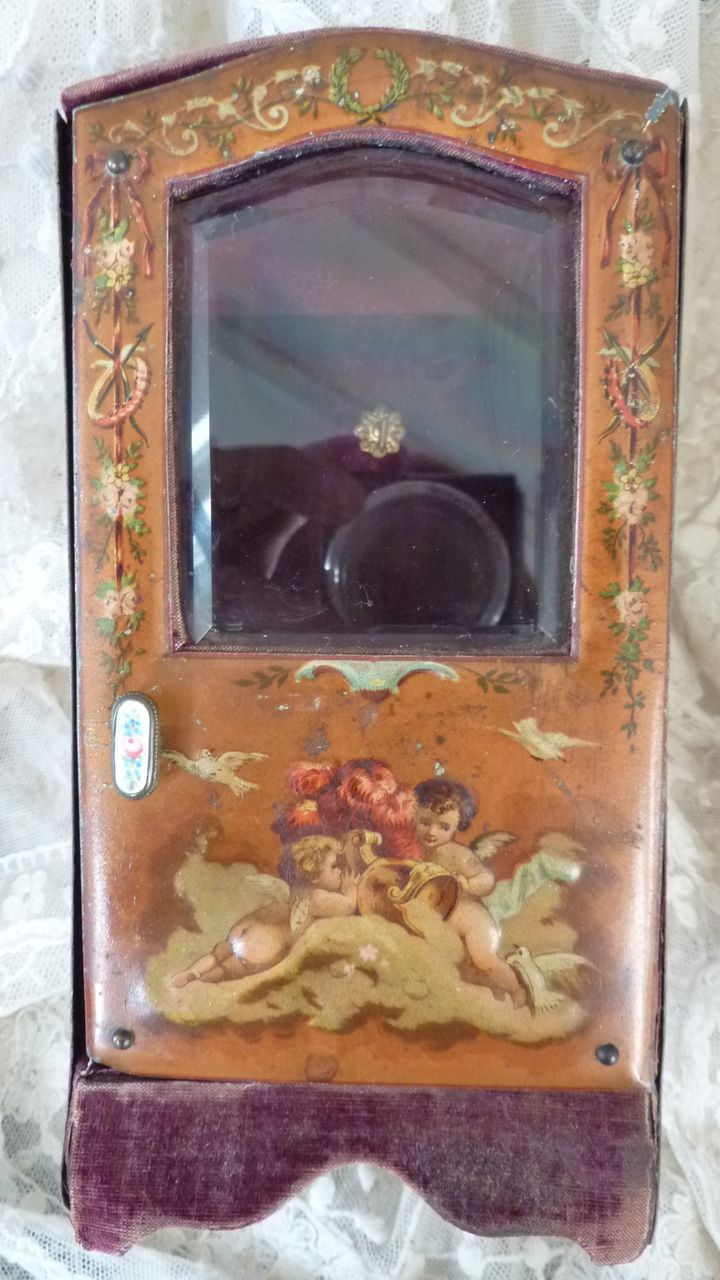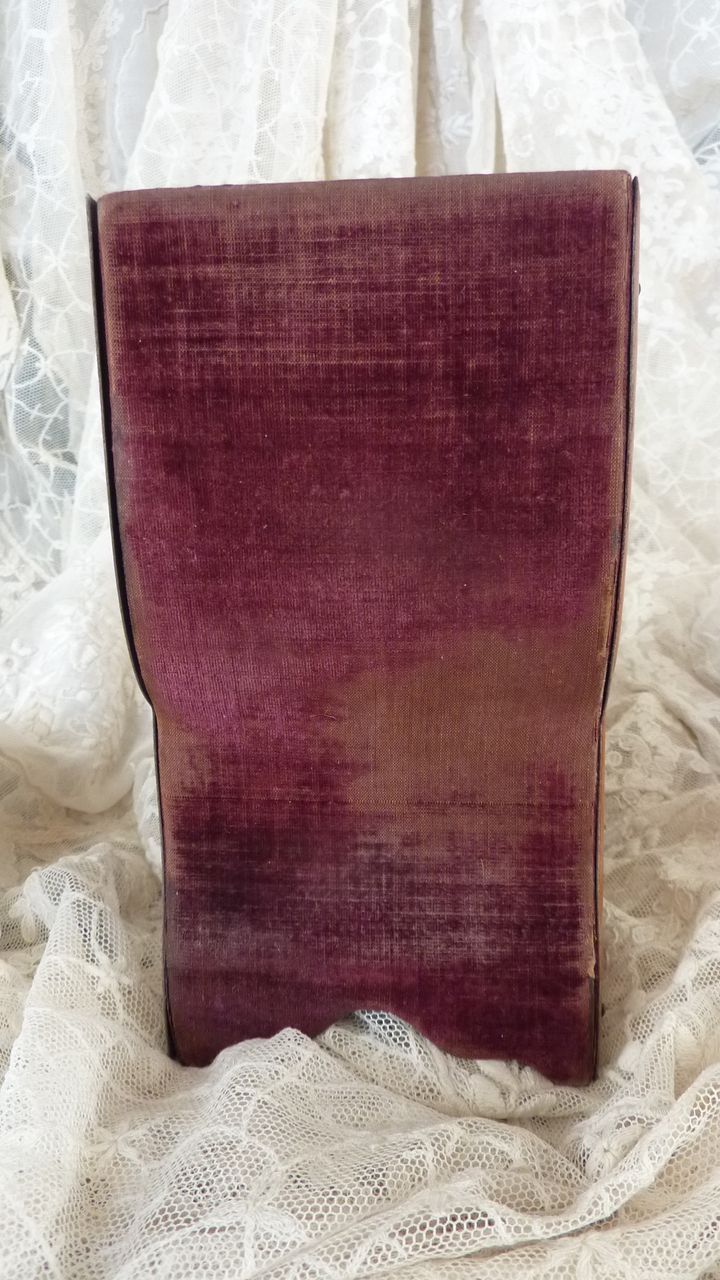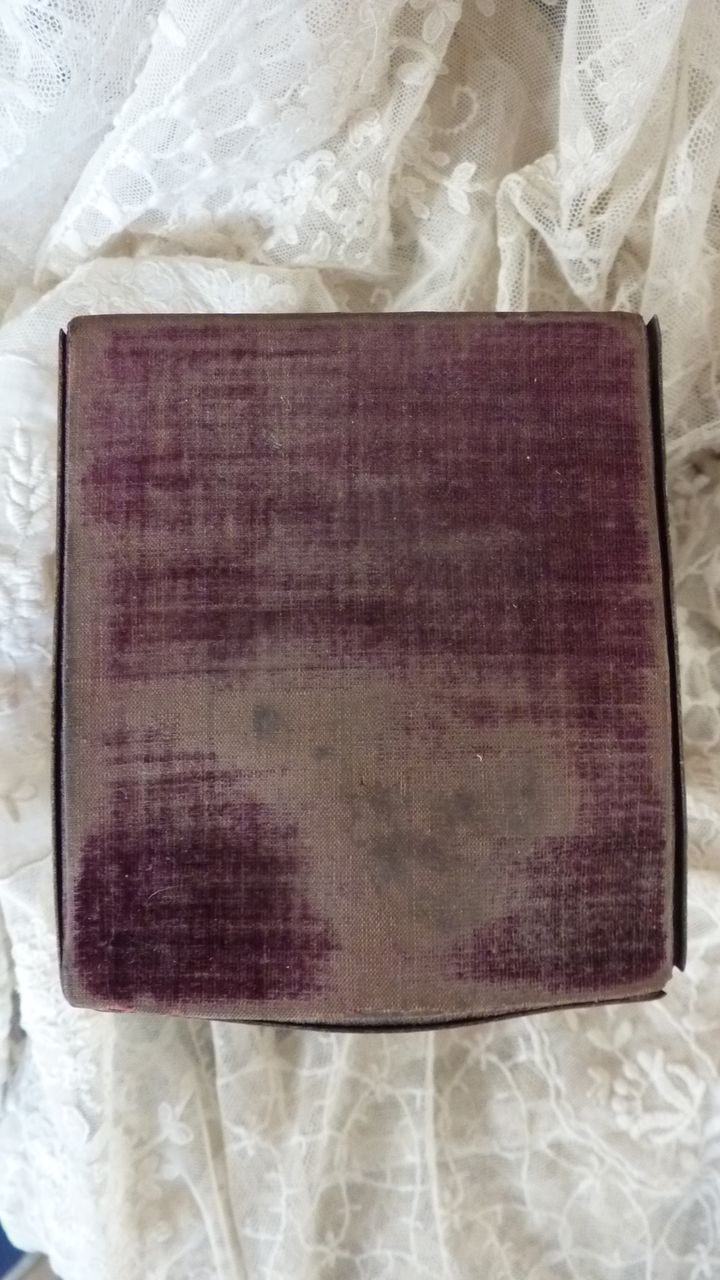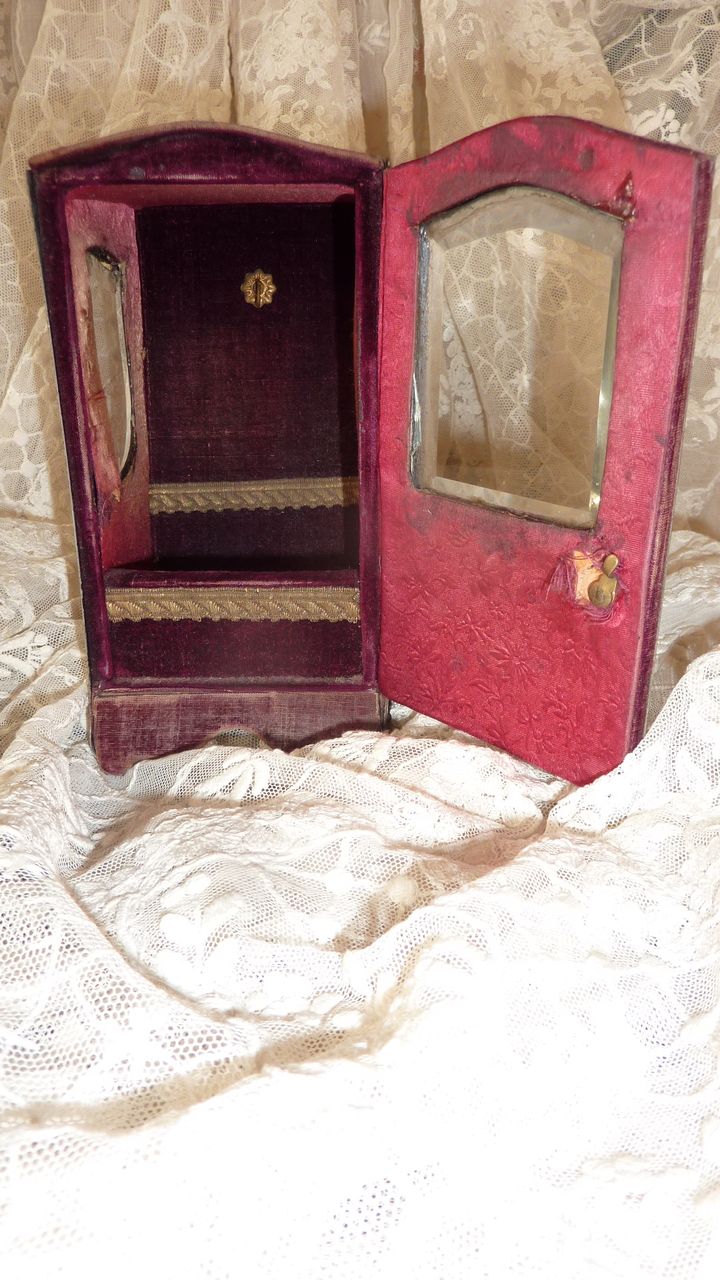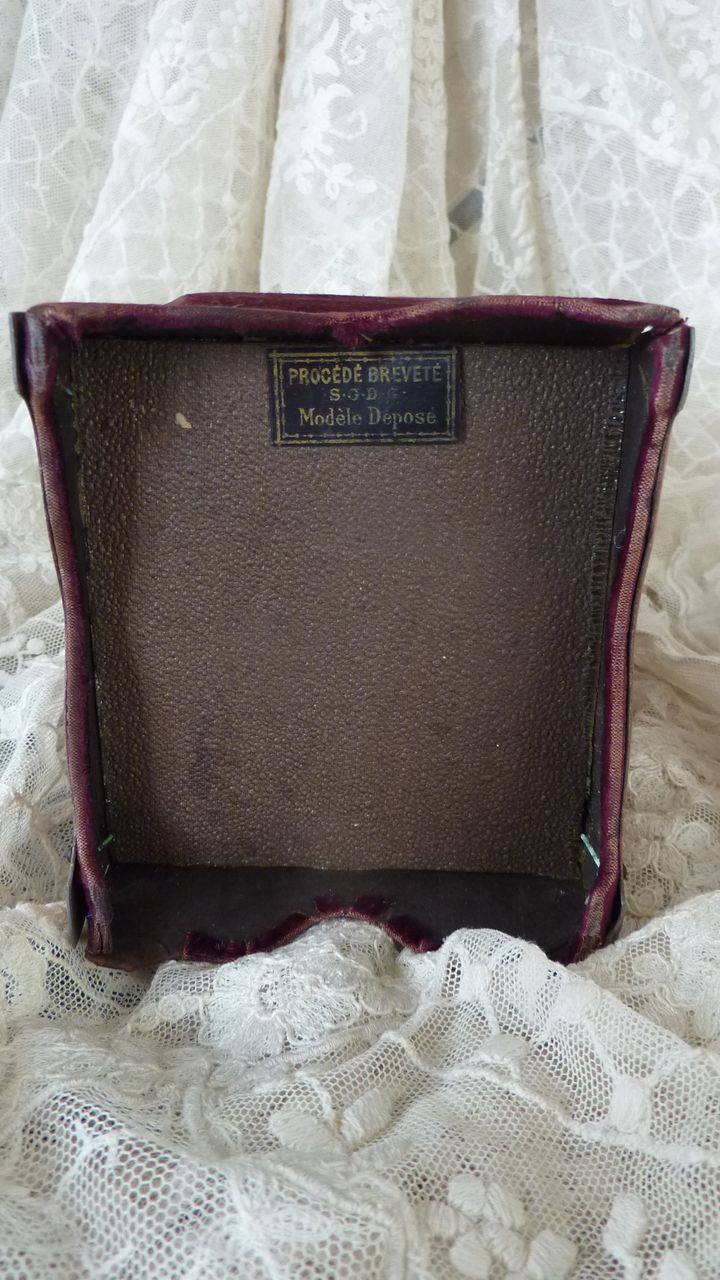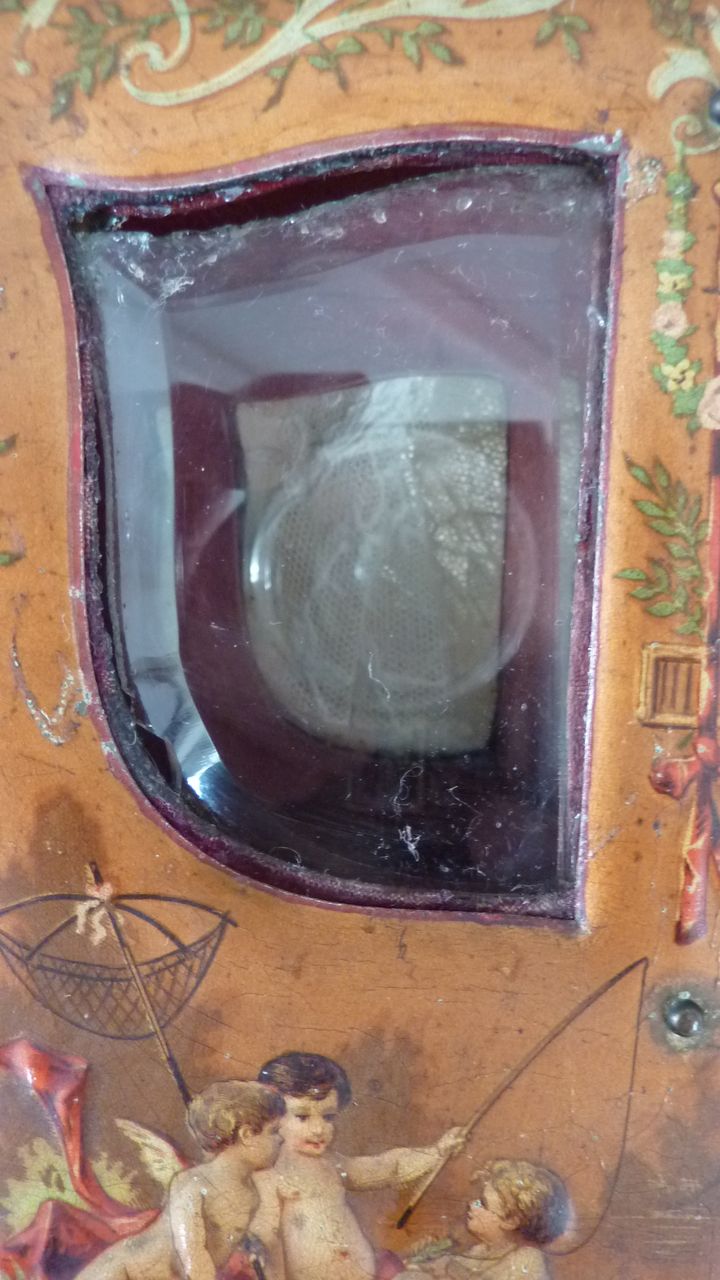 Darling late 19th century French, miniature sedan chair display vitrine / porte montre, with adorable cherub motifs, would make an ideal antique doll accessory. A wonderful faded grandeur confection , made from cardboard and wood covered in velvet,with bevelled glass panels and moulded lithographed metal panels. The chaise a porteurs has the most enchanting scenes of frolicking cherubs, swags and bows, adorned with the sweetest little porcelain handle with rose motifs. It is most unusual to find these little treasures in perfect condition and this one is of no exception. The metal panels have some chips and light damage, the velvet is faded and worn and the interior fabrics are lightly damaged and have glue residue. The glass panels are original but have come loose at some point and have been stuck back into place, so show signs of glue residue and left hand panel is off set ( please see last photo ). Despite it's imperfections, the miniature vitrine is very decorative and utterly charming . It would make a splendid doll accessory doll or display cabinet for a fob watch or jewelry. Please study the photos as these form part of the description, if you need more, please do not hesitate to get in touch. Dimensions : 6 1/4 inches high 3 1/2 inches wide 4 inches deep
Item ID: 1203
If you are the pending buyer of this item, go to My Account to view, track and pay for this item.
$295
USD
SALE PENDING
This item is Pending a Sale so cannot be purchased at this time.

LE TOURNEUR, France
Delicious French faded grandeur crowns, boudoir ,wedding & lace treasures
Member since 2008
Layaway arrangements available. . . . . . please ask for details !
More from French faded-grandeur