Amazing- sterling- jeweled and enameled- Fish pin- designer signed-Book piece
This is an extraordinary pin. Made in 1944 by Corocraft and designed by Adolph Katz-it is a spectacular item. This pin has been in several jewelry books including Brunialti's book. The pin is in the figure of a "Rock fish"- and it has open work and wonderful blended color enameling. Tiny rhinestones are set on the fins and larger ones on the head and body. Two large deep red stones are set for eyes. The focal point is the very large aqua stone prong set in to the mouth. It is beautifully faceted glass. The entire pin has a sterling silver base. The workmanship is impeccable and the look on is fabulous. This very striking item is a must for collectors of fine costume jewelry. The name Corocraft and sterling are on the back side. The pin is in excellent condition. NO paypal on this item- Money order or check only. No dealer or shop owner discounts. The pin is 2 7/8"- 2 1/4
Item ID: cjk-407
---
Gender: Female, Age Group: Adult, Color: sterling- with multi, Size: 2 7/8"-2 1/4"
Amazing- sterling- jeweled and enameled- Fish pin- designer signed-Book piece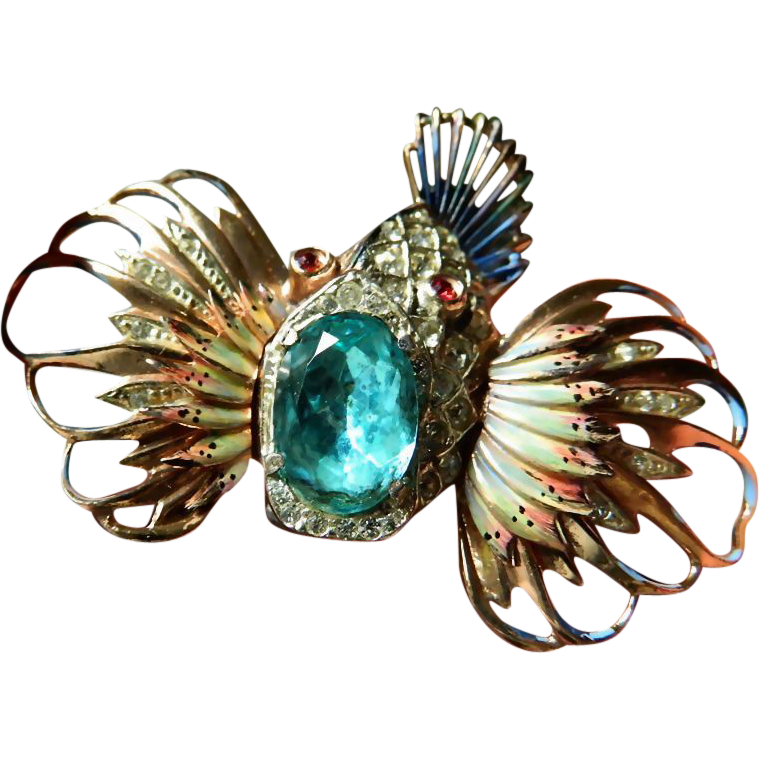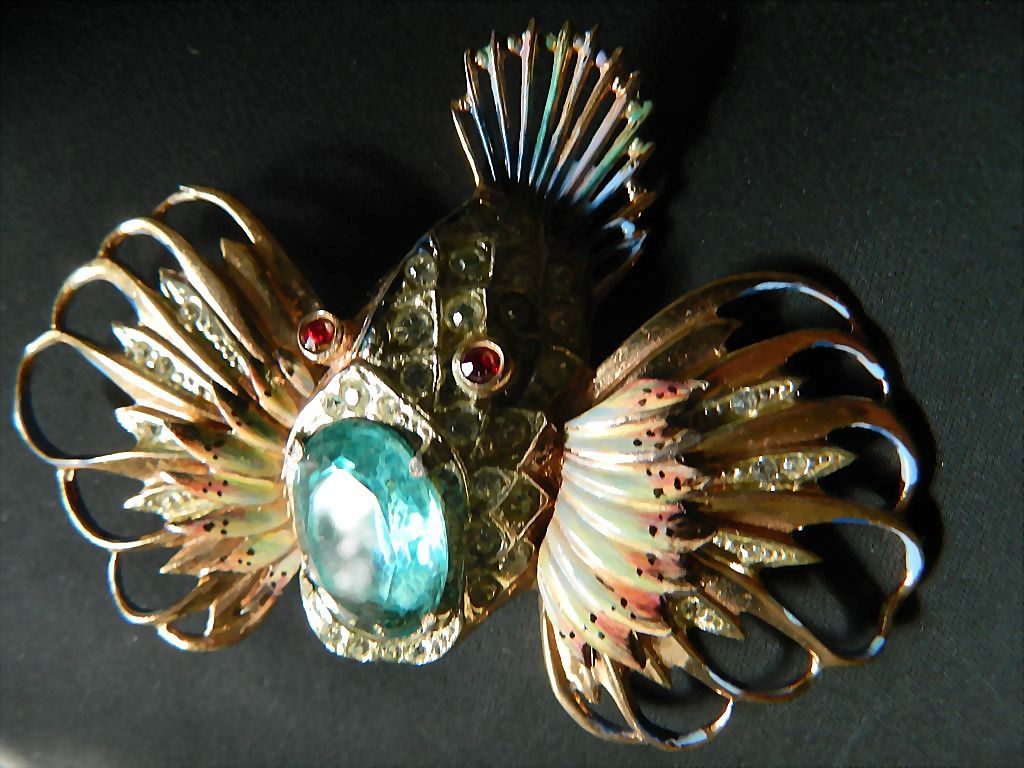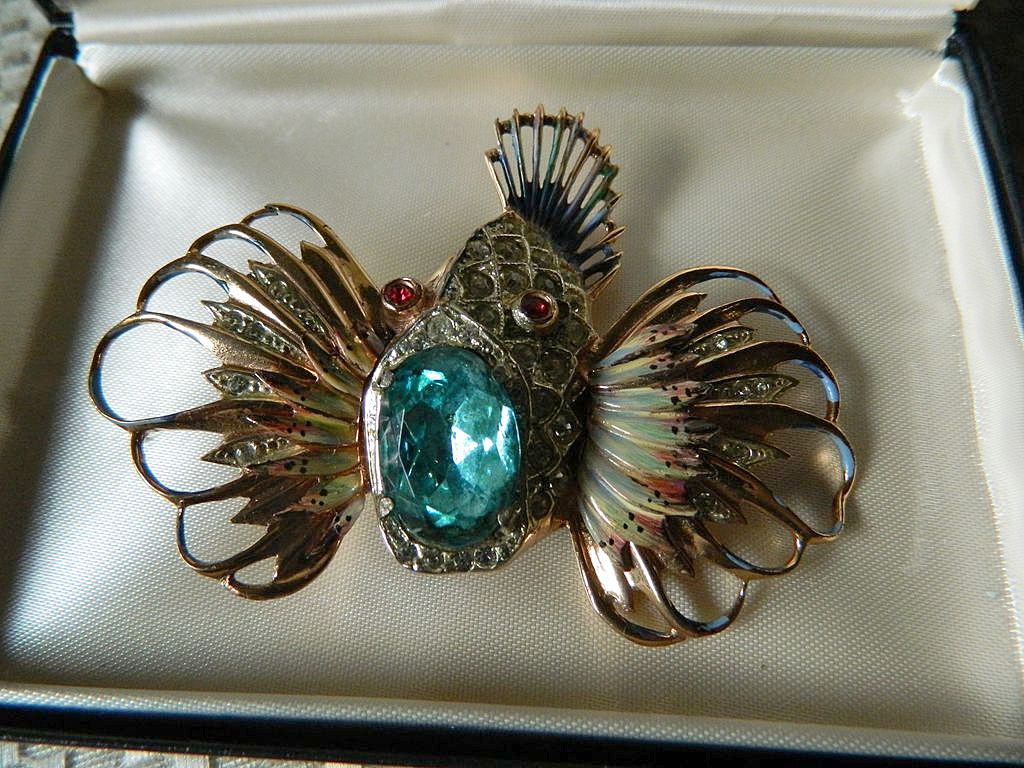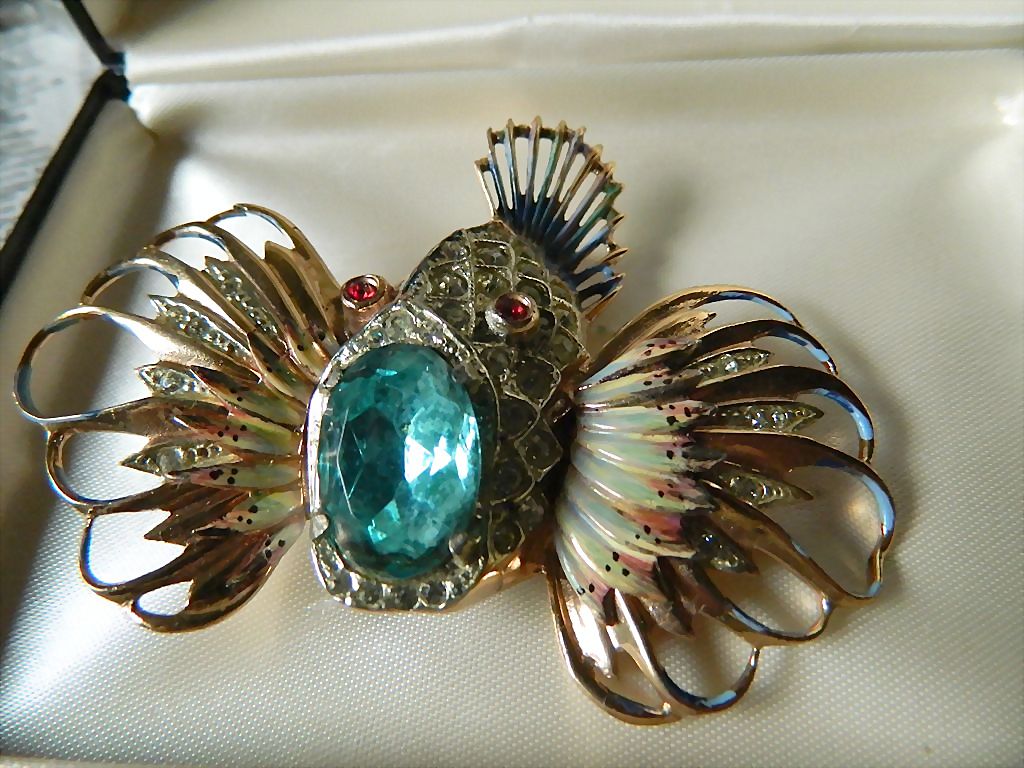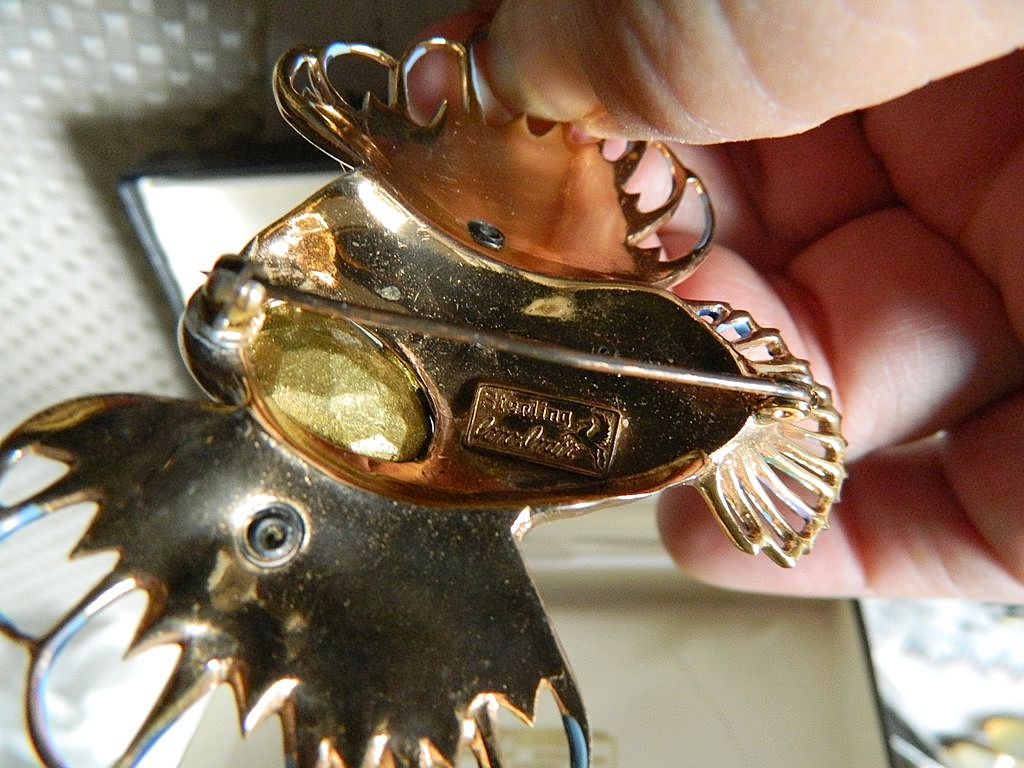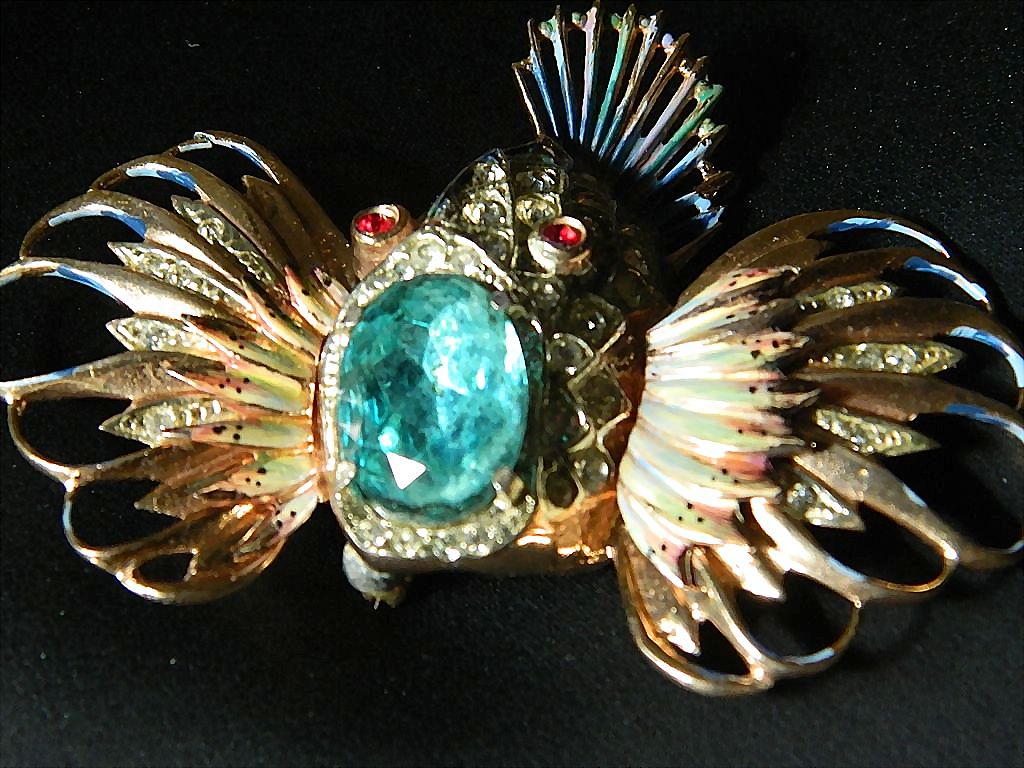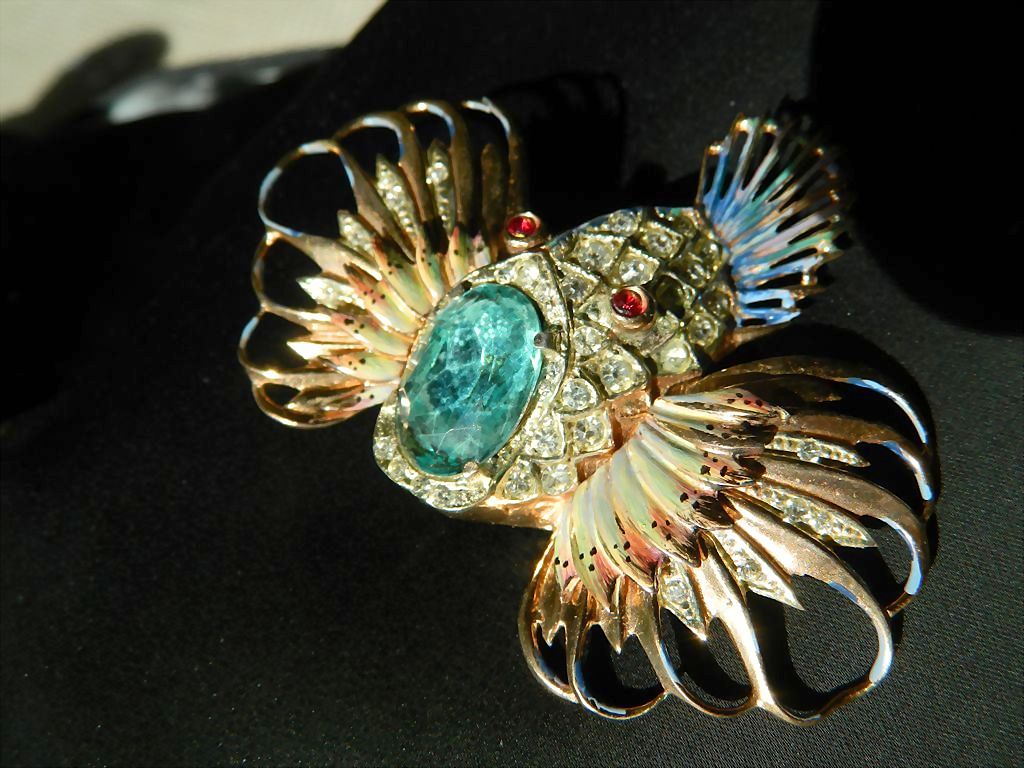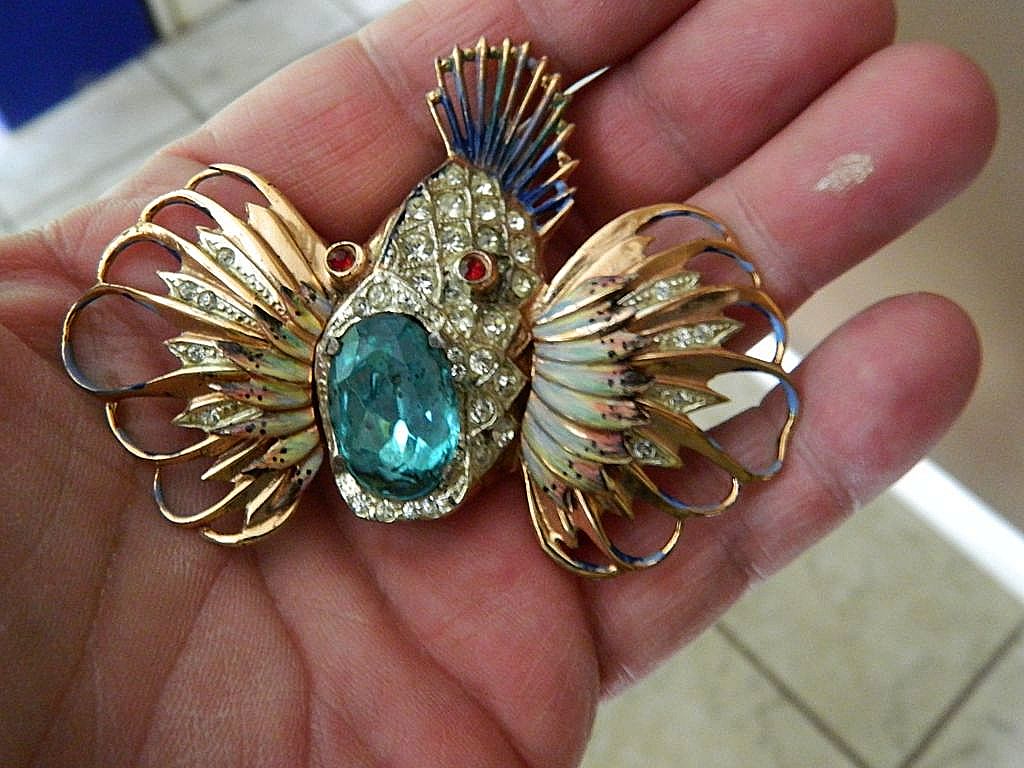 This is an extraordinary pin. Made in 1944 by Corocraft and designed by Adolph Katz-it is a spectacular item. This pin has been in several jewelry books including Brunialti's book. The pin is in the figure of a "Rock fish"- and it has open work and wonderful blended color enameling. Tiny rhinestones are set on the fins and larger ones on the head and body. Two large deep red stones are set for eyes. The focal point is the very large aqua stone prong set in to the mouth. It is beautifully faceted glass. The entire pin has a sterling silver base. The workmanship is impeccable and the look on is fabulous. This very striking item is a must for collectors of fine costume jewelry. The name Corocraft and sterling are on the back side. The pin is in excellent condition. NO paypal on this item- Money order or check only. No dealer or shop owner discounts. The pin is 2 7/8"- 2 1/4
Item ID: cjk-407
---
Gender: Female, Age Group: Adult, Color: sterling- with multi, Size: 2 7/8"-2 1/4"
Add to Wish List
5 other shoppers have this item in their Cart or Wish List. Don't miss out!

Cleveland, OH
Last of Christmas pins-Great gift wear- men's items- wonderful jewelry
Exclusive Ruby Lane Member since 2008
New signed items- Gold and silver-gemstone items are here! visit Hibiscus our sister shop- filled with great mix of items!
More from Scarlett Astor's wonderful things