Antique Brown Stoneware Pitcher- Embossed with the Flatiron Building and Gibson Girl
This authentic antique pottery pitcher is over 100 years old supposedly produced in 1903. It has a very interesting story behind it. The front has an embossed Gibson girl with long hair and dress blowing in the wind The back has picture of a wedge shaped skyscraper building, which is called the Flatiron Building, located in downtown Manhattan, New York, The bottom of the pitcher is not marked but I have found a blue one exactly like it that has the maker's mark THE ROBINSON CLAY PRODUCTS CO. AKRON, OHIO . The heavy stoneware pitcher is brown colored with tan top and a handle that is shaped like a branch measures 8 ½" tall. It is in Excellent condition no chips or cracks very clean pitcher with no stains. A little history: The Flatiron Building, is located at Broadway & Fifth in New York City- a must see if you go to New York- it was completed in 1902. Robinson Clay Products Co. was formed in Akron,Ohio in the late 1800's as a brick and sewer manufacturing plant. In the early 1900's the Gibson Girl became the model for millions of American women. The wedge shaped building was actually the Fuller Building when it was originally built named after the company that built it. However it was called the Flatiron because its shape resembled the cast iron flat irons used to iron clothes at the time
Item ID: ls002638
Antique Brown Stoneware Pitcher- Embossed with the Flatiron Building and Gibson Girl
This authentic antique pottery pitcher is over 100 years old supposedly produced in 1903. It has a very interesting story behind it. The front has an embossed Gibson girl with long hair and dress blowing in the wind The back has picture of a wedge shaped skyscraper building, which is called the Flatiron Building, located in downtown Manhattan, New York, The bottom of the pitcher is not marked but I have found a blue one exactly like it that has the maker's mark THE ROBINSON CLAY PRODUCTS CO. AKRON, OHIO . The heavy stoneware pitcher is brown colored with tan top and a handle that is shaped like a branch measures 8 ½" tall. It is in Excellent condition no chips or cracks very clean pitcher with no stains. A little history: The Flatiron Building, is located at Broadway & Fifth in New York City- a must see if you go to New York- it was completed in 1902. Robinson Clay Products Co. was formed in Akron,Ohio in the late 1800's as a brick and sewer manufacturing plant. In the early 1900's the Gibson Girl became the model for millions of American women. The wedge shaped building was actually the Fuller Building when it was originally built named after the company that built it. However it was called the Flatiron because its shape resembled the cast iron flat irons used to iron clothes at the time
Item ID: ls002638
If you were the pending buyer of this item, go to My Account to view, track and check payment for this item.
$75
USD
SOLD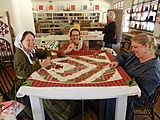 Wichita Falls, TX
Things you remember at prices you can afford!
Exclusive Ruby Lane Member since 2008
It is cheaper to shop online than to pay for gas and eats.