Vintage Terror at Midnight Movie Poster -1956
Poster has been mounted to a foam board making it easier to display. It would grade out as good because it does have some paper missing from edges and does show folds. Measures approximately 27 x 40. Terror at Midnight (released in other English-speaking countries as "And Suddenly You Run"), the 1956 Franklin Adreon romantic car-theft crime film noir thriller (about a woman who thinks she killed a man in a car accident, but actually, it was all a fake, set up by a gang of car thieves, but luckily, her boyfriend is a tough detective, and he saves the day!) starring Scott Brady, Joan Vohs, Frank Faylen, John Dehner, Vir
Item ID: cg002312
Vintage Terror at Midnight Movie Poster -1956
Poster has been mounted to a foam board making it easier to display. It would grade out as good because it does have some paper missing from edges and does show folds. Measures approximately 27 x 40. Terror at Midnight (released in other English-speaking countries as "And Suddenly You Run"), the 1956 Franklin Adreon romantic car-theft crime film noir thriller (about a woman who thinks she killed a man in a car accident, but actually, it was all a fake, set up by a gang of car thieves, but luckily, her boyfriend is a tough detective, and he saves the day!) starring Scott Brady, Joan Vohs, Frank Faylen, John Dehner, Vir
Item ID: cg002312
$40
USD
REDUCED

Sale starts Sat Dec 14 8:00 AM, ends Sat Dec 14 4:00 PM Pacific Time. This item will be 50% off the price above during the Sale!
Add to Wish List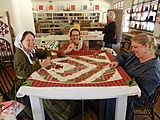 Wichita Falls, TX
Things you remember at prices you can afford!
Exclusive Ruby Lane Member since 2008
It is cheaper to shop online than to pay for gas and eats.