St Nicholas 1918 Bound Illustrated Magazine
Both Volumes are in Very good+ Condition.Illustrate endpapers, copyright The Century Co. The De Vinne Press.Wonderful stories and Illustrations that were a change how children were presented stories. It was one of 1st childrens magazines that did not insist children learn overt. severe lessons about being good or what will happen when you are bad. Scribner started publication in 1872 with Mary Mapes Dodge as Editor. More pictures with request
Item ID: SN1918
St Nicholas 1918 Bound Illustrated Magazine
Both Volumes are in Very good+ Condition.Illustrate endpapers, copyright The Century Co. The De Vinne Press.Wonderful stories and Illustrations that were a change how children were presented stories. It was one of 1st childrens magazines that did not insist children learn overt. severe lessons about being good or what will happen when you are bad. Scribner started publication in 1872 with Mary Mapes Dodge as Editor. More pictures with request
Item ID: SN1918
If you are the pending buyer of this item, go to My Account to view, track and pay for this item.
$49
USD
SALE PENDING
This item is Pending a Sale so cannot be purchased at this time.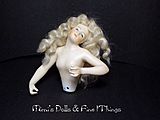 West Milton, OH
International Sales: Antique Dolls , Antiquarian Books
Exclusive Ruby Lane Member since 2008
Holiday Make Offer on Dolls and Free Shipping on Collectables and Books!
More from Mimi's Dolls & Fine Things