Awesome Gien Faience Measuring Set and Lidded Jar ~ Hand Painted with bright Cornucopia of Flowers~ PORCELAINE DE GIEN (Gien, France) - ca 1876
Awesome Gien Faience Measuring Set and Lidded Jar ~ Hand Painted with bright Cornucopia of Flowers~ PORCELAINE DE GIEN (Gien, France) - ca 1876
This would be a great little set to have on display and use in the kitchen! These are very wonderful and nicely done pieces of faience was hand painted with colors of cobalt blue, red, green and yellow on a white background. There are flowers, insects, as well as flower filled horns or cornucopia decorating this piece. The jar lid is not a snug fit,may have been add later. The jar looks great with or without the lid. These are truly fine antique pieces of art pottery that is of France origin. The Gien patterns and styles are a true reflection of French and European earthenware styles from the 17th, 18th and 19th Centuries, and also of pottery styles from the Far East. Gien Faience interpretations of Rouen styles, Dutch blue patterns from Delft, Italian majolica,. A few areas on the rims of the measuring cups have been repaired. IT IS RARE TO FIND VINTAGE AND ANTIQUE faience / majolica IN "LIKE NEW" CONDITION BECAUSE OF WEAR FROM USE AND AGE. TINY GLAZE FLAKES AND CRAZING IF PRESENT IS NORMAL AND ADDS CHARACTER TO EACH PIECE. Backstamp: GIEN on top of each other PLEASE SEE OUR MATCHING VASE: VAS53
Measures: Cup1: 4" H x 3 ½" W holds 1 3/4 cups CUP2: 2 ½" H x 2" W holds a little more than 1/3 cups Cup3; 2 ¼' H x 2 " W holds ¼ cups Jar: 5 ¾' H x 3 1/8" W holds 3 cups
Please visit Timber Hills Shop on Ruby Lane for different and unique items. Items added on a regular basis
Item ID: MISC550
Awesome Gien Faience Measuring Set and Lidded Jar ~ Hand Painted with bright Cornucopia of Flowers~ PORCELAINE DE GIEN (Gien, France) - ca 1876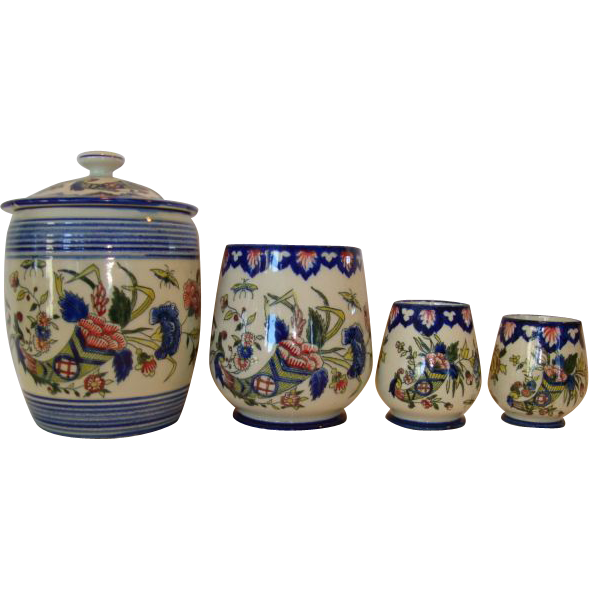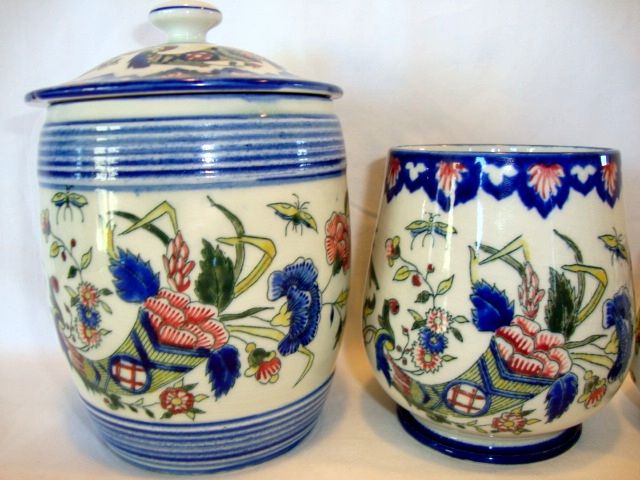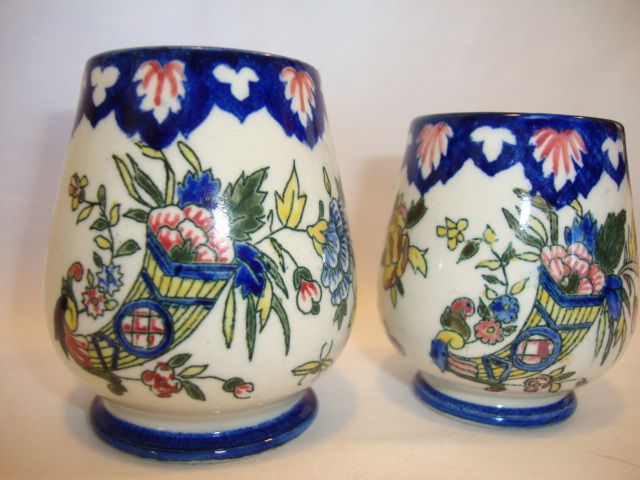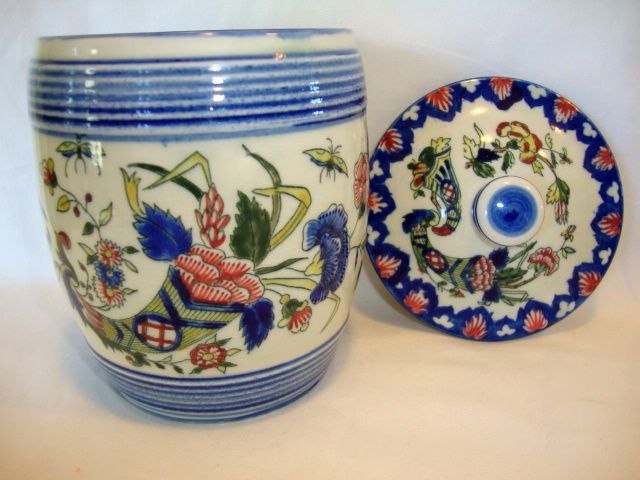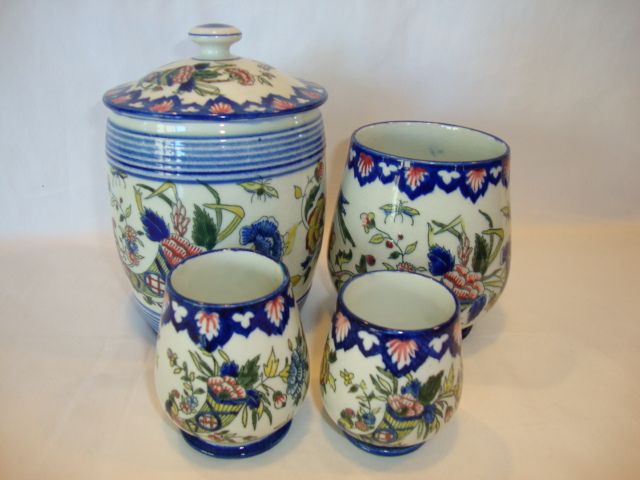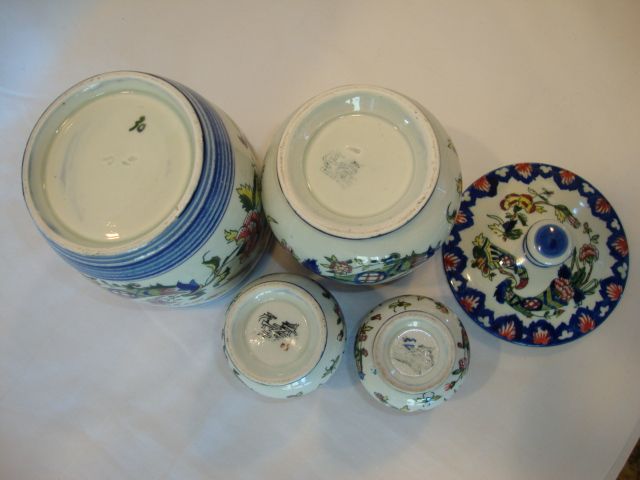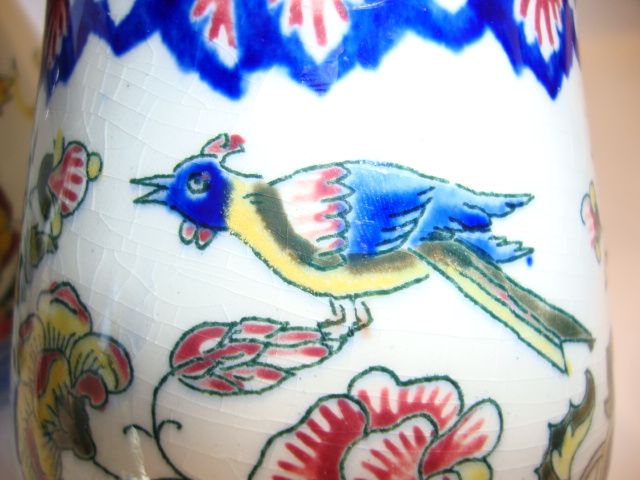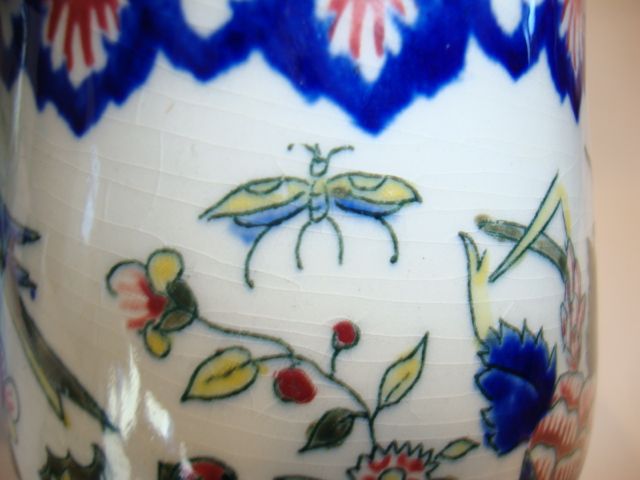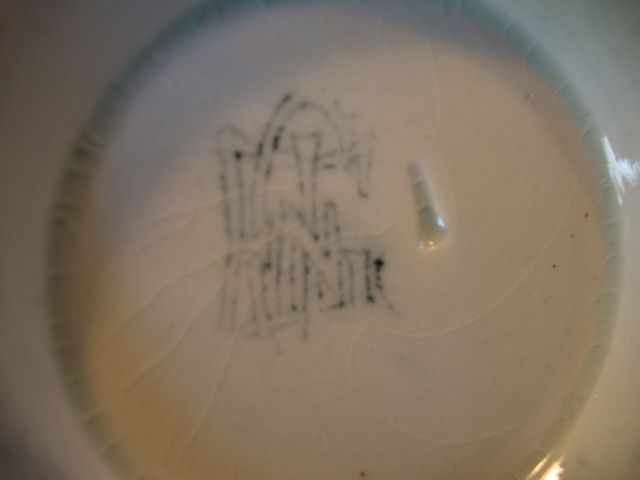 Awesome Gien Faience Measuring Set and Lidded Jar ~ Hand Painted with bright Cornucopia of Flowers~ PORCELAINE DE GIEN (Gien, France) - ca 1876
This would be a great little set to have on display and use in the kitchen! These are very wonderful and nicely done pieces of faience was hand painted with colors of cobalt blue, red, green and yellow on a white background. There are flowers, insects, as well as flower filled horns or cornucopia decorating this piece. The jar lid is not a snug fit,may have been add later. The jar looks great with or without the lid. These are truly fine antique pieces of art pottery that is of France origin. The Gien patterns and styles are a true reflection of French and European earthenware styles from the 17th, 18th and 19th Centuries, and also of pottery styles from the Far East. Gien Faience interpretations of Rouen styles, Dutch blue patterns from Delft, Italian majolica,. A few areas on the rims of the measuring cups have been repaired. IT IS RARE TO FIND VINTAGE AND ANTIQUE faience / majolica IN "LIKE NEW" CONDITION BECAUSE OF WEAR FROM USE AND AGE. TINY GLAZE FLAKES AND CRAZING IF PRESENT IS NORMAL AND ADDS CHARACTER TO EACH PIECE. Backstamp: GIEN on top of each other PLEASE SEE OUR MATCHING VASE: VAS53
Measures: Cup1: 4" H x 3 ½" W holds 1 3/4 cups CUP2: 2 ½" H x 2" W holds a little more than 1/3 cups Cup3; 2 ¼' H x 2 " W holds ¼ cups Jar: 5 ¾' H x 3 1/8" W holds 3 cups
Please visit Timber Hills Shop on Ruby Lane for different and unique items. Items added on a regular basis
Item ID: MISC550
$239
USD
SALE
Add to Wish List
2 other shoppers have this item in their Cart or Wish List. Don't miss out!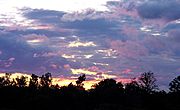 Lee's Summit, MO
Beautiful Fine Living Accents for your Home. Welcome to our Home. Welcome to Timber Hills Antiques.
Exclusive Ruby Lane Member since 2008
March opens the door for Springs arrival. Freshen up all rooms in your home with one new antique piece. Free shipping USA.