Awesome English Bowl with Oriental Symbols ~ Aesthetic Earthenware Brown Transferware ~ T Elsmore Tunstall England 1878
This bowl has wonderful fluted sides ending in a nice soft scalloped rim. The aesthetic pattern on this bowl includes a footed vase decorated with a fancy scroll, an oriental fan cartouche of floral elements, and a realistic butterfly at the bottom along with some more stylized butterfly designs at the top. Odd branches of stylized flowers and leaves complete the design. Symbolically this is a sunny, uplifting pattern, based on Chinese symbols. The vase in this pattern is a symbol of perpetual harmony; the scroll on the vase represents truth, happiness and prosperity; the round shape of the fan was a shape popular in the T'ang period, the flowers that grace the fan are a reflection of the great devotion the Chinese have to flowers as they mark the passing of each season; and the butterfly is a symbol of joy, summer, and conjugal felicity. Only the tiger in the block represents an opposing force of ferocity. The artist creating this pattern was not only skilled in artistic matters and sensitive to the aesthetic movement, but was also a student of oriental symbolism. This pattern is identical to the Oriental pattern of the James Beech firm (found in this database under Oriental - James Beech), suggesting that the two firms may have printed from the same engravings or employed the same engraver. The maker's mark here includes a registry diamond showing that the pattern was registered May 14, 1878. It does not include a pattern name which is the norm for this firm. One small base chip. IT IS RARE TO FIND VINTAGE AND ANTIQUE IRONSTONE OR EARTHENWARE IN "LIKE NEW" CONDITION BECAUSE OF WEAR FROM USE AND AGE. TINY GLAZE FLAKES AND CRAZING IS NORMAL AND ADDS CHARACTER TO EACH PIECE
Backstamp: T Elsmore and Son over British Diamond Tunstall England
Measures 7 1/2" W x 2 1/2" H
Please visit Timber Hills Shop on Ruby Lane for different and unique items. Items added on a regular basis!!!
Item ID: BWL128
Awesome English Bowl with Oriental Symbols ~ Aesthetic Earthenware Brown Transferware ~ T Elsmore Tunstall England 1878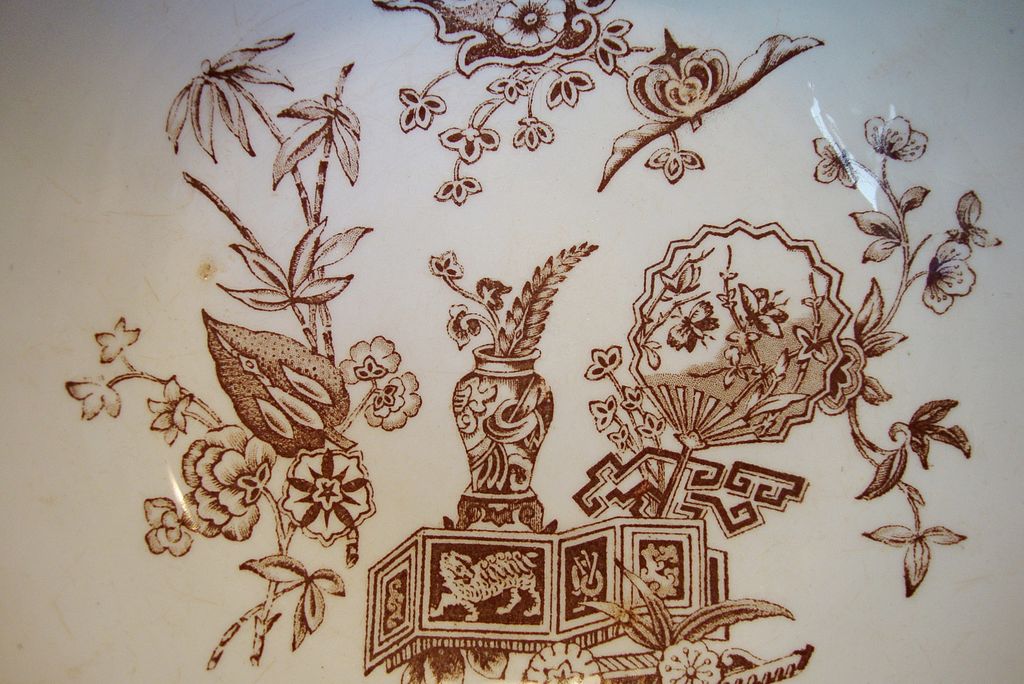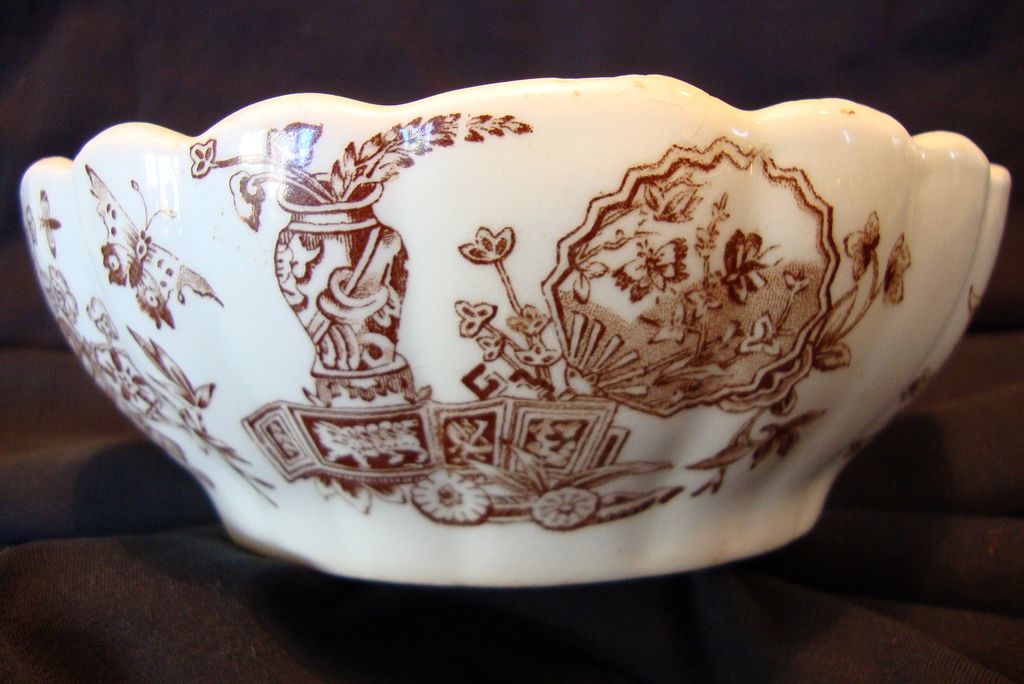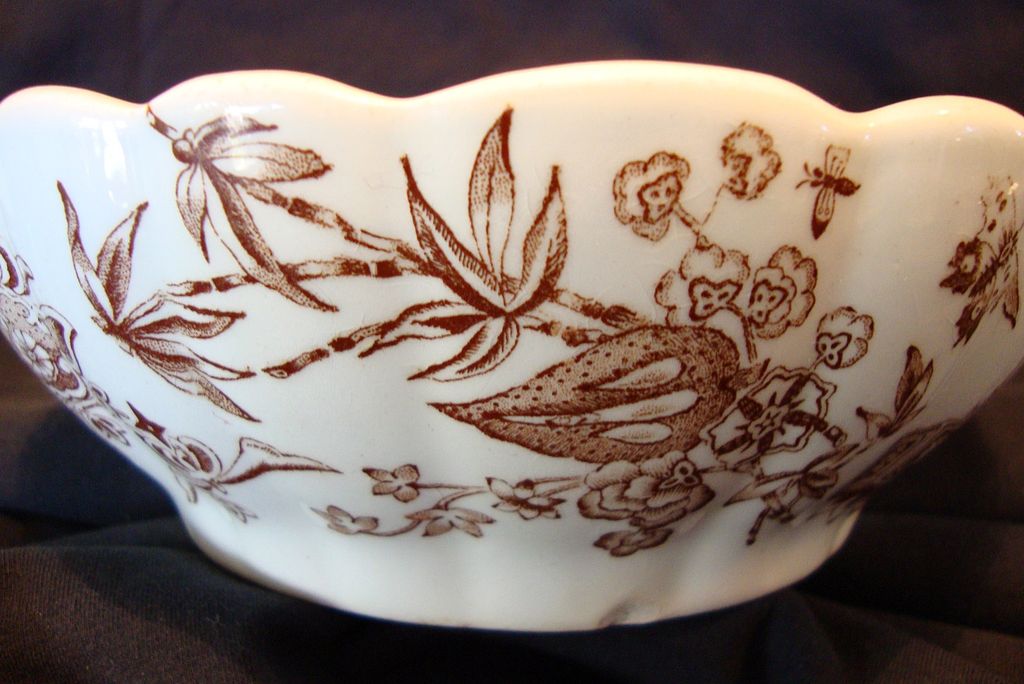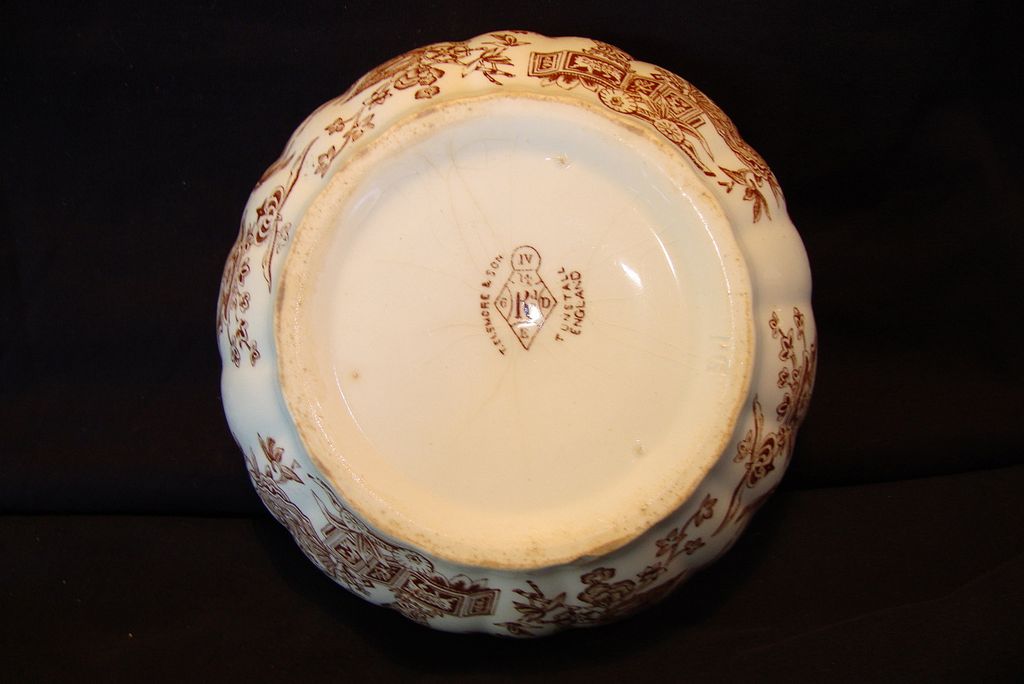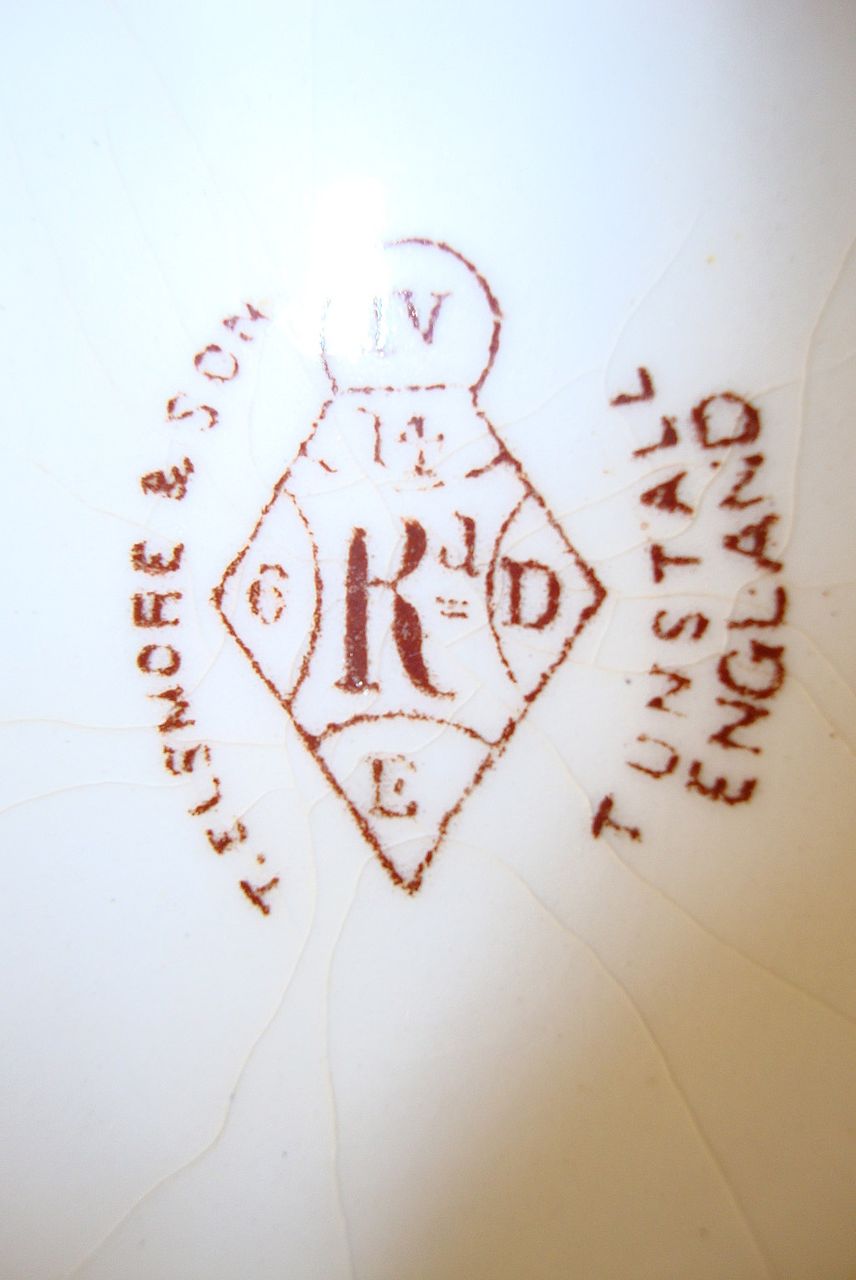 This bowl has wonderful fluted sides ending in a nice soft scalloped rim. The aesthetic pattern on this bowl includes a footed vase decorated with a fancy scroll, an oriental fan cartouche of floral elements, and a realistic butterfly at the bottom along with some more stylized butterfly designs at the top. Odd branches of stylized flowers and leaves complete the design. Symbolically this is a sunny, uplifting pattern, based on Chinese symbols. The vase in this pattern is a symbol of perpetual harmony; the scroll on the vase represents truth, happiness and prosperity; the round shape of the fan was a shape popular in the T'ang period, the flowers that grace the fan are a reflection of the great devotion the Chinese have to flowers as they mark the passing of each season; and the butterfly is a symbol of joy, summer, and conjugal felicity. Only the tiger in the block represents an opposing force of ferocity. The artist creating this pattern was not only skilled in artistic matters and sensitive to the aesthetic movement, but was also a student of oriental symbolism. This pattern is identical to the Oriental pattern of the James Beech firm (found in this database under Oriental - James Beech), suggesting that the two firms may have printed from the same engravings or employed the same engraver. The maker's mark here includes a registry diamond showing that the pattern was registered May 14, 1878. It does not include a pattern name which is the norm for this firm. One small base chip. IT IS RARE TO FIND VINTAGE AND ANTIQUE IRONSTONE OR EARTHENWARE IN "LIKE NEW" CONDITION BECAUSE OF WEAR FROM USE AND AGE. TINY GLAZE FLAKES AND CRAZING IS NORMAL AND ADDS CHARACTER TO EACH PIECE
Backstamp: T Elsmore and Son over British Diamond Tunstall England
Measures 7 1/2" W x 2 1/2" H
Please visit Timber Hills Shop on Ruby Lane for different and unique items. Items added on a regular basis!!!
Item ID: BWL128
$80
USD
SALE
Add to Wish List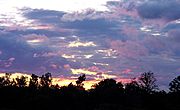 Lee's Summit, MO
Beautiful Fine Living Accents for your Home. Welcome to our Home. Welcome to Timber Hills Antiques.
Exclusive Ruby Lane Member since 2008
March opens the door for Springs arrival. Freshen up all rooms in your home with one new antique piece. Free shipping USA.