Unusual Fluted Hofbauer Vase w/ Bird and Ruby Flashing
Adding to the beauty of anything that it holds and looking graceful all on its own is this superior fluted crystal vase from Germany sporting a bird motif on three sides within ruby flashed medallions. Its base is rather cubic in character with sparkling,3-D points and the top scalloped with a sawtooth edge. The vase was produced by the now defunct Hofbauer of West Germany in the 1980's or early 90's as part of their Byrdes Crystal Collection and is one of the more rare pieces in the series. It is in wonderful condition with no chips or cracks and measures 5.75" tall, with a diameter of 4" at the top. Sparkles beautifully when the light hits it, you can't go wrong with this one! Looking for more Hofbauer? Please search our shop for additional selections, most coming to us directly from Germany (as did this vase.)
Item ID: ab7144
---
Please note we have two of these available.
Unusual Fluted Hofbauer Vase w/ Bird and Ruby Flashing
Adding to the beauty of anything that it holds and looking graceful all on its own is this superior fluted crystal vase from Germany sporting a bird motif on three sides within ruby flashed medallions. Its base is rather cubic in character with sparkling,3-D points and the top scalloped with a sawtooth edge. The vase was produced by the now defunct Hofbauer of West Germany in the 1980's or early 90's as part of their Byrdes Crystal Collection and is one of the more rare pieces in the series. It is in wonderful condition with no chips or cracks and measures 5.75" tall, with a diameter of 4" at the top. Sparkles beautifully when the light hits it, you can't go wrong with this one! Looking for more Hofbauer? Please search our shop for additional selections, most coming to us directly from Germany (as did this vase.)
Item ID: ab7144
---
Please note we have two of these available.
$55
USD
ea.
Quantity available: 2
Add to Wish List
7 other shoppers have this item in their Cart or Wish List. Don't miss out!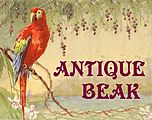 Spring, TX
Vintage Parrot & Wild Bird Collectibles ~~ for the feather-brained!
Member since 2000
We MARCH to the beat of BIRDS, come see the new ones that landed on the 6th.....