Beautiful Hand Painted Enamel of Lovers Silver Cigarette Case
This romantic hand painted scene was done in lovely sepia tones of browns, many multiple shadings of dusty rose to white hi lites in her gown. Please excuse the glassy look at top of photo #1 & side of photo #2-these are reflections. It was done by an experienced, quality, detail orientated artist. Note the graceful flow of her gown, the sweet expressions on their faces, the beautiful hands & feet & even the occasional dropped leaf on the ground. The scene is in excellent condition with no chips, cracks, deep scratches or repairs. You can find as expected normal, surface only, minuscule scratching & flea nicks from usage. The scene has then been accented with 1/32" wide lines of white enamel in a straight line border, a chain like pattern border and another straight line border. I did find some surface only chipping (no silver showing thru) in the 3 borders (see photo # 8 for an example). Please remember when you look at my 10" photos in enlargement mode that these lines of enamel are only 1/32" wide! The exterior surface of the silver has a high polished sheen. The interior of the case has a satin finish with light even toned gold wash. The silver case is in excellent minus condition with no rips, tears, deep dents, deep scratches or repairs. Please excuse the black camera reflection in photos 3 & 4. You can find on the 2 sides (see photo #9 for an example) some minuscule 1/32" & 1/64" dings. The backside has normal surface scratching/abrasion (photo 4-arrow 3) & a few pin point sized (photo 4-arrow 2) surface indentations as found on antique silver from usage. It also has a small SHALLOW dimple with a 1/4" fine line scratch with a ding almost centered in the scratch (photo 4-arrow 1). When you look at the interior of the case, backside, top left you can see the corresponding lightly raised bump from the ding. The marks are on the interior & are the crescent moon with crown for Germany & 935 (sterling is 925) for the silver content. The most likely reason for these two marks being together is that the case was made in Austria and imported into Germany, where it was taxed for it's silver content before being sold at retail. This was an expensive, high quality case in it's day! The hinge is all original with no repairs & works smoothly. The closure is firm with a loud click. The case measures 3 1/16" tall x 1 7/8" wide x approx 6 1/6" deep. A superb piece for a collector of enamels or cases. Circa 1900
Item ID: 327
---
We Offer Layaway-See Terms of Sale Page "Other Info" for Full Policy Details
Beautiful Hand Painted Enamel of Lovers Silver Cigarette Case
This romantic hand painted scene was done in lovely sepia tones of browns, many multiple shadings of dusty rose to white hi lites in her gown. Please excuse the glassy look at top of photo #1 & side of photo #2-these are reflections. It was done by an experienced, quality, detail orientated artist. Note the graceful flow of her gown, the sweet expressions on their faces, the beautiful hands & feet & even the occasional dropped leaf on the ground. The scene is in excellent condition with no chips, cracks, deep scratches or repairs. You can find as expected normal, surface only, minuscule scratching & flea nicks from usage. The scene has then been accented with 1/32" wide lines of white enamel in a straight line border, a chain like pattern border and another straight line border. I did find some surface only chipping (no silver showing thru) in the 3 borders (see photo # 8 for an example). Please remember when you look at my 10" photos in enlargement mode that these lines of enamel are only 1/32" wide! The exterior surface of the silver has a high polished sheen. The interior of the case has a satin finish with light even toned gold wash. The silver case is in excellent minus condition with no rips, tears, deep dents, deep scratches or repairs. Please excuse the black camera reflection in photos 3 & 4. You can find on the 2 sides (see photo #9 for an example) some minuscule 1/32" & 1/64" dings. The backside has normal surface scratching/abrasion (photo 4-arrow 3) & a few pin point sized (photo 4-arrow 2) surface indentations as found on antique silver from usage. It also has a small SHALLOW dimple with a 1/4" fine line scratch with a ding almost centered in the scratch (photo 4-arrow 1). When you look at the interior of the case, backside, top left you can see the corresponding lightly raised bump from the ding. The marks are on the interior & are the crescent moon with crown for Germany & 935 (sterling is 925) for the silver content. The most likely reason for these two marks being together is that the case was made in Austria and imported into Germany, where it was taxed for it's silver content before being sold at retail. This was an expensive, high quality case in it's day! The hinge is all original with no repairs & works smoothly. The closure is firm with a loud click. The case measures 3 1/16" tall x 1 7/8" wide x approx 6 1/6" deep. A superb piece for a collector of enamels or cases. Circa 1900
Item ID: 327
---
We Offer Layaway-See Terms of Sale Page "Other Info" for Full Policy Details
If you are the pending buyer of this item, go to My Account to view, track and pay for this item.
$895
USD
SALE PENDING
This item is Pending a Sale so cannot be purchased at this time.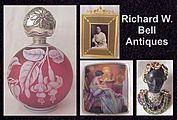 Orange, CA
Fine Quality Smalls For Discriminating Buyers - We Display For Sale At 15 Quality Shows Annually!
Exclusive Ruby Lane Member since 2007
Our Next Shows: Pasadena, CA. Mar. 7-9 ~ Cole's at Round Top TX. Mar. 27-Apr. 5 ~ Check Out Our * SALE * Items
More from Richard W. Bell