9 vintage 30's Pinwheel patchwork Quilt Blocks - solid & print
These delightful 1930's triangle blocks could be sewn together and easily used for a doll blanket. They could also be the beginning of a full-sized quilt if a quilter wanted to use up small scraps of feed sack bags or other fabrics from her collection of vintage calico fabrics. The blocks have been hand-stitched in splashy, cheerful pinwheels of the brightest and best fabrics of days gone by. Some have solids interspersed with prints, others are plaid with florals, polka-dot, stripes, geometrics. You will even spot a hippopotamus! I have shown some close-up photos of the adorable novelty print. The blocks are approximately 5 1/2 inches square. As the photos show, the blocks will need to be trimmed for uniformity of size before joining into a quilt top. A rainbow of colors --
Item ID: QLTBLK9
9 vintage 30's Pinwheel patchwork Quilt Blocks - solid & print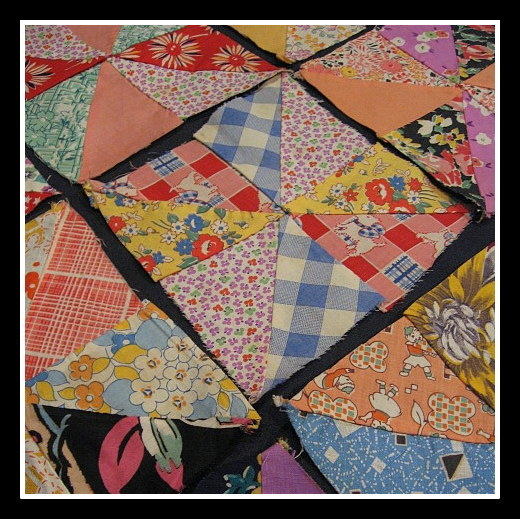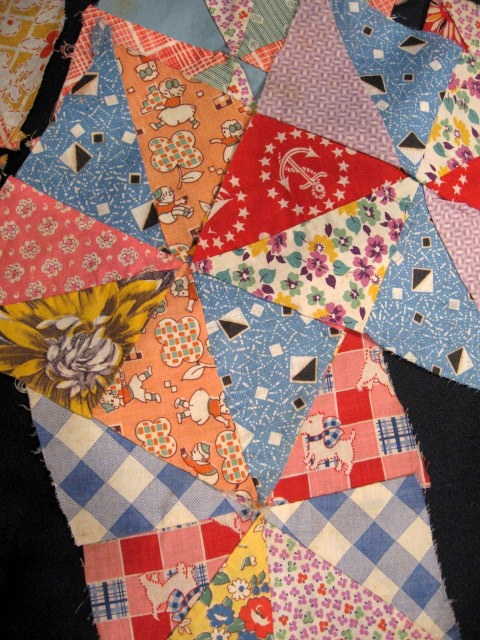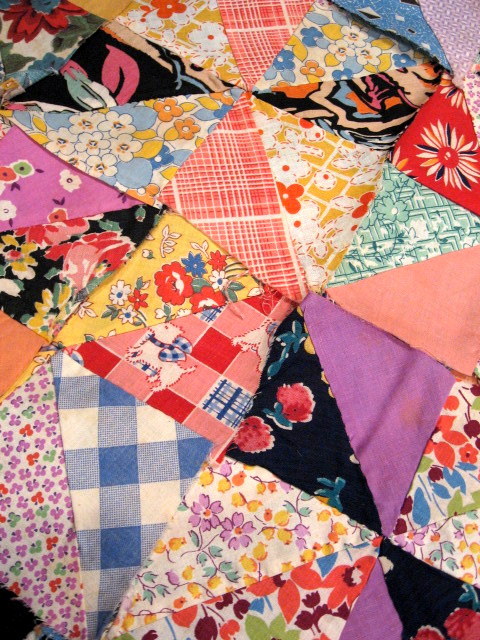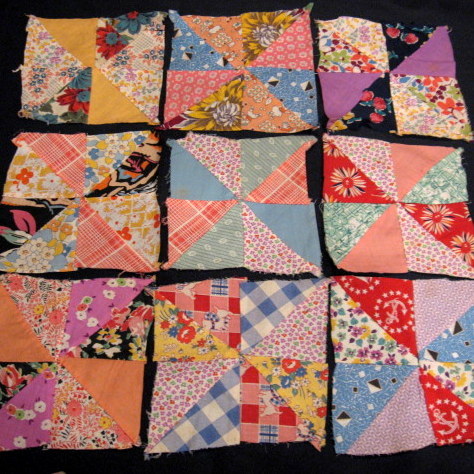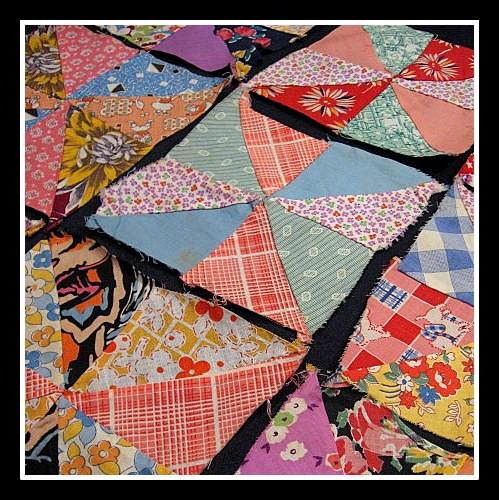 These delightful 1930's triangle blocks could be sewn together and easily used for a doll blanket. They could also be the beginning of a full-sized quilt if a quilter wanted to use up small scraps of feed sack bags or other fabrics from her collection of vintage calico fabrics. The blocks have been hand-stitched in splashy, cheerful pinwheels of the brightest and best fabrics of days gone by. Some have solids interspersed with prints, others are plaid with florals, polka-dot, stripes, geometrics. You will even spot a hippopotamus! I have shown some close-up photos of the adorable novelty print. The blocks are approximately 5 1/2 inches square. As the photos show, the blocks will need to be trimmed for uniformity of size before joining into a quilt top. A rainbow of colors --
Item ID: QLTBLK9
If you are the pending buyer of this item, go to My Account to view, track and pay for this item.
$22
$11
USD
SALE PENDING
This item is Pending a Sale so cannot be purchased at this time.

T-town, OK
*SUBSCRIBE* to our shop & receive First-Notice on *NEW* listings. Special Seasonal Promotions, too!
Exclusive Ruby Lane Member since 2010
Read about our *CHRISTMAS Give-Away* - valued up to $75.00 ! (details in 'ABOUT us' section below)
Shipping/Handling

*

:
$1.95 USD
Insurance:
$1.95 USD
Price for shipping to USA change location | more services
*USPS First-Class Mail Parcel
Available shipping to USA:
USPS First-Class Mail Parcel: $1.95
USD
, insurance: $1.95
USD
USPS Priority Mail: $5.10
USD
, insurance: $1.95
USD
---
---
More from Brown Paper Packages Tied Up with String