Miniature Perfume Bottles * " Tresor" & "Moods by Krizia"
Miniature Lancome's "Tresor" and Moods" by Krizia, both in fun geometrical glass bottles, both from the 1990's and both imported from Europe.
The original Tresor was introduced in 1952, then reintroduced in 1990 and is from Paris, France. The inverted pyramid glass perfume bottle was designed by Areca. The flat, square stopper has faceted edges & corners, looks like glass but is plastic. Approximately a 1/3 full of scent, the bottle measures 1-1/4" tall x 1-1/2" wide. I love Lancome scents and this one remains quite lovely.
"Moods" perfume by Krizia was introduced by Parfums Krizia-Florbath of Italy, ca.1990. This miniature perfume bottle has inverted step-up geometrical lines with an elongated oval plastic stopper. This scent has since been discontinued. The black printed label remains on front, plus a few drops of oily scent which still smells very nice. Measures 1-1/2" tall x 1-3/4" wide.
Condition: Pristine! Bottles and labels are perfect.
Item ID: VP576
---
Thank you for visiting my shop!
Miniature Perfume Bottles * " Tresor" & "Moods by Krizia"
$25
$14
USD
SALE
Add to Wish List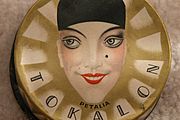 Sandpoint, ID
Welcome to my Shop!! Many SALE items, Serious Offers Considered!
Exclusive Ruby Lane Member since 2006
A VARIETY of Vintage & Antiques & a VARIETY of Prices