EXCELLENT 16" Norah Welling Black Girl Islander with rare Glass Eyes
Sweet and clean as can be. This wonderful 1930's-40's Norah Welling doll is a a black Girl Islander with the rare glass eyes. She is 16" tall with floppy limbs. No odors or soiling... Just wonderful....Complete and all original tagged on her foot with original label. Perfection. I have the Boy Islander in the shop as well. They make a great pair! FREE SHIPPING IN USA
Item ID: 1192
EXCELLENT 16" Norah Welling Black Girl Islander with rare Glass Eyes
Sweet and clean as can be. This wonderful 1930's-40's Norah Welling doll is a a black Girl Islander with the rare glass eyes. She is 16" tall with floppy limbs. No odors or soiling... Just wonderful....Complete and all original tagged on her foot with original label. Perfection. I have the Boy Islander in the shop as well. They make a great pair! FREE SHIPPING IN USA
Item ID: 1192
If you were the pending buyer of this item, go to My Account to view, track and check payment for this item.
$160
USD
SOLD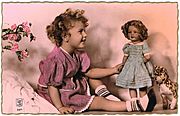 Westtown, NY
Dolls...Toys...and other curiosities
Exclusive Ruby Lane Member since 2006
A very happy and blessed holiday season to you and yours. Check out our shop for a great gift for someone special.