Cloth Topsy Turvy Doll with Mask Faces
This 12 inch tall doll, circa the 1920s-30s, has one white mask face and one brown mask face. Both heads have painted facial feature and yarn hair. The clothing is cotton. The doll is in good sturdy clean condition with some age discoloration to the fabrics. This is a sweet vintage doll with cute side glancing expressions on the faces
Item ID: LG220301
Cloth Topsy Turvy Doll with Mask Faces
This 12 inch tall doll, circa the 1920s-30s, has one white mask face and one brown mask face. Both heads have painted facial feature and yarn hair. The clothing is cotton. The doll is in good sturdy clean condition with some age discoloration to the fabrics. This is a sweet vintage doll with cute side glancing expressions on the faces
Item ID: LG220301
$125
USD
SALE
Add to Wish List
2 other shoppers have this item in their Cart or Wish List. Don't miss out!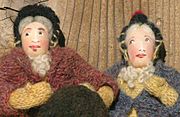 Carmel & Indianapolis, IN
Antique dolls of high quality at fair prices backed by expertise and professionalism, sold with love
Exclusive Ruby Lane Member since 2006
Holiday Sale extended through December! More items added to sale soon. Joan is in Europe-will ship JF items after Dec11.
More from Joan & Lynette Antique Dolls and Accessories