Princess Elizabeth German Bisque Head Character Doll by Schoenau Hoffmeister
This 20 inch tall doll, circa 1929, has a bisque socket head and the original composition five piece toddler body. She was created by the German firm of Schoenau Hoffmeister to represent the young English princess. The doll has glass sleep eyes and an open mouth with teeth. Her curly mohair hair wig is a later replacement but is appropriate and similar to the original. Her bisque head is in good condition with no chips, cracks, or repairs. There is a faint scratch in the bisque on the right check that must have happened before the original firing. The back of the head is incised, "Porzellenfabrik//Burggrub//Princess
Item ID: LG13262
Princess Elizabeth German Bisque Head Character Doll by Schoenau Hoffmeister
This 20 inch tall doll, circa 1929, has a bisque socket head and the original composition five piece toddler body. She was created by the German firm of Schoenau Hoffmeister to represent the young English princess. The doll has glass sleep eyes and an open mouth with teeth. Her curly mohair hair wig is a later replacement but is appropriate and similar to the original. Her bisque head is in good condition with no chips, cracks, or repairs. There is a faint scratch in the bisque on the right check that must have happened before the original firing. The back of the head is incised, "Porzellenfabrik//Burggrub//Princess
Item ID: LG13262
$1,850
USD
Make Offer
Add to Wish List
13 other shoppers have this item in their Cart or Wish List. Don't miss out!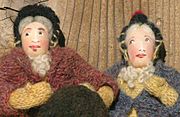 Carmel & Indianapolis, IN
Antique dolls of high quality at fair prices backed by expertise and professionalism, sold with love
Exclusive Ruby Lane Member since 2006
Holiday sale through Dec. If the doll you love is not on sale, make an offer. We want to make your holiday dreams come true!
More from Joan & Lynette Antique Dolls and Accessories