Sparkey - Wee F0rest Folk - Mouse on motorcycle
This is M314 a miniature sculpture of a little mouse riding a motorcycle sculpted by the talented Donna Peterson. It is only 1.75" x 2.75". I also included the version with a son - Sparkey and Son, which is for sale in its own listing on our site. For those not familiar with this line of high quality "Made in the US" limited collectable - Wee Forest Folk® are a line of original miniature sculptures, mostly mice, that represent the whimsy and creative energy of Annette Peterson and her adult children, Willy and Donna who joined her in the business she began 40 years ago. Each piece is a casting of an original sculpture by one of the three artists. Then the pieces are molded and each one is meticulously painted to bring the sculptures to life, by artists that have been carefully selected for their delicate hand skills. An enormous amount of time and patience is invested in each piece as it progresses through the many steps along the way to completion. The Mouse Factory is located in Carlisle, MA. and all their pieces are made in USA, from beginning to end. Each piece comes in a specially made box covered in pictures of WFF. This is truly a limited collectable that has held its value due to limited editions and controlled distribution. We are able to offer reduced prices because of the closing of our physical store in Indianapolis. This WFF sculpture is listed in "The Mouse Collector: Reference Guide" by Barbara Peek, 2003 edition. Original retail
Item ID: JF-12-M314
Sparkey - Wee F0rest Folk - Mouse on motorcycle
This is M314 a miniature sculpture of a little mouse riding a motorcycle sculpted by the talented Donna Peterson. It is only 1.75" x 2.75". I also included the version with a son - Sparkey and Son, which is for sale in its own listing on our site. For those not familiar with this line of high quality "Made in the US" limited collectable - Wee Forest Folk® are a line of original miniature sculptures, mostly mice, that represent the whimsy and creative energy of Annette Peterson and her adult children, Willy and Donna who joined her in the business she began 40 years ago. Each piece is a casting of an original sculpture by one of the three artists. Then the pieces are molded and each one is meticulously painted to bring the sculptures to life, by artists that have been carefully selected for their delicate hand skills. An enormous amount of time and patience is invested in each piece as it progresses through the many steps along the way to completion. The Mouse Factory is located in Carlisle, MA. and all their pieces are made in USA, from beginning to end. Each piece comes in a specially made box covered in pictures of WFF. This is truly a limited collectable that has held its value due to limited editions and controlled distribution. We are able to offer reduced prices because of the closing of our physical store in Indianapolis. This WFF sculpture is listed in "The Mouse Collector: Reference Guide" by Barbara Peek, 2003 edition. Original retail
Item ID: JF-12-M314
If you are the pending buyer of this item, go to My Account to view, track and pay for this item.
$148
$79
USD
SALE PENDING
This item is Pending a Sale so cannot be purchased at this time.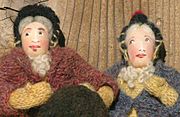 Carmel & Indianapolis, IN
Antique dolls of high quality at fair prices backed by expertise and professionalism, sold with love
Exclusive Ruby Lane Member since 2006
Holiday Sale extended through December! More items added to sale soon. Joan is in Europe-will ship JF items after Dec11.
More from Joan & Lynette Antique Dolls and Accessories