Amber Snuff Bottle
This is an Amber Snuff Bottle FROM THE ESTATE OF AN OLDER GENTLEMAN WHO WAS AN AVID COLLECTOR OF ORIENTAL ITEMS FOR OVER 40 YEARS. You are looking at a beautifully carved amber snuff bottle. Amber is a fossilized resin exuded in ages past by certain extinct species of pine-trees, and is found in China in the Province of Yunnan, embedded in the earth. It was first mentioned in the first century A.D. Ordinary amber is known to the Chinese by the name of Hupa, a term which is derived from Hupo meaning "the soul of a tiger," the latter term originating in the old Chinese tradition that when a tiger dies its spirit enters into the ground and becomes transformed into a mineral. Hence this substance is popularly regarded as symbolic of courage, being supposed to be imbued with the qualities of that fierce animal. This bottle, that is transparent when looking from the hole at the top of the bottle through the inside to the bottom, is carved with lucky money, a cicada, an artist's brush, lotus flowers and foo lions on the shoulders. There is a matching amber cap with a bone spoon. (B-1) SIZE: 3" H x 2 1/4" W
Item ID: A102
Amber Snuff Bottle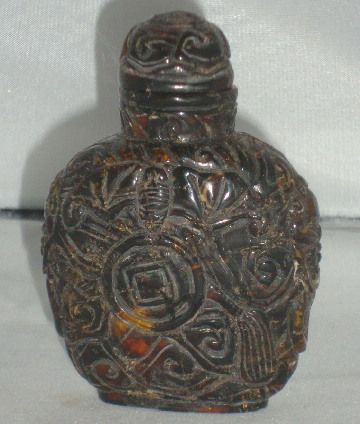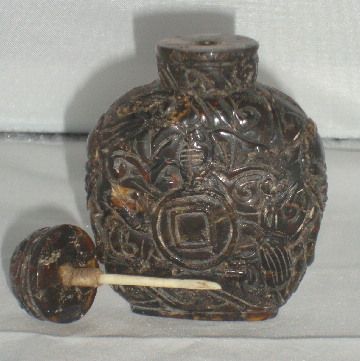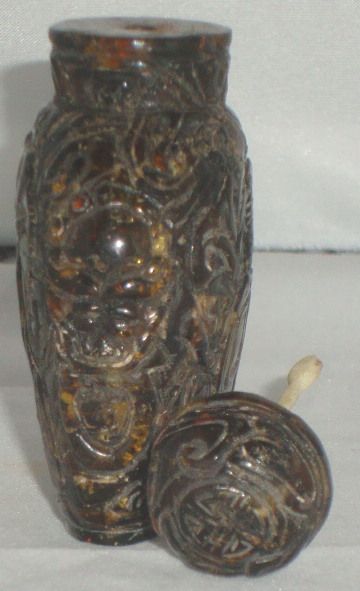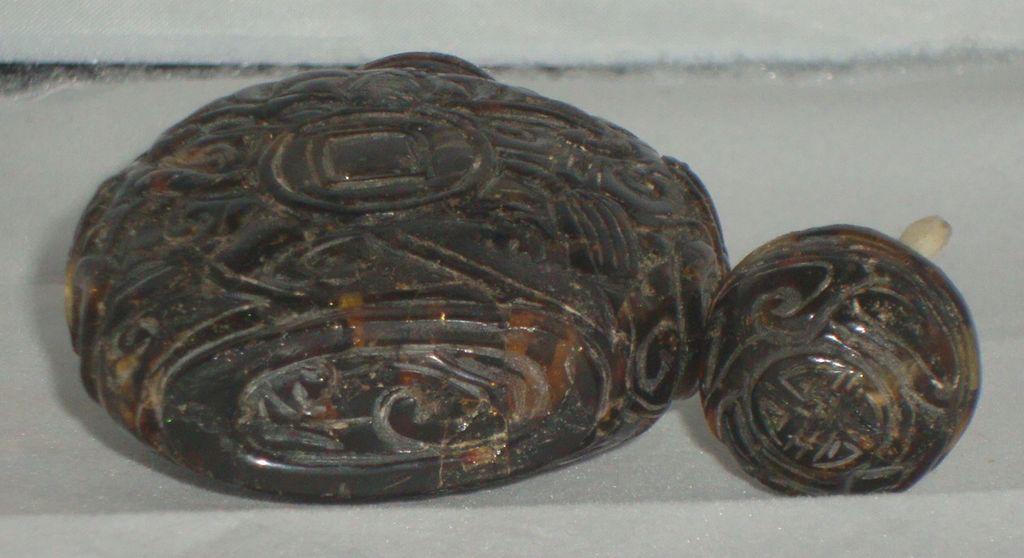 This is an Amber Snuff Bottle FROM THE ESTATE OF AN OLDER GENTLEMAN WHO WAS AN AVID COLLECTOR OF ORIENTAL ITEMS FOR OVER 40 YEARS. You are looking at a beautifully carved amber snuff bottle. Amber is a fossilized resin exuded in ages past by certain extinct species of pine-trees, and is found in China in the Province of Yunnan, embedded in the earth. It was first mentioned in the first century A.D. Ordinary amber is known to the Chinese by the name of Hupa, a term which is derived from Hupo meaning "the soul of a tiger," the latter term originating in the old Chinese tradition that when a tiger dies its spirit enters into the ground and becomes transformed into a mineral. Hence this substance is popularly regarded as symbolic of courage, being supposed to be imbued with the qualities of that fierce animal. This bottle, that is transparent when looking from the hole at the top of the bottle through the inside to the bottom, is carved with lucky money, a cicada, an artist's brush, lotus flowers and foo lions on the shoulders. There is a matching amber cap with a bone spoon. (B-1) SIZE: 3" H x 2 1/4" W
Item ID: A102
If you were the pending buyer of this item, go to My Account to view, track and check payment for this item.
$179
USD
SOLD

Newberry, FL
Chinese Snuff Bottles, Cloisonne, Antiquities and Other Collectibles;
Exclusive Ruby Lane Member since 2000
Inventory REDUCTION SALE!!! Check out our new SALE Items.
Shipping/Handling

*

:
$7.00 USD
Insurance:
$2.00 USD
Price for shipping to USA change location
*USPS First-Class Mail Parcel
---
---