Fabulous Antique Bronzed Metal Match Box Holder Figural
Wonderfully detailed antique matches box holder. Circa 1910. On the top is a solid metal figure of a man lying on a magic carper, or Persian rug. A little of the bronze finish is worn, showing the silver metal underneath, but overall excellent condition. It measures 2&5/16 inches long, by 1&1/2 wide by 2 inches tall, to the top of the man's fez hat. All original. No paint touch ups, or repairs. No marks
Item ID: 2404
---
When ordering more than 1 item from California Girls shop, please wait for combined invoice to pay. Duty & other taxes are the responsibility of the buyer
Fabulous Antique Bronzed Metal Match Box Holder Figural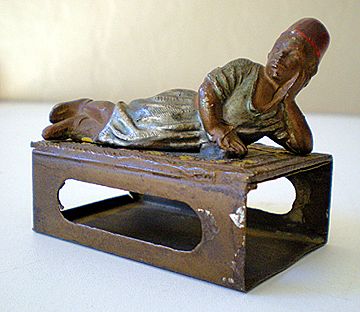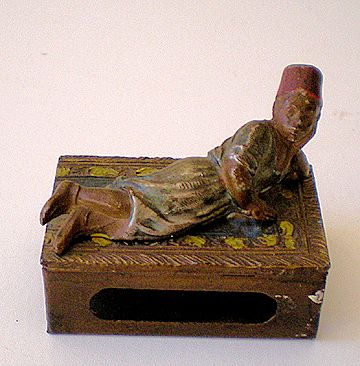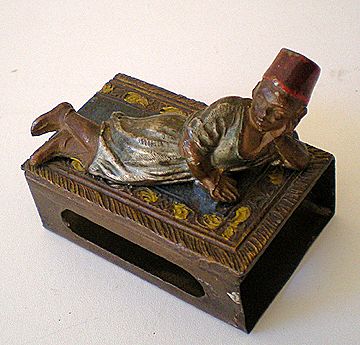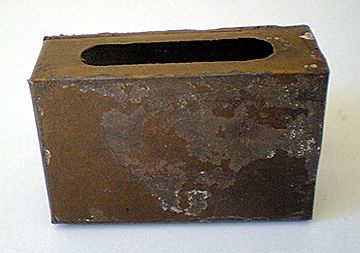 Wonderfully detailed antique matches box holder. Circa 1910. On the top is a solid metal figure of a man lying on a magic carper, or Persian rug. A little of the bronze finish is worn, showing the silver metal underneath, but overall excellent condition. It measures 2&5/16 inches long, by 1&1/2 wide by 2 inches tall, to the top of the man's fez hat. All original. No paint touch ups, or repairs. No marks
Item ID: 2404
---
When ordering more than 1 item from California Girls shop, please wait for combined invoice to pay. Duty & other taxes are the responsibility of the buyer
$185
$145
USD
SALE
Add to Wish List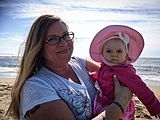 Scotts Valley, CA
Antiques, Bakelite, Wedding Cake Toppers, Jewelry, Advertising, Hawaiiana,Toys and More!
Exclusive Ruby Lane Member since 2006
Thank you for visiting California Girls shop! Stop by often as we are always adding new and interesting items.
We are currently unavailable until Wednesday, March 19. We will try to respond to emails during our absence. Purchase orders are welcome and will automatically reserve the item for you.