18" Becassine from Bluette Series Ca. 1940
18" Becassine from Bluette Series Ca. 1940 This is a darling doll known as Becassine. She is a cloth character with stockinette cover, button shaped nose, painted eyes and brows, stitch-shaped hands, sewn on red striped stockings, and brown felt shoes, is wearing classic original Becassine costume of green and red wool, with black velvet bands, pantalets. Holding her original wicker basket. The Becassine costume was offered in the Bleuette catalogs from their first issue, and this cloth version appeared in early issues of La Semaine de Suzette offered in several sizes. Excellent condition from a non smoking home (w)
Item ID: 98
18" Becassine from Bluette Series Ca. 1940
18" Becassine from Bluette Series Ca. 1940 This is a darling doll known as Becassine. She is a cloth character with stockinette cover, button shaped nose, painted eyes and brows, stitch-shaped hands, sewn on red striped stockings, and brown felt shoes, is wearing classic original Becassine costume of green and red wool, with black velvet bands, pantalets. Holding her original wicker basket. The Becassine costume was offered in the Bleuette catalogs from their first issue, and this cloth version appeared in early issues of La Semaine de Suzette offered in several sizes. Excellent condition from a non smoking home (w)
Item ID: 98
Make Offer
Add to Wish List
Another shopper has this item in their Cart or Wish List. Don't miss out!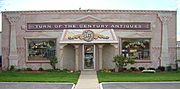 Denver, CO
Dolls and toys are our passion at Turn of the Century Antiques.
Member since 2005
We always offer a 30 day layaway! We are proud members of NADDA - the National Association of Doll Dealers.
More from Turn of the Century Antiques