California artist signed watercolor painting of an old house
This is an unframed watercolor painting on heavy watercolor paper, the sheet 15 1/2" by 22, the subject an mansard-roofed old 19th century house in a winter landscape, signed at lower left by a Los Angeles area artist of note, Ann Murdoch (nee Sanguinetti). Murdoch is not strictly "listed" but, a living artist in her 70's, now residing in the Los Angeles area, she has a long history in fine art, stretching back to the Village Art Show in New York, the New Hope area of Pennsylvania, and Chicago. I learned this from relatives who were selling off some of her works (see two other pieces I acquired from them). At the present time I do not know a lot more about her, but the relatives did mention that her work encompasses a broad range of styles and subject. This watercolor has been exposed to damp conditions so has foxing in the right third, and water staining at the bottom inch. The bottom inch could be matted out but the other foxing is going to be part of the image. I think with good matting, the foxing will not be all that noticeable and the other issues will be eliminated. Shipping wizard figures are guesstimates. SEE HUNDREDS OF OTHER WORKS NOW IN MY SHOP
Item ID: JB02428
California artist signed watercolor painting of an old house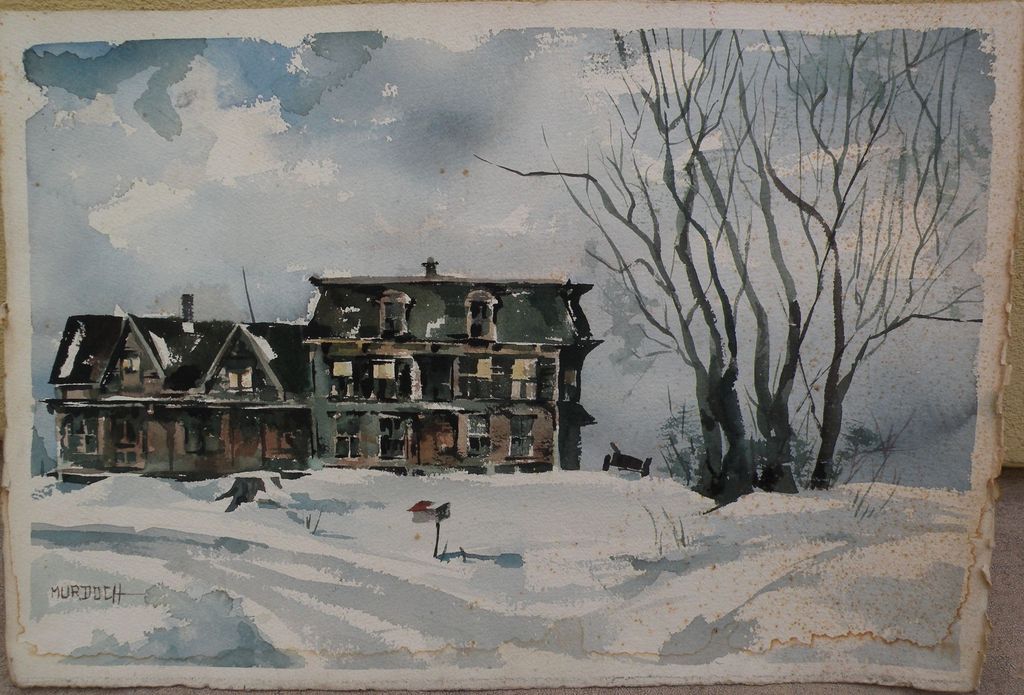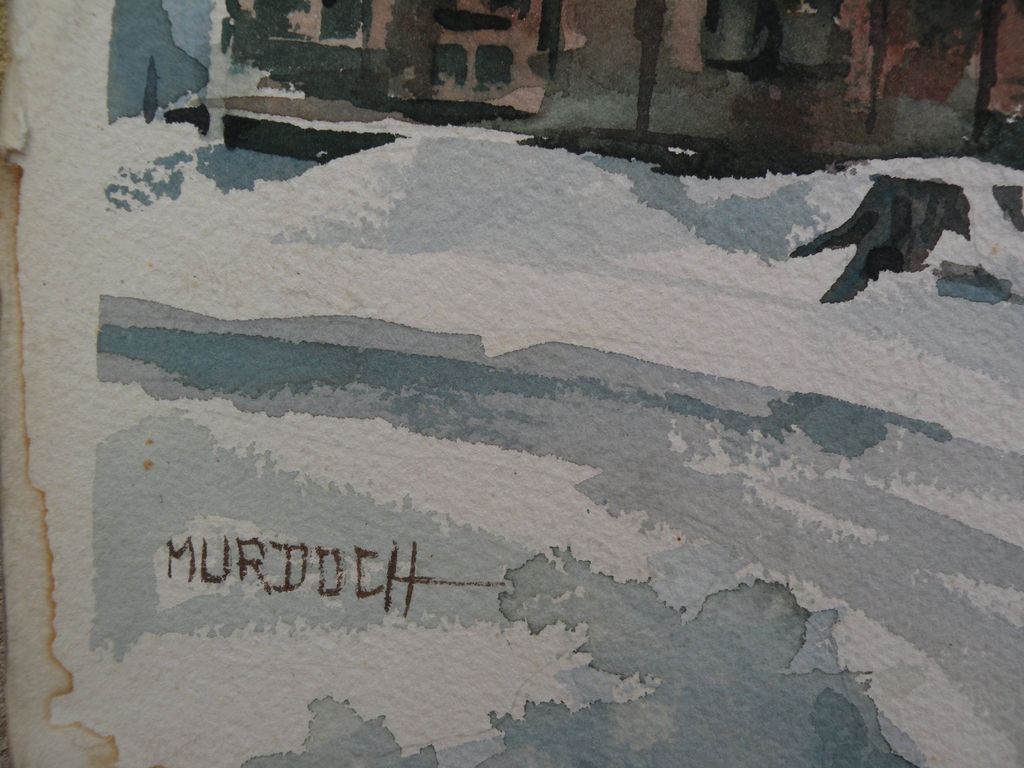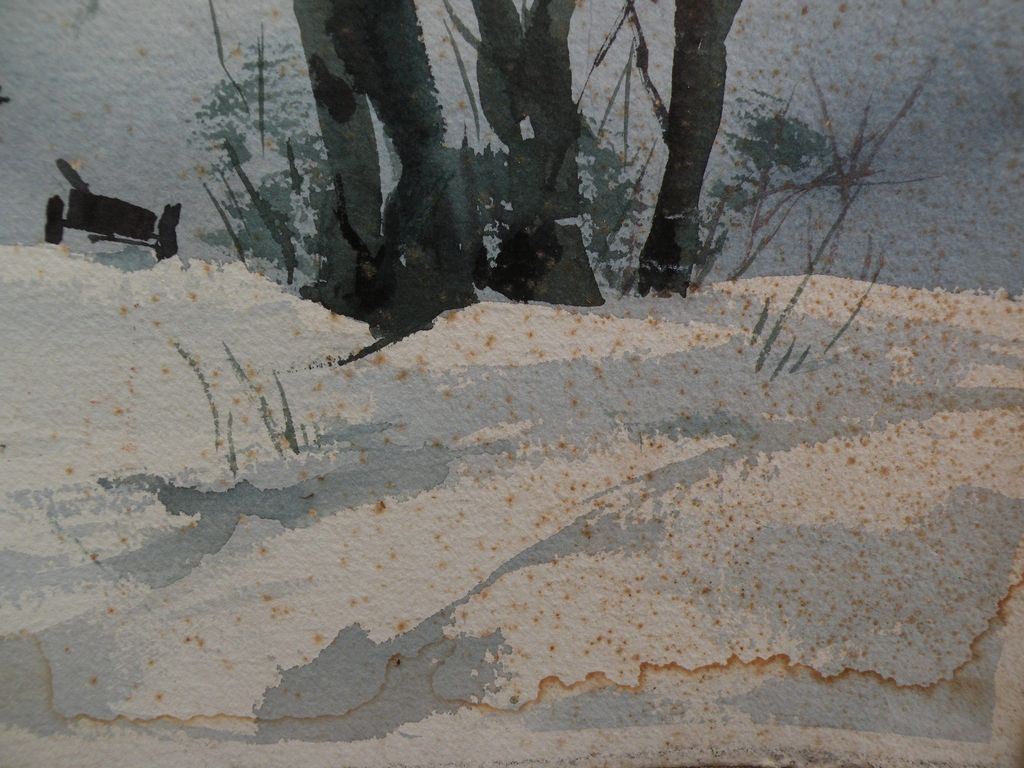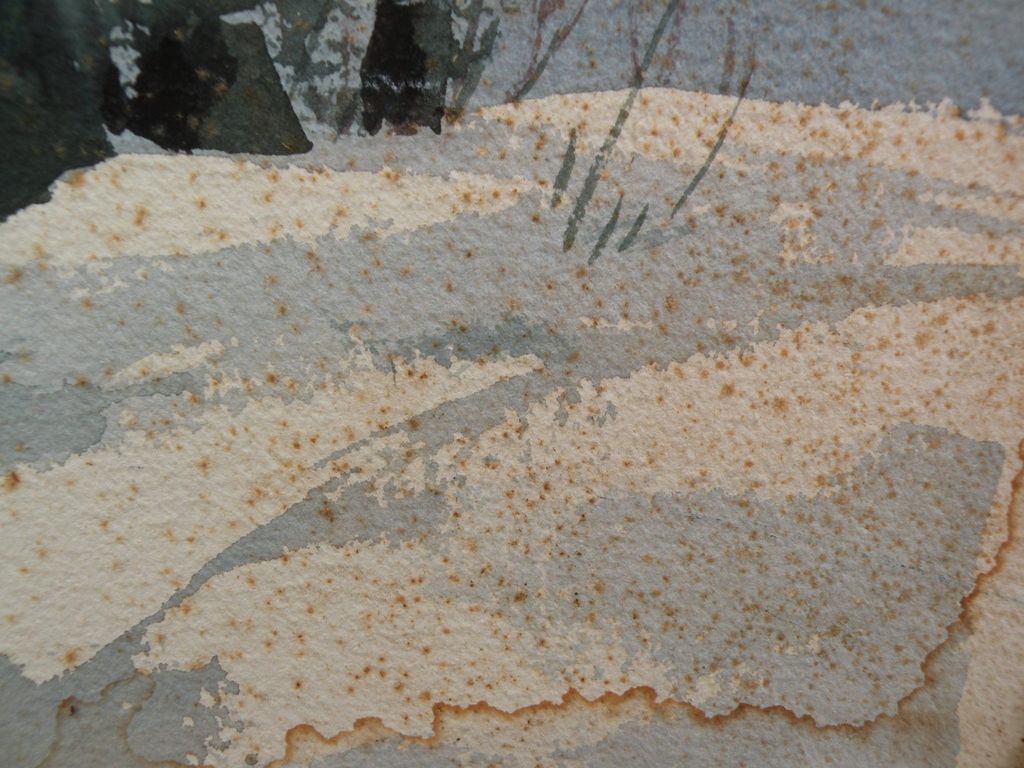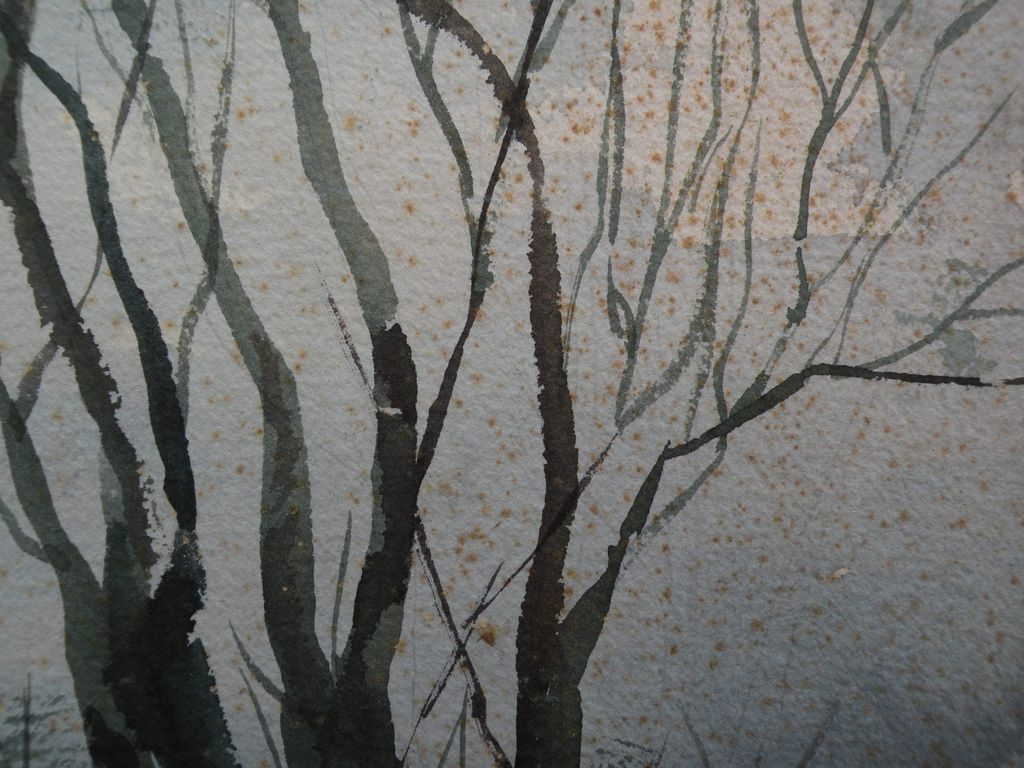 This is an unframed watercolor painting on heavy watercolor paper, the sheet 15 1/2" by 22, the subject an mansard-roofed old 19th century house in a winter landscape, signed at lower left by a Los Angeles area artist of note, Ann Murdoch (nee Sanguinetti). Murdoch is not strictly "listed" but, a living artist in her 70's, now residing in the Los Angeles area, she has a long history in fine art, stretching back to the Village Art Show in New York, the New Hope area of Pennsylvania, and Chicago. I learned this from relatives who were selling off some of her works (see two other pieces I acquired from them). At the present time I do not know a lot more about her, but the relatives did mention that her work encompasses a broad range of styles and subject. This watercolor has been exposed to damp conditions so has foxing in the right third, and water staining at the bottom inch. The bottom inch could be matted out but the other foxing is going to be part of the image. I think with good matting, the foxing will not be all that noticeable and the other issues will be eliminated. Shipping wizard figures are guesstimates. SEE HUNDREDS OF OTHER WORKS NOW IN MY SHOP
Item ID: JB02428
Make Offer
Add to Wish List
Another shopper has this item in their Cart or Wish List. Don't miss out!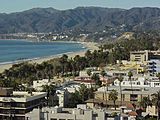 Southern California, CA
Fine paintings, drawings, prints, sculpture, Old Master to Contemporary--and other fine collectables
Exclusive Ruby Lane Member since 2003
Please look through my offerings for an unusual and rewarding online fine art shopping experience.
Other Online Payment Method
See 'Other Information' under Terms of Sale
Traditional Payments
Cash
Personal Check
Money Order
Other Traditional Payment Method
See 'Other Information' under Terms of Sale
Bank Wire
More from Jon Berg Fine Arts and More