Goldette Lavalier Victorian Style Necklace
A gorgeous early gold plate double oval trace link chain from which hangs a molded faux amethyst color glass pendant 3/4" wide x 1" long on a beautiful metal work setting in a lavalier style with 5 small faux amethyst round drops.. Material: Gold plate metal, leaded glass. Necklace is in very good condition. Maker: c goldette on oval disc. Date: c 1958 Goldette Costume Jewelry was the mark of Goldette for Ben Gartner who did business as the Circle Jewelry Co.,. They first used the mark of "goldette N.Y. in the fall of 1955, Most all attribute the start of Goldette in 1958 but some pieces have been dated as early as 1955 and carry the copy right (c), or the (R) for registered after the mark where later jewelry had the (c) before their mark and was used on a oval applied disc. Sometime during 1959 the mark was just "goldette" or "goldette" and they continued to use the mark into the 1960s, Goldette was used in script for most all jewelry items. They mainly produced jewelry designed in Victorian style in antiqued gold fashion or bright silver finish. Known for their large leaded glass sets and ornate metal work they would produce many items that have long since been discarded. The higher quality early jewelry in their line is getting harder to find Maker: goldette (R) on oval disc. Date: c 1958
Item ID: 107-54-14
---
Gender: Female, Age Group: Adult, Color: purple, Size: 16"
Goldette Lavalier Victorian Style Necklace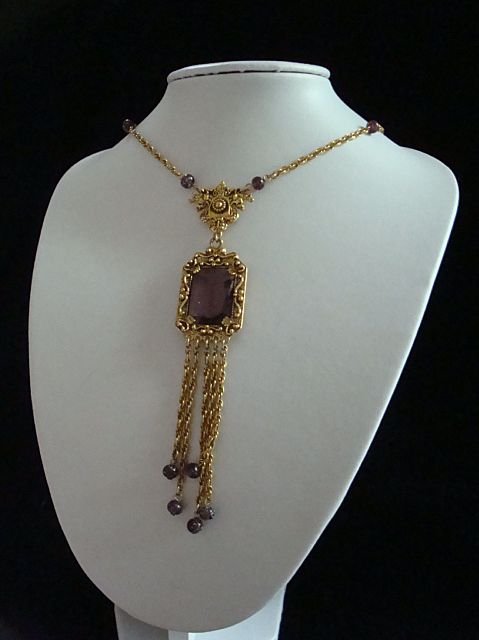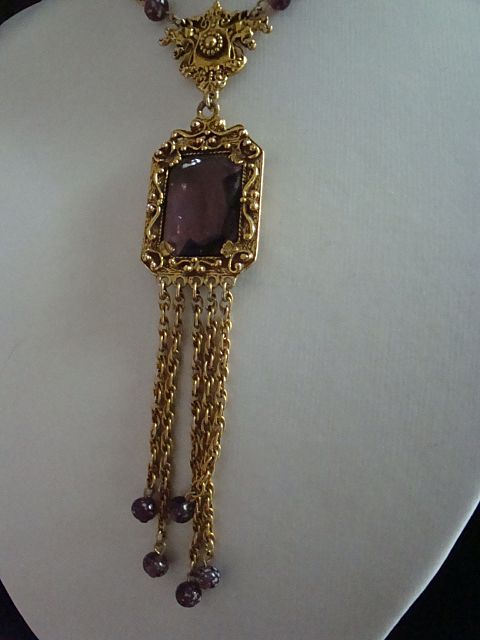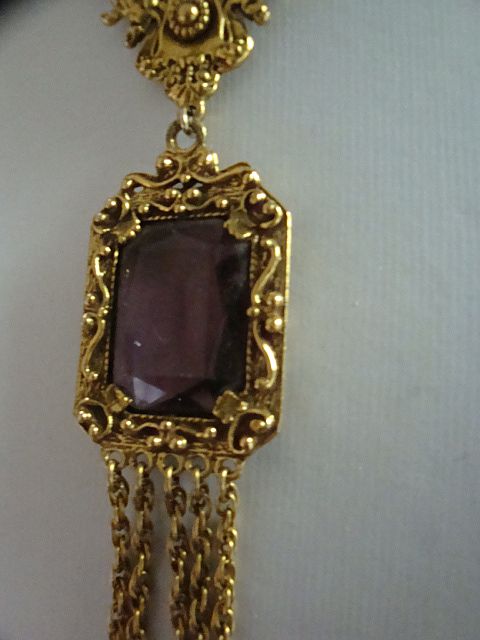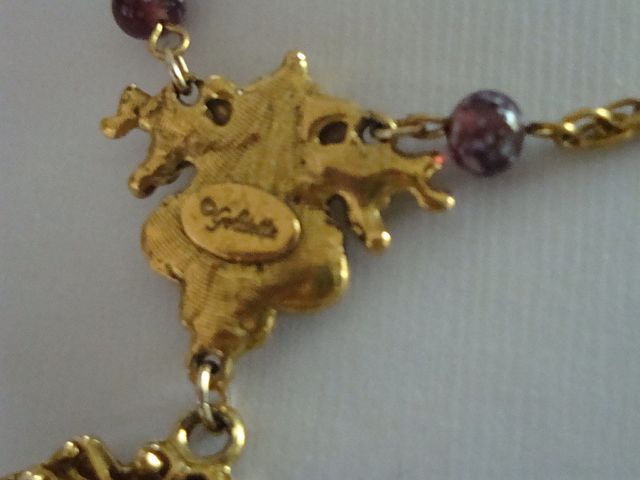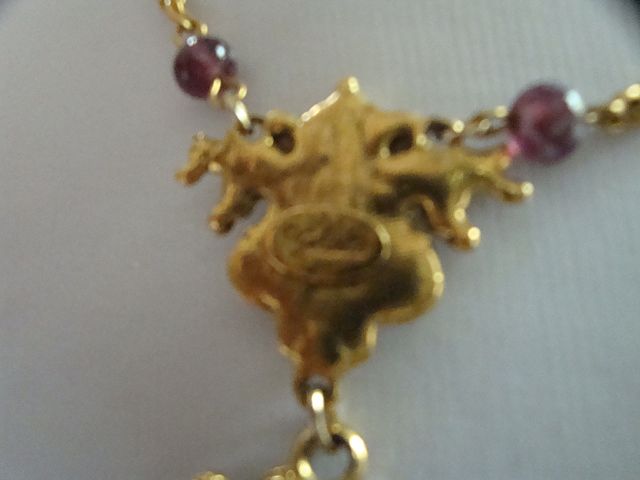 A gorgeous early gold plate double oval trace link chain from which hangs a molded faux amethyst color glass pendant 3/4" wide x 1" long on a beautiful metal work setting in a lavalier style with 5 small faux amethyst round drops.. Material: Gold plate metal, leaded glass. Necklace is in very good condition. Maker: c goldette on oval disc. Date: c 1958 Goldette Costume Jewelry was the mark of Goldette for Ben Gartner who did business as the Circle Jewelry Co.,. They first used the mark of "goldette N.Y. in the fall of 1955, Most all attribute the start of Goldette in 1958 but some pieces have been dated as early as 1955 and carry the copy right (c), or the (R) for registered after the mark where later jewelry had the (c) before their mark and was used on a oval applied disc. Sometime during 1959 the mark was just "goldette" or "goldette" and they continued to use the mark into the 1960s, Goldette was used in script for most all jewelry items. They mainly produced jewelry designed in Victorian style in antiqued gold fashion or bright silver finish. Known for their large leaded glass sets and ornate metal work they would produce many items that have long since been discarded. The higher quality early jewelry in their line is getting harder to find Maker: goldette (R) on oval disc. Date: c 1958
Item ID: 107-54-14
---
Gender: Female, Age Group: Adult, Color: purple, Size: 16"
$175
USD
SALE
Make Offer
Add to Wish List
6 other shoppers have this item in their Cart or Wish List. Don't miss out!

London, ON, Canada
Unique And Unusual Antiques and Collectables Antique 19th century art, miniature paintings
Exclusive Ruby Lane Member since 2005
| | |
| --- | --- |
| Shipping/Handling: | To Be Determined |
| Insurance: | To Be Determined |
Price for shipping to USA change location
---
---