Mourning Jewelry, Memorial Jewelry, Stuart Crystal Slide, Skull, 1690
I have already given a full explanation of the Stuart Crystal slide in the one which was previously added, so I won't waste your time with doing it again. Suffice it to say I got a real bargain here. I don't do that often, but when I can , I try to pass it along to my customers. I was able to buy two Stuart Crystal Slides with Skulls and the price I used to pay for one 6 or 7 years ago. This faceted crystal has the skull lying on a bed on dark (threaded with gray) plaited hair. The scribe, in silk letters, is "H B." This piece is high carat gold and in excellent condition. It is circa 1690, and was meant to be worn around the neck or wrist on a ribbon. It weighs 3.88 grams, and measures 3/4 of an inch East to West, and a little less North to South. I am passing my bargain along to my customers, but am not able to offer any discounts on this already below market value item
Item ID: 2382
---
Gender: Unisex, Age Group: Adult, Color: gold, Size: 3/4 of an inch by 3/4 of an inch
Mourning Jewelry, Memorial Jewelry, Stuart Crystal Slide, Skull, 1690
I have already given a full explanation of the Stuart Crystal slide in the one which was previously added, so I won't waste your time with doing it again. Suffice it to say I got a real bargain here. I don't do that often, but when I can , I try to pass it along to my customers. I was able to buy two Stuart Crystal Slides with Skulls and the price I used to pay for one 6 or 7 years ago. This faceted crystal has the skull lying on a bed on dark (threaded with gray) plaited hair. The scribe, in silk letters, is "H B." This piece is high carat gold and in excellent condition. It is circa 1690, and was meant to be worn around the neck or wrist on a ribbon. It weighs 3.88 grams, and measures 3/4 of an inch East to West, and a little less North to South. I am passing my bargain along to my customers, but am not able to offer any discounts on this already below market value item
Item ID: 2382
---
Gender: Unisex, Age Group: Adult, Color: gold, Size: 3/4 of an inch by 3/4 of an inch
If you are the pending buyer of this item, go to My Account to view, track and pay for this item.
$3,300
USD
SALE PENDING
This item is Pending a Sale so cannot be purchased at this time.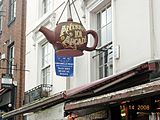 Nashville, TN
Antique English smalls of quality
Exclusive Ruby Lane Member since 2000
Specializing in Georgian and Victorian jewelry, English smalls, including leather bound books, silver etc.
| | |
| --- | --- |
| Shipping/Handling: | $18.00 USD |
| Insurance: | Included |
Price for shipping to USA change location | more services
Available shipping to USA:
standard shipping: $18
USD
, insurance: Included
USPS Priority Mail Express Flat Rate Envelope: $33
USD
, insurance: Included
---
---
More from Robbins' Roost Antiques