Copeland Spode Creamer and Open Sugar Pattern Royal Jasmine or Strathmere
This is a pretty Copeland Spode Creamer and Open Sugar Bowl. The sugar bowl measures 3" tall with a 4 3/4" opening. The creamer measures 3" tall with a 2" base. The multicolored floral pattern is called Royal Jasmine or Strathmere with the main color green. The branches of flowers have blue, yellow, red, and green in an intricate design. This pattern was made by Copeland Spode from 1895 - 1920's. The set is in very good condition with no chips or cracks. I have listed other pieces of this pattern separately
Item ID: 632#6665
Copeland Spode Creamer and Open Sugar Pattern Royal Jasmine or Strathmere
This is a pretty Copeland Spode Creamer and Open Sugar Bowl. The sugar bowl measures 3" tall with a 4 3/4" opening. The creamer measures 3" tall with a 2" base. The multicolored floral pattern is called Royal Jasmine or Strathmere with the main color green. The branches of flowers have blue, yellow, red, and green in an intricate design. This pattern was made by Copeland Spode from 1895 - 1920's. The set is in very good condition with no chips or cracks. I have listed other pieces of this pattern separately
Item ID: 632#6665
If you were the pending buyer of this item, go to My Account to view, track and check payment for this item.
$35
USD
SOLD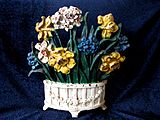 Greenville, TX
Enticing Antiques and Collectible Treasures from the past at reasonable prices.
Exclusive Ruby Lane Member since 2003
Pottery, china, glassware, silver, decorating accessories.
We are currently unavailable until Monday, March 17. We will try to respond to emails during our absence. Purchase orders are welcome and will automatically reserve the item for you. We will be happy to confirm your purchases and answer any questions upon our return.