Miao-yu Beauties of the Red Mansion Collector Plate
Miao-yu is the fifth plate in this exquisite series of 12 limited edition collector plates by Master Artisan Zhao Huimin which portrays the heroines of the classic Chinese romantic novel, A Dream of Red Mansions by Hung Lou Meng, written between 1755 and 1790. The plate measures about 8.5" in diameter and is in excellent, like new condition. It comes in the original box with the Chinese Authenticating Certificate and Release for Export, a Chinese pamphlet listing the previous plates in the series with photos, and a pamphlet in English and German which translates the certificates and gives the history of the novel, plates, and artist. This plate was produced in 1987 by Imperial Jingdezhen Porcelain in China and exported through the Bradford Exchange. Each plate in the series was limited to 115 firing days
Item ID: 2160
Miao-yu Beauties of the Red Mansion Collector Plate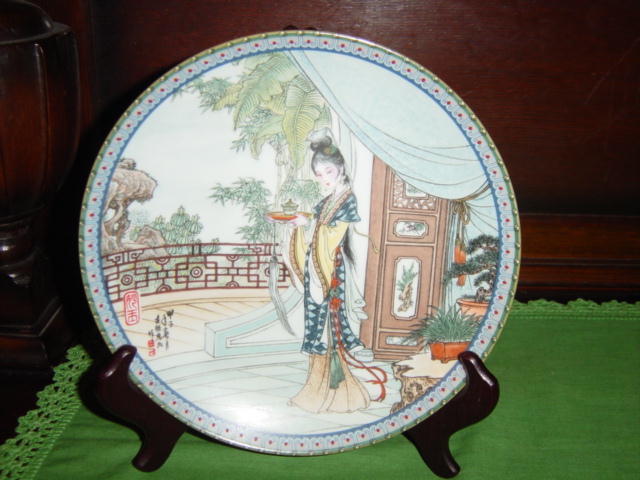 Miao-yu is the fifth plate in this exquisite series of 12 limited edition collector plates by Master Artisan Zhao Huimin which portrays the heroines of the classic Chinese romantic novel, A Dream of Red Mansions by Hung Lou Meng, written between 1755 and 1790. The plate measures about 8.5" in diameter and is in excellent, like new condition. It comes in the original box with the Chinese Authenticating Certificate and Release for Export, a Chinese pamphlet listing the previous plates in the series with photos, and a pamphlet in English and German which translates the certificates and gives the history of the novel, plates, and artist. This plate was produced in 1987 by Imperial Jingdezhen Porcelain in China and exported through the Bradford Exchange. Each plate in the series was limited to 115 firing days
Item ID: 2160
Add to Wish List
Another shopper has this item in their Cart or Wish List. Don't miss out!

Tallahassee, FL
Great collectibles, friendly service, careful packing and quick shipping. Purrfect!!
Exclusive Ruby Lane Member since 2003
Added Amazon as a payment option. Use your gift cards!
We are currently unavailable until Sunday, December 8. We may not have Internet access during our absence. Purchase orders are welcome and will automatically reserve the item for you. We will be happy to confirm your purchases and answer any questions upon our return.
More from Alley Cat Lane Antiques and Collectibles