Simplicity #9825 Vintage 'Hippie' Bridal Gown & HEAD SCARF Pattern-Size 10/32 1/2" Bust-Complete,1971
Lovely 1971 Simplicity #9825 Bridal and Bridesmaids gown pattern, with charming ethnic 'Hippie Princess' styling, right down to the directions for the head scarf! The lined dress with skirt softly gathered to bodice above normal waistline, has back zipper, low round neckline and set in sleeves. View 1 has embroidered ribbon trim and bows, long sleeves gathered to stay. Views 1 and 5 have head scarf, View 2 is trimmed with daisy medallions. Views 2 and 3 have short flared sleeves. View 3 has ribbon belt. View 4 has lace trim and Venice edging made of tucked fabric or plain fabric. Views 4 and 5 with ruffle have short puff sleeves gathered with elastic casings. View 5 dress and scarf feature lace medallion trim. A great Retro bridal pattern for the 'flower child' experience! A vintage Size 10, with measurements: Bust 32 1/2", Waist 24", Hip 34 1/2". The pattern is Cut, Complete, and neatly folded into envelope with all directions sheets. The envelope is in fair condition, with discoloration and bottom/top corner tears and wrinkling; red pen mark. **We have several other sizes in this pattern; please email if interested in a vintage Size 8 (Uncut)/
Item ID: jrl005601
---
All Sewing Patterns Ship FREE In The U.S.
Simplicity #9825 Vintage 'Hippie' Bridal Gown & HEAD SCARF Pattern-Size 10/32 1/2" Bust-Complete,1971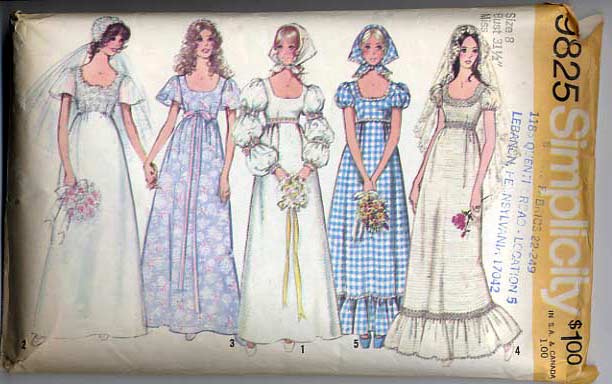 Lovely 1971 Simplicity #9825 Bridal and Bridesmaids gown pattern, with charming ethnic 'Hippie Princess' styling, right down to the directions for the head scarf! The lined dress with skirt softly gathered to bodice above normal waistline, has back zipper, low round neckline and set in sleeves. View 1 has embroidered ribbon trim and bows, long sleeves gathered to stay. Views 1 and 5 have head scarf, View 2 is trimmed with daisy medallions. Views 2 and 3 have short flared sleeves. View 3 has ribbon belt. View 4 has lace trim and Venice edging made of tucked fabric or plain fabric. Views 4 and 5 with ruffle have short puff sleeves gathered with elastic casings. View 5 dress and scarf feature lace medallion trim. A great Retro bridal pattern for the 'flower child' experience! A vintage Size 10, with measurements: Bust 32 1/2", Waist 24", Hip 34 1/2". The pattern is Cut, Complete, and neatly folded into envelope with all directions sheets. The envelope is in fair condition, with discoloration and bottom/top corner tears and wrinkling; red pen mark. **We have several other sizes in this pattern; please email if interested in a vintage Size 8 (Uncut)/
Item ID: jrl005601
---
All Sewing Patterns Ship FREE In The U.S.
Add to Wish List
Phoenix, AZ
Time to Find that Special Find for Your Valentine XOXOXO
Exclusive Ruby Lane Member since 2002
Affordable Unique Jewlelry and Other Fine items for Your Sweetheart
Shipping/Handling

*

:
Free
Insurance:
$2.00 USD
Price for shipping to USA change location
*USPS First-Class Mail Flat
---
---
More from Baubles Bangles & Beads-Vintage Jewelry & Clothing