Glass Shops Directory Shop Locally

Scent & Perfume Bottles, Continental Glass, Ceramic Tiles, Objets d'Art, Vintage Photographs
Member since 2007
Free worldwide shipping on all perfume bottles and smaller items, half price or lower shipping on larger items.
Richard Hoppé
Address supplied
at Checkout, UK

---

" Give-Away" Price Reductions Applies To Many Desirable Items. TAKE A LOOK! "
Exclusive Ruby Lane Member since 2011
" Final Price Reductions Sale " IS NOW ON. Items are moving fast... Do not miss out!
Classy Glass Antiques & Collectables
Surrey County
England, UK

---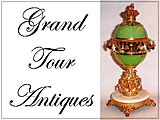 Distinguished French and Bohemian Glass, Opaline, Caskets, Scent Bottles and Objets d'art
Member since 2008
Since 1992, Specialists in Sourcing the Finest in European Antique Glass
Alexia Amato
Grays Mews Antique Centre 1-7 Davies Mews London
London, UK

---

Antiques, Collectables, Jewellery, Prints and Books.
Exclusive Ruby Lane Member since 1999
From Scotland to you ~ with love
Pam Baker
A small island near
Oban, UK

---

Historic Pieces From The Historic Dockyard
Member since 2012
The Largest Antiques Centre On England's South Coast
Andrew Bennett
Storehouse 9, Main Road, Portsmouth Historic Dockyard
Portsmouth, UK

---