Glass Shops Directory Alphabetical Listing
You never know what you'll find!
Exclusive Ruby Lane Member since 2011
Please be sure to check out my "Sale" section for additional savings!
WhimsicalVintage
Address available after purchase
Freehold, NJ

---

Specializing in Vintage - Jewelry, Collectibles and Antiques
Exclusive Ruby Lane Member since 2001
We are a platinum rated shop with 1000's of sales. We have been mentioned in Country Home and Country Living magazines.
Wild Goose Chase Antiques
Gail Dickrell (address provided at time of purchase)
"" Beautiful Northern "", WI

---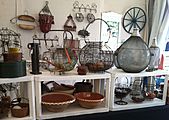 Vintage Wireware, Pottery, Holiday Turkey China, Vintage English Transferware!
Exclusive Ruby Lane Member since 2004
Let's Talk Turkey featured in Country Living Magazine! Free Shipping!
Mimi Swaney
413 W Sunset Ave
Greensboro, MD

---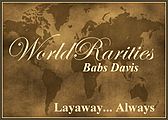 Grandest Antique Boxes, Jewelry, Perfume, Objects of Vertu and All Things Glorious! Since 2002
Member since 2002
Every WorldRarities Treasure will Exceed Your Expectation and ALWAYS with Superior Customer Service Since 2002
Babs Davis
P O BOX 3485
Meridian, MS

---

Affordable Quality Collectibles & Antiques
Member since 2015
Antiques, Rare Vintage Items, Unique Glass, & Interesting Collectibles Plus Much more.
Royce Wright
345 Suncook Valley Rd./ Rte 28
Chichester, NH

---